The Angevin Empire
The Angevin Empire may have come about by a mixture of luck and calculation, but skill and respect for local custom were required for Henry II to preserve it intact.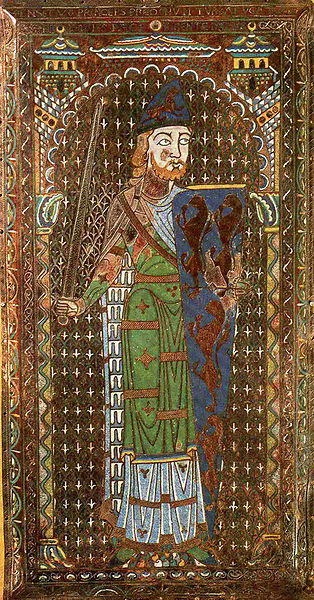 In December 1154 a young man, by the name of Henry was crowned King of England. Although only twenty-one he was already an experienced ruler. At sixteen he had become Duke of Normandy. Two years later, his father Count Geoffrey of Anjou had died, and Henry succeeded him. The following year he became Duke of Aquitaine when he married Eleanor, the heiress to the duchy. A duke twice over, he now added king to his many titles. This vast empire, stretching from the highlands of Scotland to the Pyrenees was passed on intact to his son Richard the Lionheart, and then to Richard's younger brother John.
For fifty years, until John lost most of his continental lands to the French King in 1204, England was only one of many lands ruled over by a family from Anjou. Small wonder that Henry II and Richard I spent less time in England than their later medieval successors were to do. Yet English historians have often been less than sympathetic to the demands made by such an 'empire'.
For an absent king
Is bound to bring
His Kingdom care
It he's never there
wrote Eleanor Farjohn in her verse on Richard I for school children in 1932. Of course this assumes that England was for some reason more important than the lands in France, as well it might appear to an Englishman. But the Angevins were not Englishmen. They were the French-speaking rulers of most of France.
The Counts of Anjou had begun as minor castellans in the Loire valley. Around the time that their lords, the Capetian dukes of France promoted themselves to kings, the House of Anjou decided to follow suit, and became Counts. Although they seem to have recognised a formal obligation to the kings of France, the self- declared Counts of Anjou were effectively independent. They then set about turning a small County into a considerably larger one. There were only two really effective ways of doing this in the Middle Ages. One was to kill your neighbours and take their lands. The other was to marry their daughters in the hope that you or your children might inherit their lands. The Angevins proved remark- ably adept at both methods.
The end result was that by the early eleventh century they had more than doubled the size of the lands they ruled. The County of Touraine had been conquered by 1044. Vendôme, was acquired by marriage. They also campaigned with some success along their borders with Brittany, and Poitou. North of Anjou, the counts set their sights on the County of Maine. Here they ran into competition from another neighbour – William the Conqueror, Duke of Normandy. This rivalry with Normandy continued through into the reign of Henry I, but the final victory went to Anjou in 1110 when Henry II's grandfather, Count Fulk V, married the daughter of the last Count of Maine.
Henry I was not pleased, but he had too many enemies to concentrate on fighting Anjou. Instead he changed policies and proposed a marriage alliance. Henry's son William would marry Count Fulk's daughter. The wedding was celebrated in 1119, but only a year later the groom was drowned crossing the channel in the disaster of the White Ship.
For Henry this was not only a personal, but a political disaster. Apart from a daughter, Matilda, married to the Emperor of Germany, Henry I had no other legitimate children. The best claimants to the succession were also Henry's bitterest foes. Robert, Henry's elder brother had been a prisoner in England since 1104, when he lost the battle for Normandy. Robert's son however, William Clito, was free, and gaining new supporters every day.
It was not until after 1125, when Matilda's husband died, that Henry was able to recall her to England and proclaim her his heir. By this time William Clito had gained the support of the King of France and was putting together a coalition to solve Henry's succession problems by depriving him of all his lands. Henry I needed allies to support him in the coming struggle. He also needed to find a new husband for Matilda to defend her rights in the future. Once again he approached Count Fulk V of Anjou. In 1128 Fulk's eldest son and heir, Geoffrey, was married to Matilda. Their first son Henry was born five years later.
Henry II was eventually to rule all the lands of both his Norman and Angevin ancestors. But did anyone plan this, or did it simply happen? Those historians who tend to see the continental lands as an encumbrance rather than an asset, tend to feel the whole thing was a dreadful mistake. Henry I, they argue, never intended to combine Anjou with the Anglo- Norman state, nor to have Count Geoffrey of Anjou rule in England. Count Geoffrey was simply to act as a 'hired soldier' defending his wife's rights and the eventual succession of his son Henry. When Henry II reached maturity he would take over England and Normandy, and Anjou would go its own separate way, eventually to be inherited by another son of Geoffrey's.
Whether it was realistic to think a husband could be excluded from his wife's property in this period is questionable. More importantly, the point has been made that Henry I's plans for events after his death didn't really matter that much. The question was what Matilda's husband Geoffrey had in mind, and to a ruler of Anjou the prospect of ruling Normandy as well was almost certainly an attractive one. The proof of this is that Geoffrey spent the decade following Henry I's death making sure he did become ruler of Normandy.
William Clito, the main threat to Matilda's succession, died in 1128. Instead it was another nephew, Stephen of Blois, who seized the crown when Henry I died in 1135. While Matilda waged fruitless war up and down England, her husband Geoffrey set about the systematic conquest of Normandy, completed by 1144. From then on he ruled Normandy together with Anjou, until 1150 when he made his young son, Henry, duke. The following year he died, and Henry II succeeded him as Count of Anjou.
A curious story told us by an English chronicler, William of Newburgh, writing sixty years later, tells us however that it was not Henry, but his younger brother Geoffrey who was supposed to inherit Anjou. The story William tells is this. Count Geoffrey on his deathbed decided to leave Anjou to his younger son Geoffrey. Henry was to rule Anjou, only until he had regained England from Stephen, when he was to give Anjou to his brother Geoffrey. The illness had been sudden, and Henry was absent, so the dying Count made all those present promise not to bury his body, until Henry had sworn to obey his father's last will. In due course the Count died, Henry arrived, and was asked to swear the oath. The odd thing is that Henry II was apparently kept in ignorance of the contents of the will to which he was required to swear. This makes it a much better story, for we are left to imagine Henry Il's rage when, having held out for days while his father's body mouldered in the chapel next door, he finally gives in with a flood of tears, only to find he has sworn away Anjou. Medieval chroniclers were always fond of deathbed scenes, where death, the great leveller, humbled even the mightiest princes. A dash of the macabre, as provided by the Count's decomposing body was even better.
What the story does not tell us however, is that a division of Anjou and Normandy was expected to follow Count Geoffrey's death. On the contrary, it shows the decision to split up the inheritance as a sudden deathbed change of plan by Geoffrey. The whole thrust of the story, the witnesses sworn to secrecy, the desperate measures to secure Henry's assent, serves to emphasise the fact that something unusual and rather surprising v as being done here, and the story loses its point unless Henry himself expected to succeed to Anjou. Geoffrey had been ruling Normandy since 1144 and if, as the story suggests, he had not originally planned to leave Anjou to his son Geoffrey, then he must have been intending to give it to Henry. Even if we believe the story then, it still shows that most of the time, most people must have expected Anjou and Normandy to be joined together at the old Count's death.
In some ways the story itself is inherently improbable. In 1151 when Geoffrey died, Matilda's struggle against Stephen had come to a stand- still. The question was whether Henry II could keep Normandy, not conquer England, and if he never conquered England then he would never have to hand over Anjou. Unburied bodies had few spiritual rights at this time and the count was effectively risking his immortal soul for his younger son. Yet when we look at his legacy it turns out to have been more of a sweepstake ticket than a real inheritance.
Whatever the truth of the matter, Henry II did go on to become King of England while keeping both Normandy and Anjou. Before this he had an unexpected addition to his for- tunes. The marriage between Eleanor of Aquitaine and King Louis VII had lasted fifteen years and produced only two daughters. In this period that was more than enough reason for a royal divorce and relations between the King and Queen had been bad since they quarrelled on the second Crusade in 1148. No one was particularly surprised, therefore, when in March 1152, Louis VII quietly had has marriage annulled. What did surprise people was that only weeks later Eleanor married the new Count of Anjou and pretender to the English throne, Henry II.
Although Louis VII had divorced Eleanor he can have had little intention of giving up her lands. In fact arrangements had already been made to marry off her daughters to allies of Louis VII who would eventually succeed to Eleanor's rights in Aquitaine. The proper thing for Eleanor to do would have been to retire to one of the more fasionable convents. But Eleanor was not the nunnery type, and in Henry II she found a man more than capable of defending her lands. Louis VII was furious and promptly attacked Henry II. He was joined by King Stephen's son Eustare and Henry's own brother, Geoffrey who, whatever the truth of his father's will, really did want to be Count of Anjou.
Despite this opposition, Henry II was able, not only to hold his own on the continent, but to continue with his plans for the invasion of England, where he landed in January 1153. In November, after the unexpected death of his son and heir Eustare in August, Stephen came to terms with Henry II and named him as his heir. Before Stephen conveniently died, Henry II had time to return to the continent and complete his victory over Louis VII. In August 1154 Louis VII recognised Henry II not only as Count of Anjou and Duke of Normandy, but as Duke of Aquitaine as well. A few months later the news of Stephen's death was carried over the channel, and Henry assumed the last of his titles – King. The Angevin empire, if such it was, had been born.
Explanations for Henry's phenomenal success in such a short space of time have abounded. Contemporaries saw the hand of God behind the King, while historians have preferred the workings of Providence. Both have been quick to acknowledge Henry's very real abilities as a soldier and politician. To understand Henry II's victory over Louis VII, however, one must also appreciate the geography of his lands. Louis VI1 had ruled Aquitaine for fifteen years. On the surface, for Henry II to be able to deprive him of it, while simultaneously preparing the conquest of England, sounds a tall order indeed. But the relative positions of a French king and a count of Anjou, trying to control Aquitaine were very different. Louis VII's lands and resources were concentrated in a small area around Paris and Orleans. Although as king he could lay claim to a tradition of wider authority, and in practice exert considerable influence over bishoprics outside his immediate domains, he had no knights or castles to call on near the borders of Aquitaine. In tact even to get there was tricky; the quickest way was straight through Anjou. Anjou on the other hand did have common borders with Aquitaine.
In fact Aquitaine was just one of many areas into which the Angevins had been expanding throughout the past two centuries. The union of Aquitaine and Capetian France was unworkable, as Louis' fifteen ineffectual years as Duke had shown. The union of Anjou and Aquitaine was not only workable, but the culmination of two centuries of Angevin pressure. It also made certain that Henry would retain personal control of Anjou, for Anjou was the vital centre through which communications between Henry's Northern and Southern lands, must pass.
Anjou in fact had common borders with all Henry's continental lands. It was not only the spiritual centre of the Angevin lands – Henry after all was born, died and buried there, and now lies alongside his wife Eleanor and son Richard in the Abbey of Fontevrault – but its geographical centre as well.
What did Angevin rule mean in practice for England and Henry's other lands? Unlike the Norman conquest of 1066 it did not mean government being taken over by 'foreigners'. England and Normandy continued to be ruled by Normans, Poitou by Poitevins, and Brittany by Bretons. Each state had its own administration, and its own officers. This has often been compared unfavourably to England and Normandy under Henry I where some historians have seen a tendency to draw the church and administration of the two into a single 'Anglo-Norman Regnum'. But then Henry II's lands were not an 'empire' in the sense that the British or Roman Empires were. Henry ruled in each of his lands, as the legitimate ruler, according to the laws and customs of that land.
This is not to say that Angevin rule marked no change at all. In the first place, ruling several lands made Henry 11 very much more powerful in any one of them, than he would have been otherwise. As a ruler Henry might claim only his rights, but it was Henry who defined those rights, and the resources of all his lands could be brought to bear on anyone foolish enough to disagree.
Secondly, Henry II and Richard were absent not only from England, but from any one of their lands, most of the time. This meant that another result of Angevin rule was to develop separate administrations which could handle the machinery of government in the King's absence. How effective this machinery of government was, is shown by the way it was able to cope with Richard I's long absence on Crusade, and as a prisoner in Germany.
The fact that these lands were now ruled by one man, meant that there was no longer any reason for them to go to war with each other. This was probably good news for people who lived in border regions that had seen regular devastation for centuries. It was also good news for anyone who wanted to travel across those borders and make a profit selling goods. Medieval trade was often a dangerous profession. In 1186 when Philip Augustus was having a disagreement with Henry II he 'ordered that all those from the King of England's lands, found in the country should be seized along with their goods'. Henry retaliated by ordering the arrest of any French merchants. A few years later Raymond of Toulouse tried to get at Richard I by arresting merchants from his lands. 'Some of whom he deprived of their eyes and testicles, some of whom he killed, and the rest of whom he imprisoned'.
Within the Angevin lands a merchant could reasonably hope not to lose any limbs to international politics. Henry's lands in fart included nearly all the major ports of north- western Europe: London, Bristol, Rouen, Nantes, La Rochelle, Bordeaux, Bayonne. The wine trade from Bordeaux to England continues to this day. The Southern lands also produced salt, which was exchanged for cloth, tin and grain. Trade also followed inland routes along the great river systems of the Seine, Loire, and Garonne. The towns, which benefited most from this, showed their appreciation of the fact by consistently supporting the Angevin kings in times of rebellion and invasion.
All this was probably incidental to Henry's main purposes. Although as a ruler he acknowledged responsibilities to his subjects, the lands he ruled he ruled for the benefit of him- self and of his family. His different dominions were important to him because each of them added to his total wealth and power. As one contemporary said of Richard I, he was:
Extremely rich in land and resource's, much more so than the King of France. He could raise a very large army from his vassals and mercenaries, for he could summon English, Normans, Bretons, Manceaux, Angevins, and Poitevins.
The key to understanding the 'Angevin Empire' lies simply in that -- the ability of one ruler to bring together troops and taxes from a variety of lands. In this way Henry Il was able to use the lands he had in 1154 to acquire during the course of his reign – the whole of Brittany, disputed lands between Anjou and Champagne, the Norman Vexin on the border between France and Normandy, Cahors and Quercy bordering Toulouse and Aquitaine. Until the changes of Philip Augustus' reign, Henry II was constantly expanding, both in territory and in actual influence. In the 1170s his attentions were concentrated in that area of central France which included Berry, Auvergne, and the Limousin. For the most part he was successful, just as in Britain he was able to impose himself on Ireland, Wales and Scotland. Until the birth of Philip Augustus in 1165, it looked as if France itself would go to the Angevins, for Louis VII's heir was his eldest daughter Margaret, engaged in 1158 to Henry's eldest son and namesake. The birth of a male heir to the kingdom of France made it almost inevitable that the struggles of Louis VII and Henry II would be resumed in the next generation. But most historians have seen E3enry's biggest threat in 'the needless grasping, treacherous ambitions of his quarrelsome sons'.
From early on, Henry II was determined that all of his children should rule as princes. Richard, as the second son, was earmarked soon after birth for Aquitaine, the maternal inheritance. Geoffrey the next in line, was taken care of in 1169 when it was arranged he should marry the heiress to Brittany, and rule there as count. Henry, as the eldest, was to have the lion's share: England, Normandy, and Anjou. Following the traditions of his Angevin forefathers, Henry wanted all his children acknowledged as rulers of their respective territories while he was still alive. In 1170 he had Henry crowned king in England. The following year in a similar ceremony Richard became Duke of Aquitaine. Geoffrey was already calling himself Count of Brittany. The problem was that although Henry wanted his sons to be acknowledged as rulers, he still expected to go on running things as before. His sons however had different ideas.
In 1173 when the eldest was only nineteen, the three brothers Henry, Richard and Geoffrey joined their mother in a rebellion against Henry. It took Henry two years to bring his family to heel. Eleanor he imprisoned for the vest of his reign. With his sons however he was more generous. Indeed he went some way to meeting their demands. Richard I was given enough power in Aquitaine to begin a relentless series of campaigns against the restless baronage. Henry and Geoffrey both received a portion of the revenues that went with their titles. Later Geoffrey also began to assume some of his duties in Brittany. It was Henry, the eldest, who was forced to live most in his father's shadow, and so remained discontented. Eventually he again turned against his father in 1183, only to die of a sudden fever, sent by God it was rumoured, for his filial impiety and his plundering of monastic property to pay his troops.
Henry II's suggestion that Richard as the new heir of Normandy, England and Anjou, should now pass Aquitaine on to John, the youngest of the brothers, resulted in intermittent family strife over the next six years. Henry's last words to Richard were rumoured to have been 'God grant that I may not die until I have had my just revenge on you'.
Colourful and unedifying though all this is, it should not distract our attention from the practical realities of Henry II's succession. The argument that 'these schemes for division will not allow any but the most elementary conception of an Angevin Empire', is not as straightforward as it might appear. It was always planned that the eldest of Henry's children, first Henry and then Richard, should rule in Normandy, England and Anjou. In other words all the lands that Henry II had inherited from his parents were now regarded as indivisible. It was only the lands that he himself had acquired, by marriage, diplomacy or conquest, with which he was prepared to endow his other children.
Secondly those lands that were to go to younger sons, remained answerable to the head of the family. The younger Henry did homage to Louis VII in 1169 for Brittany, and it was only then that Geoffrey began calling himself Count. Similarly Henry II's insistence that Richard do homage to his elder brother for Aquitaine, was an important element in the complex family quarrel that erupted in 1183. Richard's refusal to give up Aquitaine to John later, was not an attempt to 'grab the lot' and reunite lands Henry II wanted to divide. It was simply a question of a bird in the hand being worth Normandy, England and Anjou, in the bush. In the same way Richard refused in 1188 to let Henry II bargain away lands Richard had conquered in Toulouse, to save lands captured by Philip Augustus, 'which he did not rule, but were only promised to him'. Once Richard was actually ruling the other lands he was quite happy to put someone else in charge of Aquitaine, although he chose his German nephew Otto rather than John. The new kingdom of Ireland, which was all Henry II could find to give John in the end, was still subject to the king of England. When John rebelled in Richard's reign, Richard promptly confiscated Ireland.
When Richard I died, struck by an arrow under the walls of Chaluz, he left two possible heirs. John, and Geoffrey of Brittany's son Arthur. Who had the better right to succeed: a younger brother or a nephew in the senior line? England and Normandy decided on the former, while Anjou chose Arthur. What is revealing is that despite different local customs, neither candidate seems to have considered splitting the empire up. John's victory made him the third king of England in a row to rule Normandy, Anjou and Aquitaine, as well as claiming rights over Brittany, Toulouse, and Flanders. He was also the last, but that was because he lost the long fight against Philip Augustus. Had John won instead of lost, it seems more than likely that the 'Angevin Empire' would have been passed on intact to his son, and the shape of European history would look very different indeed.
If you enjoyed this article, you might like these: