The Way the Ladies Ride
Richard Almond has trawled medieval and Renaissance sources for insights about ladies' riding habits in the Middle Ages and what they reveal about a woman's place in that society.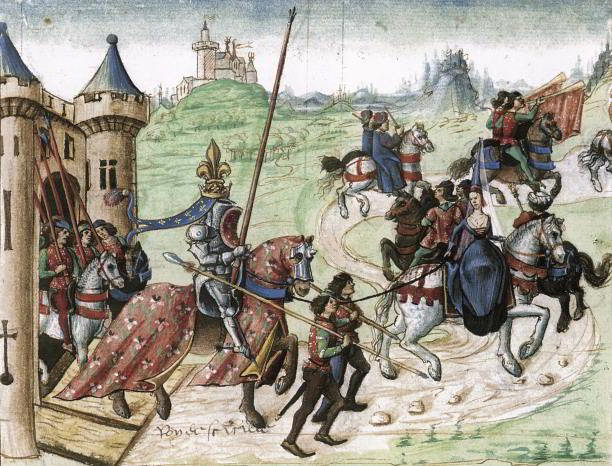 When Gerald of Wales wrote in The Topography of Ireland (c. 1188) that 'The women, also, as well as the men, ride astride, with their legs stuck out on each side of the horse' he was making a comment on something significantly unusual in everyday medieval life. Readers were expected to seize on this female departure from the norms of decency and splutter with indignation. However are we any different from our ancestors in our conception of how women rode horses, asses and donkeys hundreds of years ago? I suspect that most of us rather vaguely assume that medieval and Renaissance courtly ladies rode side-saddle and the rest of female society walked. But research reveals that there were four different riding styles and whether and when women rode astride, pillion, on-the-side or true side-saddle has never been fully investigated by historians. Did how women rode indicate class or role, or did it depend upon what activity they were doing? Relevant supportive textual evidence on the subject is scant and what exists can be vague or ambiguous, while images of the period can be difficult to 'read'. Fortunately there is a good deal of varied iconographical evidence to interpret. Yet there is also the added difficulty of differentiating between imaginative pictures depicting myth and romance and those illustrating everyday life.
This article is available to History Today online subscribers only. If you are a subscriber, please log in.
Please choose one of these options to access this article:
Call our Subscriptions department on +44 (0)20 3219 7813 for more information.
If you are logged in but still cannot access the article, please contact us
If you enjoyed this article, you might like these: