Cobbett and Hunt: An Unnecessary Act
The term 'Cobbett and Hunt' was shorthand for radical politics in the early 19th century, but the petty hatred that developed between the two men had a devastating effect on the outcome of the 1832 Reform Act, says Penny Young.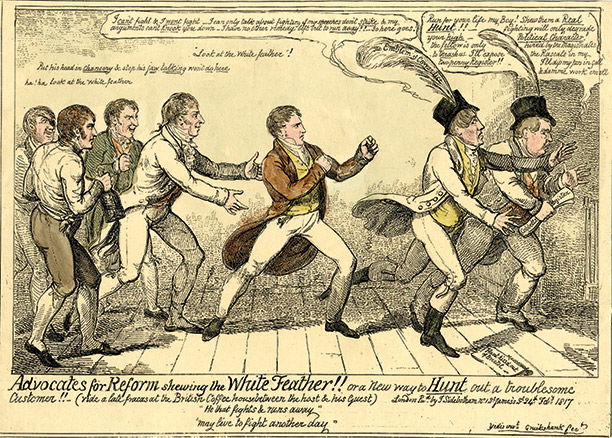 Two hundred and fifty years ago this month, on March 9th, 1763, William Cobbett was born in the Jolly Farmer public house in Farnham in Surrey. The pub is still there and now takes his name. Cobbett's grandfather was a labourer hired by the day. His father managed to get enough land to set up a small farm. As soon as he could walk, Cobbett chased away the rooks from the peas and weeded between the wheat. He taught himself to write correct grammar when, aged 20, he left home and enlisted as a soldier.

These were obscure beginnings. Nevertheless, Cobbett became the greatest political journalist and writer of all time. He founded what became Hansard's Parliamentary Reports and was elected MP for Oldham in the first reformed Parliament. The essayist William Hazlitt described him as a kind of 'fourth estate in the politics of the country'. The people loved him, governments feared and loathed him. History has marginalised him. It was Cobbett who called the so-called 'great' Reform Act of 1832, a 'deception' and a 'sham'. He was right, of course. The word 'great' has been a useful cloak or mask to disguise just how inadequate the Act was. Nobody forgives you if you tell the truth. That is what Cobbett set out to do when he returned from America in 1800, after making his name on both sides of the Atlantic as a controversial and bitingly sharp writer. In January 1802 he launched Cobbett's Weekly Political Register. It became a bestseller and, with just one brief interruption, Cobbett wrote it until his death in 1835.
This article is available to History Today online subscribers only. If you are a subscriber, please log in.
Please choose one of these options to access this article:
Call our Subscriptions department on +44 (0)20 3219 7813 for more information.
If you are logged in but still cannot access the article, please contact us
If you enjoyed this article, you might like these: