From Rank to Class: Innovation in Georgian England
Penelope Corfield finds that economic progress and new self-awareness in language and gesture disturbed the tranquility of the 'Age of Elegance'.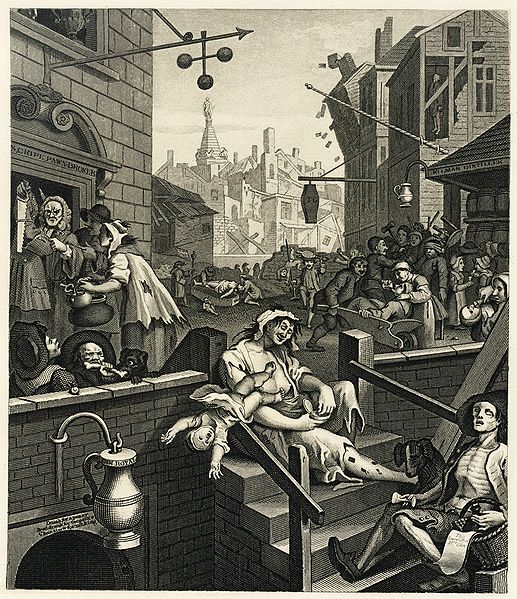 Society in eighteenth-century England has often been depicted as static, harmonious, unchanging verging upon the torpid. In caricature: a world in which an obsequious peasantry stood endlessly doffing their hats to a complacent gentry, in a tranquil countryside.
Professor Perkin, for example, has pointed to the dynamism of trade and economic change, but nonetheless dubbed the old society of England before the Industrial Revolution as a 'classless hierarchy', further defined as 'an open aristocracy, based on property and patronage'. Peter Laslett attributed even less significance to urban and commercial expansionism. He argued that the landowners were the only social group to exhibit cohesion in wielding wealth and power. Traditional England was therefore a 'one-class society'. All other potential interest groups were fragmented, divided, and usually deferential. Rank and hierarchy reigned supreme, and there were no signs of dangerous modernisms, such as 'class consciousness' or 'class conflict'.
Yet these interpretations are now coming under increasing challenge. Recent research into popular politics, riots, urban growth, commercial dynamics, the professions, the family, women, literacy, the history of dress -to name but a few aspects of the 'new eighteenth century' - collectively suggest that the simple 'hierarchical' model is far too simple. It was a complex, changing, and often uncertain society. The traditional theory of the old ranks and orders was in considerable disarray. Instead, there was a new sense of challenge, of flux, of innovation.
One sign of change in eighteenth-century England was small but significant. The custom of doffing one's hat to a social superior gradually fell into disuse. Particularly in the fast-moving city streets, it was often difficult to tell who outranked whom. 'A slight inclination of the head, or motion of the hand, is deemed sufficient', when greeting a stranger, as a visitor reported. By contrast, in the later seventeenth century, the Quakers had been viewed as dangerous social radicals for refusing to remove their hats in the presence of social superiors. Yet a century later, such behaviour was much more commonplace, and certainly less controversial.
As well as in the intricacies of body language, eighteenth-century England was also innovative in its use of words and concepts to describe society. Notably, it brought into currency one new collective noun, eventually of great and controversial resonance. But 'class' in the eighteenth century glided into the language. It was then a new, modernising term. The impulsion of social change had the effect of making the old terminology of 'rank and order' seem at first partisan, then archaic, and finally obsolescent.
Certainly, these developments were long-term ones. Nineteenth-century usage (itself very variegated) should not be projected backwards into the eighteenth century, which was a period when language and interpretations of society were still more diversified and eclectic.
Some onlookers did undoubtedly stress the traditional respect for 'rank, order, and degree'. They approved of the theory of the 'Great Chain of Being', whereby all living creatures were allocated by birth into their due positions in a global hierarchy. The world picture it represented was enclosed and finite. It was, from one point of view, very reassuring: everyone had a place, and no-one was unaccounted for. All interests were assumed to be complementary. There may have been something like 'rank consciousness', in the form of 'knowing one's place' in society (whether high-born or lowly). But there was certainly no conceptual scope for 'rank struggle' or 'rank conflict': that would have been unthinkable, like a contest between the spokes of a wheel, or a fight to the death between the rungs of a ladder.
Such a viewpoint naturally commended itself to those at the apex of traditional hierarchy, although it found adherents at all levels of society. It was expressed in many ways, often very discreetly. The general emphasis was upon the natural and divinely-instituted 'order of things'. Status was conferred by birth, beyond the choice or control of individuals. It could, however, develop into an outright snobbery. Then the 'lower orders' or 'common people' were termed more dismissively as 'clowns', 'plebeians', or the 'rabble'. And in time of potential political crisis, Edmund Burke in 1790 was rattled enough to write of the masses as a 'swinish multitude' - a jibe that was used against him with relish by his critics.
The initial challenge to the concept of a 'Great Chain of Being' and its attendant ranks and orders came, however, not by formal onslaught from radical agitation but indirectly, through the mechanisms of social change. Formal hierarchy, in the course of the eighteenth century, became decreasingly easy to identify. New forms of wealth - commercial, urban, industrial - and their new social visibility dented confidence in traditional identifications. In the 1720s, Defoe was rather luridly talking of a social 'revolution', a term that was increasingly in vogue. A fashionable journal in 1755 mused on the joint depredations of drink and social mobility:
We are a Nation of Gentry; we have no such thing as Common People among us; between Vanity and Gin, the whole species is utterly destroyed.
Dean Tucker of Gloucester joined the litany in 1757, asserting in similar vein that:
The different Stations of Life so run into and mix with each other, that it is hard to say, where the one ends, and the other begins,
In fact, the extent and pace of social change was less dramatic than traditionalists feared or radicals hoped. Yet out of this sense of social flux - especially in the fast-growing towns - came redefinition. How were individuals of wealth, status, and power, who were not simultaneously people of rank and birth, to be described? Individual exceptions to the 'Great Chain' there had always been, but now exceptions on a major scale intruded into the old certainties.
Instead of the many fine gradations of ranks and orders, people began instead to use a new term to describe looser, broader, social categories. It was not merely a case of substituting one word for another, but the words themselves expressed different ways of thinking about society. New and old terminologies were found side by side, often in great confusion, but gradually usages began to diverge.
'Class' had new connotations. It smacked of the modern and scientific ('classification' itself was another abstract noun coming into currency at this time) rather than of old traditionalism. It referred to socio-economic status, not strictly to birth and parentage. And it held out the possibility of new relations between broad social groupings. 'Classes' could adapt, emulate, co-operate, compete, or conflict, whereas 'ranks' were serried, not to say regimented.
These developments were eventually also found in France, where les etats were retranslated into les classes, or in Germany, where die Schichten became die Klasse, The new phrasing was, however, used earliest and most familiarly in England. There, dictionaries had recorded the innovatory term since Blount's pioneering Glossographia in 1656. That work, which engagingly offered a definition of all the 'Hard Words' in the English language, had noted that 'Class', an Anglicisation of the Latin 'Classis', could be used to refer to 'an order, or distribution of people'. It was initially, however, an esoteric usage, and was rarely found in late seventeenth-century prose. Much the most common meaning was in application to a form or set of pupils in the schoolroom, which (of course) remains in currency to this day.
With time, however, the social application of 'class' began to multiply with some rapidity. Sometimes it was used simply as an alternative to 'rank'. Indeed dictionaries then (as later) habitually defined each word in terms of the other. But gradually the social meanings began to diverge, and 'rank' came to sound increasingly traditionalist and eventually archaic.
There was much uncertainty as to the number and configuration of classes in eighteenth-century England. In a fast-changing society, precise social boundaries were difficult to pin down. It was a commercialised and urbanising world, emerging from within an older landed order. For those with a sense of drama, there was a straightforward division between two classes: rich and poor, 'high' and 'low', 'gentry' and 'plebeians'. An enterprising piece of journalism in 1752 put it into stark terms: One Half of the World knows not how the Other Half live. And such polarities were often expressed with particular force in terms of social confrontation or political crisis.
Conversely, commentators and specialist observers tended to find a plurality of significant groupings. Daniel Defoe in the 1700s listed seven classes. James Nelson, an educational reformer writing in 1753, suggested that five was the appropriate number:
Were we to divide the People, we might run it to an Infinity: to avoid confusion therefore, I will select five Classes: viz, the Nobility, the Gentry, the genteel Trades (all those particularly which require large Capital), the Common Trades, and the Peasantry.
It was an interesting description, which was not intended to be controversial. Nelson showed clearly the intrusion of new trading and commercial wealth into the traditional hierarchy.
Above all, however, a threefold classification began to gain currency. Again, there were many permutations and varieties of emphasis. Yet the 'three' had a certain attraction as indicating a social structure that was more complex than a simple dichotomy of rich versus poor, yet at the same time finite enough to be comprehensible. In the seventeenth century, there were already some references to such a format. Samuel Butler in the 1670s praised the lot of those of 'middle life', who, he suggested, were generally happier than either the very rich or the very poor. A term coming into increasing use was the 'middling sort'. In the eighteenth century, threefold classifications became widespread. References were initially made to the 'higher', 'middling' and 'lower' orders. From the 1740s onwards, they were increasingly expressed in terms of three social 'classes'.
With the change in nouns, came an equally significant change in the qualifying adjectives. That was particularly unique to the changing English vocabulary, in contrast with French and German usage. At the traditional apex of society, verbal claims to altitude were still retained, but slightly less ostentatiously. The 'higher orders' became the 'upper class', resisting the obvious social dangers in the radicals' preference for describing them as the 'idle' or 'unproductive' class. Indeed, landowners increasingly justified their status in terms of their economic and political contributions to society. 'Idleness', once the hallmark of the gentleman, was no longer deemed admirable as a public defence (even if still enjoyed in private lives).
At the social fulcrum, the 'middling orders' underwent further change. They turned into the newly self-confident 'middle class', a concept in increasing use from the 1750s onwards. Undoubtedly, this sector of society, drawing its strength particularly from urban and commercial interests/ was open to satirical representation. An aristocratic republican teased them as unhappy andunsettled social travellers, in a poem of 1765:
Those motley Beings next in order place,
Whose wavering Stations wear a doubtful face,
Who, dragged by Fortune into Middle Life,
That vortex of Malevolence and Strife,
Envying the Great and scoffing at the Mean,
Now swollen with pride, now wasted with Chagrin,
Like Mahomet's unsettled ashes, dwell Midway suspended between Heaven and Hell.
Yet the 'middle' had from the start other, more positive, connotations. It signified also the central equipoise, the Aristotelian 'Golden Mean'. Far from indicating merely a halfway point on a vertical hierarchy, it could claim a new centrality on an entirely different social axis. The avoidance of extremes was praised as a source of virtue. There was an increasing chorus to this effect, mainly of course from the emergent middle class itself.
A number of writers were critical of landed society and its claims to status through birth alone. Indeed, many trading and professional people now began to use the social label of 'gentleman', despite their humble parentage. A polemicist of 1777 explained that real gentility was a moral rather than a social quality. And he gave as an example the case of Henry VIII, who, while undoubtedly a king, was 'not a gentleman'. The 'middle class' was therefore ready to blow its own trumpet, and often in no uncertain terms. A doctor in 1795 wrote that they were 'the most virtuous, the most enlightened, and the most independent part of the community'. And Joseph Priestley agreed that: 'they are generally better educated, and have consequently more enlarged minds, and are more truly independent than those born to great opulence'.
Most novel of all, there was a fundamental change in social perceptions at the traditional 'base' of society. At first, the 'lower orders' had mutated uncontroversially into the 'lower class'. But eventually a challenge was mounted to the notion of a vertical hierarchy. It marked a key shift towards a more egalitarian social model, although that was certainly a minority belief in the eighteenth century. Nonetheless, many who were not democrats, were impressed by the input of the workforce into the economy. As one reflective Birmingham businessman wrote in 1818:
What an amazing number the laborious part of mankind are among us. This valuable class of creation is the prop of the remainder.... From this fountain, we draw our luxuries and our pleasures. They spread our tables, and oil the wheels of our carriages....
There was something almost like an unofficial search for a suitably dignified way of referring to these toiling masses. A long series of anticipatory or proxy versions of 'working class' can be found in use in the later eighteenth century, from 1760 onwards. They all referred respectfully to labour, and its new social visibility. Equally, they all rejected the verbal "'lowliness' of the older terminology. The new permutations included, for example, the 'industrious class', the 'laborious class', and the 'manufacturing class'. Radicals joined in, yet more polemically, with the 'productive class', the 'essential class', and the 'useful class', with the clear implications that all the others were valueless.
These formulations were, however, all rather clumsy and cumbersome. When therefore the compact and expressive modern compound, the 'working class', was coined, its usage spread very rapidly across the country, and among many social groups. An early reference has been found in the politically significant year of 1789, although in a technical tract devoted to the unglamorous theme of improving the country's fishing industries. There were a few other similar applications in the 1790s, mainly in a descriptive content. But the political radicals also adopted very similar terminology, stressing the claims and merit of the labour of the masses. A Paineite song of 1795, satirically entitled Wholesome Advice to the Swinish Multitude, identified its readership in a close approximation of the new terms, as it enquired:
You lower class of human race, you working part I mean,
How dare you so audacious be, to read the works of Paine?...
From the start, therefore, there was a tension between the use of the new expression mainly in a descriptive sense, and those who applied it for more polemical purposes. For that reason, many traditionalists declined to use the term at all, or, if they did so, preferred its application in the plural, as though reference to the 'working classes' could minimise the dangers of lower-class solidarity. But patterns were never simple, and often shifted from group to group, so that in the 1820s and 1830s a number of radicals also described the workers in the plural form.
Overall, the striking thing was the eventual supremacy of the language of 'class' over that of 'ranks'. The shift was gradual and long-drawn out, but ultimately decisive. The tide of social usage has rendered reference to 'ranks' obsolescent, and has diminished, though not abolished, traditions of exaggerated respect for individuals on grounds of birth alone. The social theory that underpinned the old terms has also virtually disappeared. Intei pretations of modern, industrial societies are in many ways less clear-cut, and certainly less confident in their imagery than the old notions of the divinely-instituted 'Great Chain of Being'. But they tend towards categorising people in the horizontal rather than the vertical axis, and they look at socio-economic roles rather than static classifications by origins and parentage.
Social change in the eighteenth century gave a considerable filip to the study of economics and an embryonic sociology. In keeping with the new mood, analysis was notably secular and utilitarian. Adam Smith in 1776 was one of those concerned to identify the economic bases of social divisions. He in fact used the old terminology, but very much to new effect. A threefold classification was fundamental to his analysis. He found: the landowners, who lived off rent; the businessman, who lived off profits of invested capital; and the workers, who lived off the wages earned by their labour. These are the three great, original, and constituent orders of every civilised society', he wrote in The Wealth of Nations; and by civilised, he meant nations that were economically as well as culturally advanced.
When, therefore, Karl Marx and other socialist writers in the earl nineteenth century began to turn this social analysis to more radical purposes, a concept of classes and a discussion of their theoretical economic bases had already begun. The collapse of strict hierarchy and the prospect of new social formations - whether in conflict or co-operation -had developed well before the advent of the factory and of mass production.
Society in eighteenth-century England was not, then, a traditional and timeless hierarchy, based purely on landownership and the values of landed society. There was a marked sense of change and flux: a recognition of new sources of wealth, in the growth of a 'middle class', and newly-visible labour, in the form of an 'industrious', later 'working class'. Fundamental long-term changes were reflected in, and crystallised by, changes in the terms in which society itself was analysed and identified. New words were important for their conceptual significance, not just to provide work for the busy dictionary compilers. Changing language both stemmed from and shaped the sense of social change. 'Class' itself began as a flexible and innovatory term, even though it has subsequently acquired its own rigidities. From the start, too, it was elusive in precise definition, even while powerful in its general significance.
As belief in an immutable 'Great Chain of Being' dissolved, the key question of how modern society was to be interpreted and organised moved onto the political agenda. It was a prospect to arouse both hopes and fears. 'The Age is running mad after Innovation', grumbled Samuel Johnson in 1783, when exemplary public executions at Tyburn were ended. In 1790, Edmund Burke, with yet greater intensity, attacked the dangers of social levelling and bemoaned the demise of the 'Age of Chivalry'. Meanwhile, Tom Paine riposted with simplicity: 'It is an Age of Revolutions, in which everything may be looked for'. These were voices not from an age of stasis, but from one of long-span social transformation.
Further reading:
Contrast the emphasis in H. Perkin, The Origins of Modern English Society/, 1780-1880 (Routledge, 1969) in chapter 2, and in P. Laslett, The World We Have Lost (Methuen, 1965 and later edns.), chapter 2, with later studies, such as R.J. Morris, Class and Class Consciousness in the Industrial Revolution, 1780-1850 (Macmillan, Studies in Economic and Social History, 1979), P.J. Corfield, The Impact of English Towns, 1700-1800 (Oxford University Press, 1982), esp. chapter 8, and N. McKendrick, J. Brewer and J.H. Plumb, The Birth of a Consumer Society: The Commercialisation of Eighteenth-Century England (Europa Publications, 1982).
Much impetus for re-examination of the social politics of the period has been prompted by the work of E.P. Thompson, notably The Making of the English Working Class (Penguin, 1968 and later edns.) and his article 'Eighteenth-Century English Society: Class Struggle without Class?' in Social History. Vol. HI (1978).
Current research is engaged in analysis of both structures and perceptions of society.