Tudor Africans: What's in a Name?
Onyeka explores the changing meanings of words for Africans in Tudor England.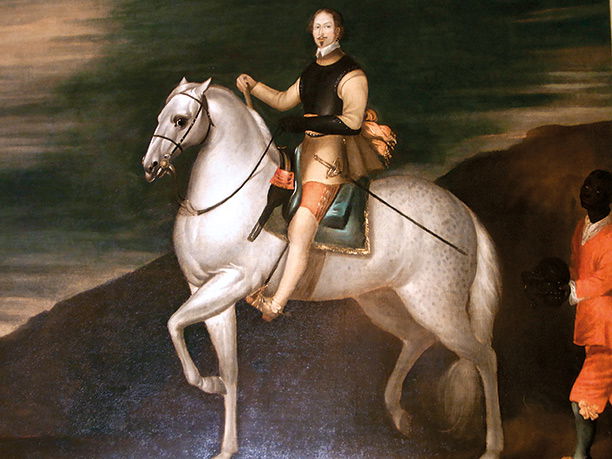 In her 1995 book Things of Darkness the historian Kim Hall says the African in Early Modern England is 'too accidental and solitary to be given a historical statistic'. But in Tudor England Africans are described in parish records. For example, the burial of 'Christopher Cappervert a blackemoore' at St Botolph without Aldgate in London is listed on October 22nd, 1586; while 'Mary Fillis, a black more, being about xx years old and dwelling with Millicent Porter, a seamester' was baptised on June 3rd, 1597. In Plymouth, 'Bastien, a Blackmoore of Mr Willm Hawkins' was buried on December 10th, 1583 and 'Anthony, John, a Neyger' was buried on March 18th, 1587. In the same parish there are baptism records on May 2nd, 1593 for 'Helene, daughter of Cristian the negro svant to Richard Sheere, the supposed father binge Cuthbert Holman, illeg.'

As these examples show, Africans are referred to by a variety of words such as Blacks, Moors, Blackamoores, Negroes (Negars, Negras, Negyers, 'Neygers, Nigers, Nigros) and Ethiopians (Aethiopians). Why was such a range of words used and what were their different meanings? William Shakespeare offers a pointer in Juliet's famous lines 'What's in a name? That which we call a rose/ By any other name would smell as sweet' (Romeo and Juliet Act II, Scene II). This speech written in the 1590s reflects an idea rooted in the Classical 'laws of identity' espoused by Aristotle and Thomas Aquinas, who believed that all living things had their own intrinsic identity, no matter what they were called. Humanist scholars of the 16th century, such as John Colet, William Grocyn and Thomas More, had a similar idea which they called 'substantiality'.
However, from the 1950s to the present, a number of historians have contended that the word Moor in Tudor documents was not capable of describing dark-skinned Africans. Such a view is propounded in the UNESCO Statement on Race (1972), an anthropological commentary issued by the United Nations educational wing, which says that Moors and Ethiopians are Hamites, essentially 'black caucasians', ethnically separate from other Africans. Though written 40 years ago, this statement still provides a frame of reference for ideas on ethnicity followed by many historians and anthropologists.
Certainly, if used with the word 'tawny,' Moor could describe the complexion of a range of people of a 'brown or yellowish-brown colour', as the Oxford English Dictionary of 1998 states. 'Tawny' is one of the descriptions that the English traveller and explorer George Best uses in his 1578 book True Discourse to describe Native-Americans and other people who come from the 'Equinoctiall in America ... the East Indies; and … the Ilands [of] Moluccae'. Since tawny was applied to people irrespective of their culture or religion it was also capable of describing lighter-skinned Africans, as the Tudor writer Richard Eden does in The History of Travel in the West (1577). In Titus Andronicus Shakespeare uses the word 'tawny' to refer to the skin complexion of the child of the 'Moor' Aaron and his white 'Goth' partner Tamora; while in The Merchant of Venice 'tawny' is used in the same way to refer to the skin colour of the Moroccan ambassador.
Yet 'tawny' seldom appears in 16th-century parish records and by far the most popular term used for Africans in Tudor England is Blackamoore. The conjunction of the words Black and Moor was used to describe Africans in documents, books, letters and parish records throughout the period. I believe that, without the addition of the words tawny or white, the word Moor was descriptive of Black Africans and that it appears in Tudor parish records not only to define the ethnicity of those being described, but in many cases indicates that these people were dark skinned.
George Best uses the terms 'Black a Moor' and 'Blackamoore' to describe Africans whom he says live among white English people and produce children with them. Best emphasises the 'blacknesse' of the Blackamoores that he has seen and says they are as 'black as cole'. This way of emphasising blackness is also used by the English writer Philemon Holland, translating from Pliny's work, who states that Africans are 'the blackest people in the world,' 'so blacke' that 'no one would believe' it, unless they had seen them, or as the author Andrew Boorde (c.1490-1549) says 'blake More[s]' have 'nothing white but their teth and the white of the eye'.
The same terms are also used by 16th-century clerks and priests to describe Africans buried and baptised in their parishes. Recording a baptism on July 1st, 1596 at St Andrew's Plymouth, the entrant Susan is described as a 'daughter of a Blackmoore', while 'Cornelius Blacke a More' was buried on March 2nd, 1593/4 at St Margaret's Lee, Deptford, London. This record does more than tell us what Cornelius' name was. It reveals that for the writer the words Black and More were the most appropriate descriptions of his ethnicity.
'Blackmoore' and 'Blackamoore' appear in three documents drafted apparently on the instruction of Elizabeth I and signed by her but probably written by an English merchant called Thomas Sherley (1564-1634). These are two letters of July 11th and July 18th, 1596 and an unsigned proclamation drafted in 1601. The aim of these papers was to have groups of Africans deported and exchanged for white Englishmen who had been captured in Spain. The first letter states:
Her Majestie understanding that there are of late divers Blackmoores brought into the Realme, of which kinde of persons there are all ready here to manie.
In the second letter the writer:
desireth to have [a] lycense to take up so many Blackamoores here in this Realme [England] and to transport them into Spaine and Portugall.
The proclamation declares that the queen is:
discontented to understand [about] the great Numbers of Negroes and blackamoors … who are fostered and powered here to the great annoyance of her own liege people that which co(vet) the relief which these people consume.
It is doubtful that these documents led to a mass deportation of Africans from England, but they do show that Africans were present and were referred to in such terms.
'A blackish swartie colour'
The use of Blackamoore to describe Africans in England probably derives from how it was used as a description of Africans in Africa. In The First Boke of the Introduction of Knowledge (1550) Andrew Boorde describes the 'black More born in Barbary'. In 1600 the writer John Pory uses 'Blackamoore' in a similar way to describe Africans present in Africa in his translations of the work of the Moorish historian Joannes Leo Africanus (c.1494-c.1554).
However in Europe during the medieval and Early Modern period, 'Moor' could be used to describe Africans without the addition of the adjective 'Black'. This is because, as John Minsheu's Dictionarie in Spanish and English (1599) notes, the word 'Moor' originates from Mauros from the Greek, meaning Black; Maur from the Latin, meaning the same; and another word Mudarra, which is used to describe Africans from Spain. Similar ideas are stated by Boorde, Leo Africanus and the bookseller and translator Edward Blount (1562-c.1632).
Writers including Pory and Blount often use the colour Black to define and describe those who were Moors: 'Moro – a blacke Moore of Barberie or a Neager … Moronez – a blackish swartie colour'. This seems to have been a common practice even up to the 18th century. Samuel Johnson's Dictionary of 1755 offers: '(Maupos, Niger, More …) A Negro a blackamoor'.
Muslim and Moor
Being black in complexion appears then to be the prime qualification for being described as a Moor. However modern editions of The Oxford English Dictionary and some historians, such as Emily Bartels, have suggested that people who were called Moors in Tudor England were automatically therefore also Muslims. Evidence in some historic documents appears to support this notion. For example the 1601 proclamation cited above states that the Blackamoores in England have 'no understanding of Christ and his gospels', which could mean that they follow any religion other than Christianity. And Andrew Boorde claims that Moors are 'infydels and unchritened' and that they 'do kepemuche of Maconites lawe as the Turkes do'. Minsheu's dictionary, meanwhile, defines Africans as: 'Moro – a blacke Moore ... that followeth the Turkish religion [Islam].'
None of these state that Moors are Muslims, merely that they may be. Parish records of the 16th- and early-17th centuries indicate that the words Blackamoore and Moor could be used to describe Africans no matter what their religion. Leo Africanus states that there are Moors of the Muslim, Christian, Jewish and the Animist persuasions. Certainly Africans who are Christians are also described as 'Moors' and 'Blackamoores'. For example a 22-year old woman called Julyane, who was christened on March 29th, 1601 at St Mary Bothaw, London, is referred to as a 'blackamore servant'. And James Curres was identified as 'beinge a Moore Christian' when he married 'Margaret Person a maid' on December 24th, 1617, in the church at the parish of Holy Trinity, London. In this respect the words Blackamoore and Moor are both similar to another word 'Negro,' which is also used to describe Africans in Tudor sources.
Negro, Negyer, Niger
In Richard and Ernest Kirk's Return of Aliens Dwelling in the City and Suburbs of London (1907) 16th-century subsidy rolls are quoted revealing Africans living in England and mentioning 'Clara', who is described as 'a Negra at Widdows Stokes'. Another woman called 'Maria' is referred to as 'a Negra at Olyver Skynners,' while another person 'Lewse' is called 'a Negro at Mitons'. A fourth called 'Marea or Mary' is noted as 'a Negra at Mr Woodes'. All of these African women were taxed as aliens and were present in the parish of Tower Ward, London, on October 1st, 1598. A year later, Clara and Marea were still there, recorded in a similar way and still taxed as aliens. Maria and Lewse do not appear in these latter records possibly because they had ceased to be registered as aliens, had left the parish or died.
The word 'Negro' used in this way seems to have a different meaning from that offered in some more recent modern publications, such as The Oxford Dictionary of English. The latter says that the words Negro and Niger only define those Africans who come from West Africa. However it seems from the records that the word Negro was interchangeable with other words such as Moor, Blackamoore and Ethiopian. The explorer John Lok, whose 1554 journey to Guinea is cited in the work of Richard Hakluyt (1598), certainly uses the word 'Negro' to describe the West Africans he brought to England in 1555, but he uses the word 'Blackamoore' as well. This pattern is followed in the writings of Best, Boorde, the English translations of Caelius Augustinus Curio (1538-67) and in Minsheu's books. So both the words Blackamore and Negro describe black Africans, a point acknowledged by the early-20th-century scholar J. A. Rogers writing in 1931 and more recently by William Wright in his book Black History and Black Identity (2002). Nevertheless, though the words Moor, Blackamoore and Ethiopian were interchangeable with Negro during the 16th century, by the end of the Tudor era it appears that Negro was used more frequently. The reasons for this are complicated.
The term Negro derives from the Latin word Niger, meaning Black. The latter was used before the term Negro to describe Africans in England and this may be one reason why the word Negro only later became popular. Both Richard Eden in 1555 and the dramatist Ben Jonson in 1605 use the word Niger and Nigrite to describe Africans, who in Johnson's words are now 'called … Negroes and are the blackest in the world'. Similar phrases are found in translations of Curio's A Notable Historie of the Saracens. So in Tudor times Negro was probably a new word that only gained popularity in England as the older word, Niger, became unfashionable. Perhaps this was due to increased Spanish and Portuguese influence on English culture, as the popularity of John Minsheu's Spanish Dictionarie suggests.
Barbary and Barbarian
Another word that is often associated with Negro and Moor in Tudor documents is Barbary. However when it and its derivatives, such as Barbarian, are used it is not always clear whether it refers to where a person is from, or something else about their ethnicity. For example, in the baptismal record for 'Lambert Waterson' dated between March 20th and July 30th, 1568 at St Giles in the Fields, London he is described as a 'barbaryen'. But it also says he 'goeth to his parish church,' so in a similar way to James Curres, Lambert is probably an active Christian. This may indicate that the word 'barbaryen' is not a reference to his religion but to something else about his ethnicity, such as his African origins. This theory is supported by Boorde's use of the word 'Barbary' to describe where 'a blake More' is 'borne'. He says in 'Barbary … the inhabytors ther be called Mores'.
These quotes imply that the word Barbary could describe where an African is from and 'barbaryen' could describe an African. The historian Ivan Van Sertima quotes from the Classical works of Pliny and Herodotus, which say the same thing. However the issue is more complex as Curio states that the word Barbary only describes specific areas of North Africa including modern-day Algeria, Libya, Morocco and Tunisia. Nevertheless other contemporary evidence from writers such as Best and Pory's translation of Leo Africanus, suggest that by the mid-16th century the word Barbary could refer to other parts of Africa as well.
As well as Barbary the word 'Ethiopian' is sometimes used in conjunction with 'Moor' to describe the ethnicity of Africans in Tudor books, such as Eden's Decades of the New World. In these documents Ethiopian is used quite differently from its more modern definition in The Oxford English Dictionary and Oxford Dictionary of English, which state that there are different types of Africans such as 'Hamites … Forest Negroes, [and] Bantu speaking Negroes' and the term is now only applied to Hamites. In medieval and Tudor England Ethiopian could be used to describe all Africans and this probably comes from its classical Greek origins, where it referred to all of 'those kindes of people,' not just natives or citizens of Ethiopia.
Throughout the Tudor period the word Ethiopian retained its popular meaning where it was used to describe Africans. For example in 1501 the future Lord Chancellor Thomas More (1478-1535) uses the word in a letter to his friend John Holt to describe the Africans who came to England with Katherine of Aragon. He says they looked as if they were 'barefoot pygmies … from Ethiopia'. George Best uses the word Ethiopian to describe Africans in England in 1578; as does Barnabe Rich, translating Herodotus in 1584. Moreover, in Minsheu's Dictionarie: '[a] Negrillo – [is] a little black More somewhat blacke, [a] Negro … also a blacke Moore of Ethiopia … Negror'.
It appears, then, that descriptions of Africans as Blackamoores, Moors, Negroes and Ethiopians in documents, parish records, books and letters from the 16th to the early 17th centuries could be used interchangeably. Of course this does not resolve all the issues related to these meanings. Did Africans choose the various terms that were used in parish records to describe them or were they imposed on them? Did the terms Blackamoore, Moor and Negro really 'smell as sweet,' investing those described thus with status and respect or did they have pejorative connotations that reflected perceptions of Africans as dejected strangers, immigrants and perpetual slaves? The evidence uncovered so far suggests that at least some Africans had a sense of their own ethnic identity and not all were slaves.
As the English merchant and trader Thomas Sherley says in 1600: 'All the Blackamoores in England are regarded but only for the strangeness of their nation and not for service to the Queen.' But the evidence uncovered so far suggests that his view is not reflective of how most people felt in Tudor England.
If you enjoyed this article, you might like these: