Venus in the Face of the Sun
Nicholas Mee recalls Jeremiah Horrocks, the first astronomer to observe Venus cross in front of the Sun, whose discoveries paved the way for the achievements of Isaac Newton.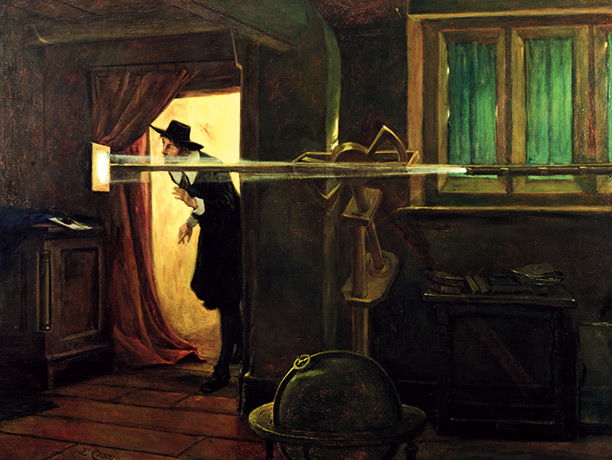 On June 6th the planet Venus will pass across the face of the sun. This will be just the seventh occasion on which this rare spectacle has been observed. The first person to witness such an event was a young astronomer called Jeremiah Horrocks, living in an obscure Lancashire hamlet, who correctly forecast that it would occur on November 24th, 1639. Planetary positions can now be predicted many years in advance and this information is readily available on websites. So we know that after June 6th the next transit of Venus will not occur until December 11th, 2117. Although Horrocks is not well known today, he was a brilliant mathematician and astronomer and his observation of the transit of Venus was not a fluke. Indeed, as the Newtonian Revolution was partially built on his astronomical research, his legacy has proved extremely valuable.

Horrocks was born in 1618 into a family of watchmakers in Toxteth Park, Liverpool. Little is known about his earliest years, but no doubt he was influenced by the family's interest in the measurement of time and its connection to the whirling cycles of the heavens. In 1632, at the age of 14, he was packed off to Emmanuel College Cambridge, which was a leading centre for the study of mathematics and astronomy. At Emmanuel he befriended John Wallis (1616-1703), who was a couple of years older but entered the college in the same year. Wallis would become one the great mathematicians of the age, a cryptographer and one of the founders of the Royal Society. The college gave Horrocks access to books on astronomy and contact with some of England's leading astronomers. It is probable that he learnt his observational skills from another mathematician, Samuel Foster (c.1600-52), the author of treatises on quadrants and sundials. Foster had already been at Emmanuel for 16 years when Horrocks arrived and would go on to become Gresham Professor of Astronomy.

In 1635 Horrocks, still only 17 years old, left Cambridge to return to his native Lancashire. It was just a quarter of a century since Galileo had rocked the learned world with his booklet The Starry Messenger (1610). Galileo had reported how he made a simple telescope and used it to examine the heavens. Over the course of a few months Galileo's spyglass revealed numerous features of the universe that would transform astronomy. He discovered that the Moon was not a smooth ball, but was mountainous like the Earth; that Jupiter was orbited by four moons; that Venus showed phases like the Moon; and that the Milky Way was formed from the combined glow of vast numbers of stars. The only way that someone of modest means could acquire a telescope to see these wonders at first hand was to make their own and this is what Horrocks did, confirming for himself all the discoveries of Galileo. But he was no ordinary observer. What made Horrocks special was that he was also an excellent mathematician. Crucially he had the ability to understand the various existing astronomical tables and to perform the calculations that would predict the positions of the planets.
This article is available to History Today online subscribers only. If you are a subscriber, please log in.
Please choose one of these options to access this article:
Call our Subscriptions department on +44 (0)20 3219 7813 for more information.
If you are logged in but still cannot access the article, please contact us
If you enjoyed this article, you might like these: