A Visit to Voltaire, 1783
Nancy Mitford takes a perceptive and ironic look at the reaction of 18th-century French 'society' to the Enlightenment's great philosophe.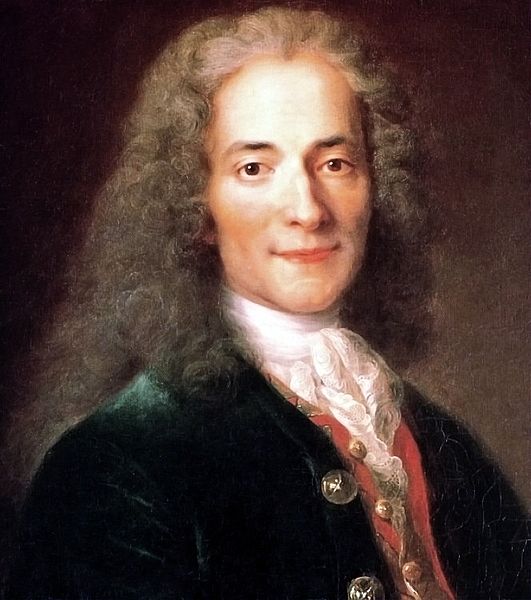 Perhaps we may look in upon the Cirey household at some future time; and – this editor hopes not,' writes Thomas Carlyle. This editor, however, cannot resist taking the reader on Mme. de Graffigny's conducted tour. The Marquise de Graffigny was about forty-four when she went to Cirey – the same age as Voltaire: Mme. du Chatelet was ten years younger. Her husband had been Chamberlain at the court of Lorraine' where she first met Voltaire in 1733. Graffigny was a beastly madman, who several times nearly killed his wife and was finally shut up. She obtained a legal separation from him on grounds of cruelty, and now she had no money and nowhere to live. Her portrait shows a silly old face, long, sad and complacent. Voltaire may have invited her to Cirey in a moment of expansion; but it is more likely that the Duchesse de Richelieu asked him and Mme. du Chatelet to harbour her for a while. Certainly Mme. du Chatelet never wanted her; but she would do anything to please the duchess. Voltaire and Mme. du Chatelet were divided on the subject of guests. He always longed for his friends to come and stay; and, according to him, Cirey was on the way, wherever they were going. But Mme. du Chatelet, when she invited anybody, which was rare, used to say, 'you must come for the sake of coming'.

Indeed, situated in a remote corner of Champagne, Cirey is on the way to nowhere. Mme. du Chatelet was engaged at the time on a particularly testing composition, Les Institutions de Physique, a long essay introducing the ideas of Leibniz to France. Now, while Voltaire could work at several different things in a pandemonium, Mme. du Chatelet needed perfect quiet and calm for her work. She had no desire to look after visitors; and emotional upsets, which seemed, if anything, to stimulate Voltaire, were very bad for her. Madame de Graffigny could not have arrived at a more unfortunate time. Voltaire was conducting the bitterest quarrel of his whole life with the Abbe Desfontaines, a well-known literary critic; vilifications, jeers, insults and criminal libels were flying to and fro in the Paris post-bag, and nerves at Cirey were becoming frayed.
This article is available to History Today online subscribers only. If you are a subscriber, please log in.
Please choose one of these options to access this article:
Call our Subscriptions department on +44 (0)20 3219 7813 for more information.
If you are logged in but still cannot access the article, please contact us
If you enjoyed this article, you might like these: