Lady Margaret Beaufort
Widowed at the age of thirteen, three months before the birth of her only child, the devout mother of Henry VII showed herself a master of political intrigue in pressing, once the moment was right, the imperfect title of her son to the throne of England. With a combination of piety and pragmatism she left a deep impression on her age.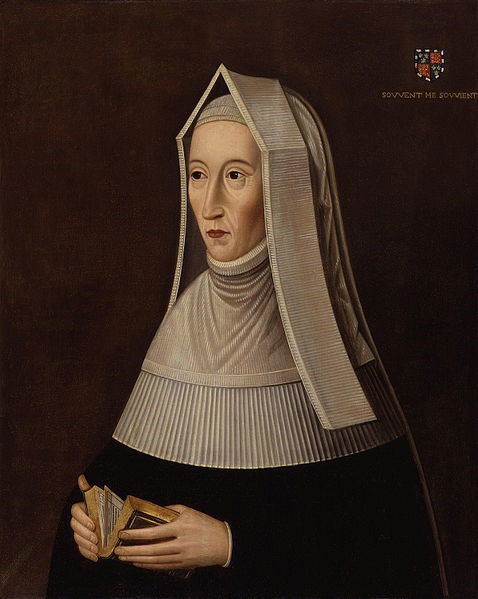 The foundation of the Tudor dynasty in 1485 reflected both the abilities and the good fortune of the new monarch, Henry VII. Henry's success without doubt owed much to the remarkable determination of his mother, Lady Margaret Beaufort, who had helped arrange his prospective match with Elizabeth of York, sent him money and organised part of the 1483 rebellion. During the new reign Margaret had considerable influence with the King. The personnel of their councils and households often overlapped and it was a measure of Henry's trust that he allowed her to retain servants on his behalf and delegated judicial cases to her. Mother and son maintained a close and affectionate relationship, glimpsed in the intimacy of their few surviving letters to each other. Yet what exactly was the role of Lady Margaret in the early Tudor period?

The surviving portrait evidence stands as testament to her considerable religious and educational patronage. Her garb is usually conventual, black with a white coif, and she is presented kneeling at or holding a book of devotions. The mood is consonant with the reaffirmation of her vow of chastity made before John Fisher, and her daily spiritual observances movingly recorded in the 'mournynge remembraunce' which he preached at her month's mind in July 1509.

In her childhood Margaret, a wealthy heiress, was very much a pawn in the unstable political atmosphere of the Lancastrian court. A marriage was first arranged with John de la Pole, the son of the Earl of Suffolk. This child match seems actually to have taken place, but was later annulled to enable another marriage to occur, with the King's half-brother Edmund Tudor. This union produced Margaret's only child, Henry, who was born in January 1457. However Edmund's early death led to a new match with Sir Henry Stafford, a younger son of the Duke of Buckingham. From this period of emotional confusion Margaret was at last able to emerge with a deeply-felt and long-standing relationship. The evidence of the Stafford household books shows that the couple rarely left each other's company, touring their estates and attending parliament together. Stafford quickly came to terms with the new Yorkist dynasty and enjoyed close access to Edward IV, frequently hunting with him in Windsor park. On one occasion husband and wife took advantage of the proximity of the King to entertain him at their hunting lodge at Brookwood.

Margaret Beaufort's ties with the Yorkist court were strengthened by her third marriage, less than a year after the death of Stafford, to Thomas Stanley, steward of the King's household. The marriage settlement, drawn up in June 1472, was a careful arrangement of mutual benefit and it was with Stanley's assistance that Margaret was able to consolidate her landed estates. These Yorkist connections belie Bernard Andre's portrait of Margaret as a committed Lancastrian. Instead a fuller perspective emerges. Margaret was able to move easily through the world of political affairs, and during the brief period of Henry VI's restoration in 1470-71 invited such leading Lancastrians as Edmund, Duke of Somerset, to her palace at Woking. Yet the dominant characteristic was political astuteness rather than blindly partisan allegiance. She had welcomed Edward IV on his return from exile in April 1471 and played a leading part in the coronation of Richard III some twelve years later. But her sense of opportunism led to a remarkable role in the autumn rebellion of 1483, when she plotted to unite Yorkist and Lancastrian factions in a daring scheme to bring her son to the throne. The gamble failed, and only the influence of Stanley saved her from imprisonment or even death. Instead she was still able to send money to Henry, now in exile in France, and after Bosworth was handsomely rewarded for the dangers and difficulties she had borne.

Such resilience could only come from a fully developed personality, strong and forceful and aware of worldly values. Never ostentatious, Margaret nevertheless recognised the need for display and finery. She shared many of the Renaissance interests of her son, including an appreciation of well-wrought jewellery, gold and silverware, and servants were sent abroad for items of particular quality. Some pieces were intricately designed. One, a tiny gilt ship, was decorated with lions bearing the Beaufort portcullis and a little figure sprung to open the lid. Much of her magnificent collection of gold plate was for the adornment of her chapels, but some was for personal decoration, such as the fine collars, girdles and chains of gold. She owned a large range of tapestry and arras, not only on biblical themes but also mythological and martial, including one on the deeds of Hannibal. Her gowns and dresses were suitably splendid, and her household accounts contain a number of references to hundreds of pounds spent on the purchase of furs, silk and cloth of gold. One counterpane, a beautiful piece of crimson satin embroidered with rose quarters, was worth a hundred pounds, and the total value of her goods was estimated at her death at nearly fifteen thousand pounds.

Margaret was accustomed to fine residences, at Woking in the 1460s and Lathom in the 1470s, and from 1487 at Collyweston, a manor in Northamptonshire, which Margaret made into a palace. Here were a chapel, with a chamber furnished with desks for the choristers, an almshouse and garden, a library, a prison, and a council house built near the gate so that her councillors could hear the various complaints brought to her. She employed a clerk of works for the regular repair of her numerous houses, and it was he who oversaw the building of Christ's College Cambridge in the 1500s. Her domestic life saw a harmonising of spiritual and worldly values. Fine singers were recruited for the chapel, but a lord of misrule was employed at Christmas to organise morris dancing. May kings, boy bishops, fools and entertainers regularly visited her palace at Collyweston. One charming reference in Margaret's accounts records a payment to children for singing to her by the wood-side. Henry Parker, Lord Morley, who served as Margaret's cup-bearer during his youth in the 1490s, described her dinner-table conversation as ' joyous', loving merry tales as well as talk of godly matters.

The broader dimensions to Lady Margaret's character reflected her belief in good stewardship and the proper observance of degree and rank as symptomatic of God's hierarchy on earth. She compiled detailed ordinances about the clothes to be worn by different ranks at court on occasions of mourning, and strictly adhered to proper etiquette. Henry Parker recalls her support for her servant Ralph Bigod, who refused to hear any disparagement of Richard III because he had previously served in his household and could not accept insults to a former master. Parker was to praise Margaret's relations with her own household, describing her as a diligent and careful mistress, knowing her servants' names, visiting them when sick, providing spiritual comfort to those in need. She understood largesse, making gifts to the poor but also to those of degree, such as the beautiful jewel worth a hundred pounds which she presented to her former ward and nephew, the Duke of Buckingham.

This notion of temporal responsibility was evident in Margaret's scrupulous administration of her large landed estate. Several of her surviving letters indicate her grasp of detail and her willingness to pursue dishonest officials. She was prepared to enter into considerable litigation to recover old revenues or debts, yet also ready to drop a case after a few preliminary hearings if it did not justify a prolonged suit. Her concern for justice and familiarity with the law led to her and her council acting as arbitrator in a number of disputes. Margaret disliked needless faction, and Fisher describes vividly how, if dissension arose among her own servants, she 'did boulte it out'. The firm tone of a letter to a party failing to attend arbitration shows her concern for a fair settlement:
...albeit the said agreement was made by your mind and consent, yet ye ne doe performe the same, to our merveile, if it be so. Wherefore we desire and also counsell you without delay... to ride to the court to the said arbitratofs... without further troubles or business therein atter to he had; and that ye wil do this in and wise, so as we he not driven (through your defaulte) to put to our hands for further remedye to be had in the premise.
She intervened with similar force at Cambridge to settle differences between town and university, to expedite the hearing of a citizen's complaint before the mayor and corporation of Coventry, and to resolve the title to some land in Northamptonshire. Margaret's vigorous fulfilment of worldly duty crystallised in her sense of family. Close contacts were maintained with those descended from her mother's two other marriages, to Oliver Saint-John and Lionel' Lord Welles. Frogenhalls, Zouches and Saint-Johns were all cared for, placed in the household, given an education and sometimes were married at Collyweston. Perhaps the most notable of such marriages was that between Elizabeth Zouche (whose mother was Margaret's half-sister) and Gerald Fitzgerald, son and heir of the Earl of Kildare, celebrated in the summer of 1503. A strong sense of family obligation was revealed in her attempts to collect bonds owed to her paternal grandfather John Beaufort, first Earl of Somerset, and to resolve the long-standing ransom dispute with the House of Orleans which had been of such concern to both her parents. Most important of all was her deeply-felt love and loyalty to her son. A glimpse of this is shown in one letter to Henry, movingly postscripted 'thys day of Saint Annes, that y did bryng into this world my good and gracyous Prince, Kynge and only beloved son'. During Henry's long period of exile his mother continually championed his interests, securing property for him in trust, attempting to negotiate his return to the Yorkist ourt, and finally risking all in conspiring to bring him to the throne. Such devotion ensured that Margaret exercised a major infuence over the new Tudor King.

To understand Lady Margaret one must always be aware of her practicality. She was a superb organiser, both at the national and local level of politics. Faced with problems of flooding in parts of the Fens that threatened some of her properties, she was able to initiate an ambitious drainage scheme, involving foreign engineers, that saw the construction of a large sluice at Boston. Her remarkable determination and her 'holding memory' were noted by Fisher, and such qualities allow a better understanding of both her role and her achievements during the reign of Henry VII.

The stresses of her earlier years, and her sensitivity to changing fortune, were reflected in her behaviour at her son's apogee of triumph in 1485, also recorded by Fisher. 'She never yet was in that prosperity' he says, 'but the greater it was the more alwaye she dredde the adversyte. For when they kynge her son was crowned in all that grete tryumphe and glorye, she wept mervaylously.' Fear that the wheel might turn once more, plunging the victors into disaster, was real enough during the succeeding years, troubled by the rumour and fact of rebellion. Henry's large grant of property to his mother in 1487 was a declaration of trust in the most reliable defender of his cause. The first parliament of the new reign had already reversed the attainder against her passed under Richard III, and she was given complete legal independence in respect of holding property for the term of her life 'as anie other sole person not covert of anie husband'.

Margaret's vast estates, composed of her family inheritance, lands held for life as a result of her marriages, and grants by the crown, brought her a revenue of three thousand pounds a year. Until her death the profits of this entire agglomeration of property could be used to support her household and over four hundred dependents, the daily calls on her charity from religious bodies and the poor, and scholars and others receiving her patronage. Of these estates her father's lands in Devon, Somerset and Northamptonshire had been protected assiduously since 1472, when she placed them in trust for the performance of her will. The full potential of the trust was realised after her death by the completion of her chantries and colleges, but the crown still stood to benefit in the end. Her grandson Henry VIII was her sole direct descendant, and her lands helped to consolidate the Tudor dynasty.

Lady Margaret's stature at the court of her son reflected her position as great landowner and patron. The Spanish ambassador in 1498 noted the mother of the King among those with greatest influence in England. She was approached by the Pope to forward the career of Adrian Castellesi, a curial diplomat favoured by Henry, who was promoted to the see of Hereford in 1502. A dedication to Margaret survives from the humanist cleric Giovanni Gigli, noted also for his elegy on the wedding of Henry and Elizabeth of York. Margaret was coupled with the King and Queen in receipt of spiritual privileges from Rome, and the debts due to her as a result of the Orleans ransom case involved her deeply in Anglo-French politics. Her semi-regal status was symbolised by the coronet of roses and fleurs-de-lys which appeared as a crest on her seal. It could also be seen in her rich apparel, resembling the Queen's, at the festivities following Elizabeth of York's coronation, and in the precedence accorded to her at court ceremonies such as the Garter procession of 1488. At a local level her efforts in arbitration made her a lieutenant of the crown, in whose name she sometimes explicitly acted. The style of her letters was that of the signet letters of the king, although her signature 'Margaret R', sometimes misunderstood as 'Margaret Regina', stood for Margaret Countess of Richmond.

Her letters were often written from her palace at Collyweston. Rooms were reserved there for, among others, Catherine, wife of Sir Reginald Bray, the King's trusted councillor and Margaret's receiver-general, and Cecily, sister of the Queen and widow of John Viscount Welles, Margaret's half-brother. Among the visits made by the King to Collyweston was one in the summer of 1503, when he accompanied his daughter Margaret there on her way to Scotland as the bride of James IV. For the entertainment of the King's household extra plate was fetched from Lady Margaret's London mansion of Coldharbour, the Queen's minstrels were employed, and singing men came to swell her choir from Cambridge, Westminster and Tattershall College. Richard Fox, Bishop of Winchester and Keeper of the Privy Seal, stayed with others at Maxey – another residence of Lady Margaret's while the King occupied Collyweston. When Henry had given his daughter his blessing and seen her departure, Nicholas Aughton, a servant often employed by Margaret as a scout and messenger, rode with the bride's suite a day's journey towards the north. After his mistress's death Aughton would be paid for going 'with many boats' to take her swans out of the Thames.

Lady Margaret's interest in public affairs continued until her death. In 1506 she was sent an account of the meeting of Henry with Philip of Castile who had been driven by a storm onto the English coast, and she entertained members of his household as she had done part of Catherine of Aragon's retinue five years before. At the time of Henry VIII's coronation a house was hired in Cheapside where Margaret stood with Philip's daughter to watch the King and Queen come from the Tower to Westminster to be crowned. Her previous fondness for her grandson is shown in a letter she wrote to Henry VII asking that her tenants be retained by no-one except 'my lord of York your faire swete son for whom they be most mete'.

Her wealth and prestige at court and in the country after 1485 was a tribute to her survival of thirty years of political turmoi] but it was also the springboard for many acts of religious and educational charity associated with her. Her concern with such things was not an isolated phenomenon: neither the regime of piety in her household nor her interest in education was unique in her age. We know in detail her daily pattern of private prayer and worship, but an equally exacting timetable survives for Cecily, Duchess of York and mother of Edward IV. Anne, Duchess of Buckingham, Margaret's mother-in-law, was like her a pious and cultivated women who left to Margaret in her will 'a book of English called Legenda Sanctorum, a book of French called Lucun, another book of French of the epistles and gospels, and a primer with clasps of silver gilt, covered with purple velvet'.

Lady Margaret's contribution was distinctive in the combination of her piety and educational awareness with a great range of scholarly and literary patronage, and in the scale of her endowments. She was a firm adherent of the established religious forms: spiritual sister and participator in the benefits of prayers and masses at the great Benedictine houses of Durham, Westminster, Crowland and Thorney, and benefactress of the conventual Franciscans and Dominicans. She was also the friend of the Carthusians and Friars Observant who were active in encouraging the growth of personal devotion to Christ among the laity. Margaret was conscious of the need to develop her own spirituality and at the same time to communicate to society around her the richness of the Church's traditional devotion and worship, especially in the sacrament of communion. She translated from French to English the fourth book of the Imitation of Christ, which centres on the need for taking this sacrament frequently and for sincere penitence. At one point it contrasts the lack of real reverence shown in people's fascination for richly displayed relics of saints, with the experience of God to be found at every celebration of Mass. Margaret also commissioned Wynkyn de Worde to print Walter Hilton's Ladder of Perfection, and Richard Pynson printed her English version of a French translation of the Speculum Aureum Peccatorum, a product of Carthusian piety, as The Mirror of Gold for the Sinful Soul. Her own ignorance of Latin, beyond that sufficient to understand the order of worship, forced her to rely on scholars to complement her work. The French version of The Mirror of Gold was 'checked and corrected by many clerks, doctors and masters of divinity' before she turned it into English.

By the time The Mirror of Gold was published in 1507 Margaret had become the leading patron of both English Universities. The credit for turning her eyes in their direction may rest with the scholars of her acquaintance, such as Maurice Westbury who was dispensed from residence at Oxford to act as tutor in her household in 1493; Richard Fitzjames, warden of Merton College who became her confessor before being made Bishop of Rochester in 1497; and especially John Fisher, fellow of Michaelhouse Cambridge. He first met Margaret while on university business at court in 1495 and later succeeded Fitzjames as her spiritual adviser. Her interest in Cambridge, of which Fisher was made Chancellor in 1504, was henceforward the stronger for his presence.

The university benefactions for which Margaret is most famous are her professorships of divinity. They were financed directly from her household before being funded from Westminster Abbey, which was well endowed by Margaret and the King to support their chantries. Edward IV had once initiated a similar project for Oxford, only linked to a chantry at Windsor; but Margaret's scheme was more ambitious and has endured, although financed by different means. The endowed stipend meant that the lecturers were freed from dependence on other sources of income, and the course of lectures could be guaranteed in the same way as a post offered by a college. Fisher himself was made the first Cambridge endowed professor of divinity in 1502.

Fisher and Margaret both saw clearly the communication problem faced by the Church of their day. They sought the answer not only in a clergy better grounded in theology, but in one familiar with the methods and duties of preaching. At Margaret's behest Wynkyn de Worde printed Fisher's own sermons on the penitential psalms, originally preached by him before her, and shortly before her death she commissioned the publication of his sermon at the funeral of Henry VII. Doubtless with Fisher's advice she embarked on the foundation of a university preachership at Cambridge in 1504. The preacher was obliged to leave Cambridge periodically during the year to preach at named churches, mostly in areas where Margaret had estates. The preachership was also supported by Westminister Abbey, but it was envisaged that the post might be held with a college fellowship, which guaranteed an added source of income.

While Lady Margaret continued to fund individual scholars at all levels throughout her life, she devoted her greatest efforts to the Cambridge Colleges. She contributed towards the building of Jesus College, another of whose benefactors was Catherine Bray. At Queens' she helped to redress the injury which the college had suffered from Henry VII's confiscation of estates granted by Richard III, by inducing her nephew the Duke of Buckingham to grant it lands in Essex. She afterwards nominated Fisher as president of the college, a post from which he was able to oversee the foundation of Christ's. When she and the King stayed at Queens' college in 1506 the shadow of its Yorkist past was lifted.

Christ's College itself, which bears a fine modern statue of Lady Margaret over its gateway, is the 'College Royall' mentioned by Fisher in his Mournyng Remembraunce. It is strictly royal not only by its connection with Margaret, but because it was an enlargement and completion of God's House, a place designed originally to train teachers in grammar, which was adopted by Henry VI in 1448. The royal charter of Christ's, granted in 1505, stated that Margaret had wished to complete Henry's foundation for the increase of the Christian faith, the salvation of her soul, and the love she bore the murdered King and her confidence in his sanctity. Her personal devotion to Jesus determined the new dedication to Christ, and it is interesting that she united with this a reverence for Henry VI whose cult, after much negotiation between her son and the pope, remained unofficial.

Fisher was later to be commemorated at Christ's as the man who had drawn her attention to God's House. They both took a personal interest in the new college, and she a proprietary one. She reserved rooms there for her use or in her absence for the use of Fisher, who was made visitor of the college for life. She also reserved to herself the right to revise the statutes, the opening words of which – 'Nos Margareta' – are in her own hand. During her life the master, fellows and scholars were all to be her nominees. Evidence that Margaret actually resided at Christ's is slim, though an inventory of some of her bedding and plate was found recently in the college. Fuller's later story of her leaning from her window and rebuking the dean with the words 'lente, lente,' for too harshly correcting a scholar supports a cherished college tradition.

After the foundation of Christ's, which Margaret endowed handsomely during her lifetime, Oxford and Cambridge competed for her patronage. Fisher, however, succeeded m keeping her attention on his own university. The hospital of St John the Evangelist at Cambridge had declined in numbers, fallen into debt, and was ripe for change. It was under the patronage of the Bishop of Ely, who at that time was James Stanley, Margaret's stepson. By Christmas 1508 she had agreed with him for the conversion of the place into a college for students of arts and theology. Sadly for Fisher she did not live to see the fruition of her plans for its foundation and endowment. Her death, on June 29th, 1509, together with that of her son on the preceding April 21st, brought to an end a remarkable partnership of power.

The circumstances faced by her executors, principally Fisher and Henry Hornby, as they carried out the rest of her intention, show us the importance of her death as a political and economic event early in the new reign. The unity of her household broke down: some servants argued for a division among themselves of her whole personal estate, misinterpreting earlier arrangements made between Fisher and Margaret for their rewards. In the debate that ensued, Fisher later claimed, the servants succeeded in turning the King against him, a presage, or perhaps the germ, of the bitter enmity that was later to estrange them. There was also the question of the fate of revenue from Margaret's hereditary lands. The aims of her last will, which they were to help serve, included the perfection of all charitable objects of her life: the endowment of a chantry and grammar school at Wimborne Minster where her parents were buried, donations to a variety of religious houses, the completion of Christ's, the building of Margaret's tomb at Westminster, and, lastly, the establishment of St John's.

The college was clearly the greatest drain on the revenue, and there was uncertainty as to when it could be called properly established. After 1515 the royal officials grew impatient: encouraged by Lady Margaret's servants they insisted that the lands put in trust in 1472 should go immediately to the King. The college gained some compensation, but the legend grew up that the crown owed St John's land, a claim urged unsuccessfully when Queen Elizabeth I visited the university. In fact the crown was Margaret's true and permanent heir: its rights, as well as those of her charitable foundations, were upheld by the stewardship with which she had ordered her wide estates.

The sermon which Fisher preached at Lady Margaret's month's mind compared her with Martha in the gospel, the epitome of virtuous activity. She seemed to him the ideal representative of God-fearing orderliness for their days, a noble patron tempering her power with a humility which showed itself in respect for individuals. Like Martha she was busy about her household: he notices her astute handling of discord, her care for her almsfolk, servants and strangers fed by her charity, as well as personal qualities like her readiness to learn. All the estates of the realm had reason to mourn her: the students and learned men because she was their mother and patron; the religious with whom she conversed, the clergy whom she protected, the nobility to whom she was an example of honour, and the commons for whom she acted as a mediator.

There are other features of this tender icon painted by Fisher which appear there only dimly, but more strongly in the reminiscences of Henry Parker. He pictures her sitting one New Year's Day under a cloth of state with her guests, a figure comparable for him with an Anglo-Saxon ruler, Elfleda Lady of the Mercians, or with Matilda wife of Henry I. Both of those led lives made politcally important by marriage and were symbols of piety and justice, but were also of strong passions and active characters. We get a glimpse of this side of Lady Margaret in Fisher's recollection of her saying often that if the Christian princes would war upon the enemies of Christ's faith, she would gladly go with them to wash their clothes, for the love of Jesus. Her tears of devotion, like those shed at her son's coronation, were perhaps signs of an intense nature concentrated upon its chosen aims. The aims were those demanded not only by her loyalty to God but to her son and the security of the royal house. It has been suggested that once at least her concern for wealth and power overcame her conscience: she neglected to fulfil a trust left by Cardinal Beaufort for the benefit of St Cross Hospital Winchester, although it clearly affected part of her estates.

Lady Margaret was, after all, the victim of politics from an early age: a prize passed from Suffolk to Edmund Tudor, even if she was able to accept her marriage with the latter as God's will. She learnt painfully during the dangerous years of war and of Edward IV's peace how to safeguard her interests and those of her son. She was a mature conspirator under Richard III, ready to suffer disaster before Henry's final triumph. Margaret, translator of The Mirror of Gold and inspirer of Henry Watson's translation of The Ship of Fools, had learnt the themes of reversal and penitence in a practical school. She was imbued with the courtly military ideals of her time; the recipient of a papal indulgence for her contributions to war against the Turks, the first book she commissioned from William Caxton in 1489 was of 'the noble acts and feats of war by a noble and victorious prince named Blanchardin... for the love of a noble princess called Eglantine'. As a patron, the employer of Caxton, Wynkyn de Worde and Pynson, and early helper of Skelton, she was for England a figure of Renaissance magnificence. Her epitaph was composed by Erasmus and her most moving likeness is the effigy sculpted by Torrigiano. Her great achievement was the self-discipline which allowed her to listen not just to the claims of power but to those of responsibility, whether for her own dependents or for the broader needs of religion and scholarship.

For Further Reading:
C.H. Cooper, The Lady Margaret (Cambridge, Deighton Bell, 1874); E.M.G. Routh, Lady Margaret (Oxford University Press, 1874); Retha Warnicke, 'The Lady Margaret as seen by John Fisher and Lord Morley' , Moreana, xix (1982); Margaret Condon, 'Ruling Elites in the Reign of Henry VII' in Patronage Pedigree and Power, ed. C. Ross (Alan Sutton, 1979); Much material has been drawn from the authors' research in the muniments of Westminster Abbey and St John's College, Cambridge.
Sign up for Miscellanies, our free weekly email