Byron Revisited
Michael House examines the life of the unconventional poet.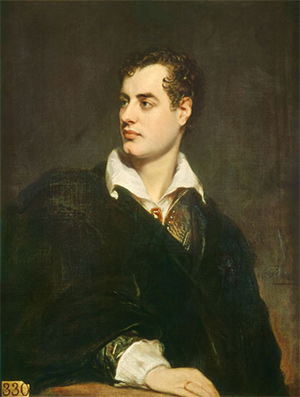 Lord Byron was born in January 1788. As a poet and as a man he aroused strong emotions in his lifetime and at his death. He still provokes powerful feelings today. As a poet, Byron was lionised by aristocratic and literary London, while critics and moralists condemned his poetry. He was idolised by impressionable young women. Yet rumours of debauchery, incest and pederasty made him so notorious that he went into exile in 1816. As a hero of the Greek War of Independence Byron earned the love and loyalty of the people in whose cause he sacrificed his life. His death sent the whole of Greece into deep mourning. Yet the deans of Westminster Abbey and St. Paul's refused to accept him for burial. Rarely can a poet have aroused such adulation and such antipathy.
It was poetry that made Byron famous. Before the first two cantos of Childe Harold's Pilgrimage came out in March 1812, he was an obscure peer with a country seat in Nottinghamshire. Byron's debaucheries at Cambridge and his travels in Southern Europe and the Levant between 1809 and 1811 had severely depleted the family finances. But of course, as a peer and a gentleman he could not profit from his writings, so fame did not bring fortune with it. Byron poured out romantic verse between 1813 and 1815 but debt and scandal about his private life forced him to live abroad from 1816. In Switzerland and Italy, Byron continued to live a raffish existence while his prolific writings enjoyed immense popularity, especially on the continent. But critics attacked him through his poetry, which they felt reflected his immoral style of life. The first two cantos of Don Juan, published anonymously and reluctantly by Byron's faithful publisher John Murray, were denounced by the critic of Blackwood's Magazine as 'a filthy and impious poem.'
There were perhaps two reasons for the popularity of Byron's poetry during his lifetime. One was the character of his heroes, romantic, dissipated, melancholic, ever striving for a happiness that eluded them. Woman, who provided the main market for poetry, found them irresistible. Secondly his poems were denounced as immoral, which naturally made everyone want to read them. Today, such interest as his poetry generates is probably more because of perennial fascination with the writer than because of its intrinsic merit. The element of shock has gone, the Byronic hero is rather passe and many of the poems could be looked on as little more than travelogue.
Even by the lax standards of the Regency, Byron's personal life was exceptionally scandalous. He was sexually abused by his nurse at the age of nine. Perhaps that was the root of his lifelong sexual ambivalence. Of course, homosexual practise was a capital crime during Byron's lifetime. Even the broadminded Shelley, writing in 1818 about their stay in Venice, wrote: 'he associates with wretches who... do not scruple to avow practices which are not only not named but I believe seldom ever conceived in England.' At Cambridge, Byron conceived what he described as a 'violent though pure love and passion' for a chorister in Trinity College chapel. In July 1810 he separated from his travelling companion Hobhouse on the Greek island of Kea (now Chios) and returned to Athens. Soon after, he was installed in the Capuchin monastery at Athens with the abbot and six adolescent pupils. Byron indulged in what he called 'scamperings' and 'waggeries' with these youths, and there is evidence that at least one, Nicolo Giraud, was his lover.
Despite these dalliances, Byron certainly had no shortage of female lovers. Unfortunately for his public reputation, one of them was his half-sister, Augusta Leigh. The relationship culminated in 1814 with Augusta giving birth to a child generally thought to be Byron's. But unlike his homosexual activities, this affair was semi-public. Perhaps it was conduct such as this which caused Lady Caroline Lamb to record in her diary after their first encounter that he was 'mad, bad, and dangerous to know'. Byron's friends started looking round for a wife for him, preferably an heiress, who could keep him away from Augusta. Lady Melbourne suggested her own niece, Annabella Milbanke. She had already turned him down, rather to his relief. Marriage to her would have been 'but a cold collation, and I prefer hot suppers.' She was a mathematician, prim and governessy. Their marriage in January 1815 was fated to fail, which it duly did. Byron was heading for a breakdown, he was drinking heavily and pursued by bailiffs. The birth of their daughter Ada in December did not improve relations. They separated in January 1816, never to be reconciled. Most society people knew the facts, and Byron felt that he was a social outcast. He suffered bouts of suicidal depression, and within days of the legal separation he was on his way to the Continent and an exile from which he never returned.
Byron lived in Switzerland and Italy before finally leaving for Greece in 1823. He shared a villa with Shelley on the shores of Lake Geneva, and Mary Shelley's half-sister bore his child. In Venice, he seduced a contessa aged nineteen who had just married a much older man. In Ravenna the foolish count, (presumably) unwittingly, rented Byron the upper floor of his palazzo. His last love, which was unrequited, was for a handsome fifteen-year-old Greek called Lukas, whom he employed as a page, and about whom he wrote in some of his last poems.
There is nothing unusual about great writers and poets having scandalous and tumultuous love-lives. What sets Byron apart is that he tried almost everything: adultery, incest, pederasty. But he was not the cold-blooded Regency rake he is often portrayed as today. He was emotionally immature, full of warm feelings which he had to give vent to, however inappropriately. He was also melancholic and depressive – such people often snatch bouts of happiness where they can find it, heedless of the consequences. Macaulay's description of the Byronic hero fits Byron well: 'a man proud, moody, cynical, with defiance on his brow, and misery in his heart, a scorner of his kind... yet capable of deep and strong affection.' Time has dulled his delinquencies without tarnishing his romantic glamour, so that respectable folk today (such as stalwarts of the Byron Society) who would have condemned him in his lifetime, are now warm admirers. Charming aristocratic raffishness often touches a perverse chord in the strait-laced.
If the British are ambivalent in their attitude to Byron, the Greeks have no reservations. Always tolerant of the sexual aberrations of others, the Greeks have nothing but hero-worship for the man who, more than any other, was responsible for their liberation from the Turks: not because of anything he did, but because of the circumstances of his death. Modern British travellers in Greece are the unconscious beneficiaries of his reputation. A statue of Byron being crowned with laurel leaves by Hellas stands in the Zappeion Gardens in Athens. Another has a place of honour in the Garden of Heroes in Missolonghi where he died. In 1974, on the 150th anniversary of his death., there were ceremonies and celebrations throughout Greece. When in 1973 the Byron Society suggested a joint wreath-laying ceremony at Missolonghi, the Mayor protested at the form of the invitation: 'He is not your Lord Byron, he is our Lord Byron.' What did he do to deserve all this?
What he did was to convince sceptics, both inside and outside Greece, that the cause of independence was worth fighting and dying for. His death in 1824 fixed the attention of the world on the war and on Missolonghi in particular: so that when two years later the inhabitants of the little town, trying to escape from a Turkish seige, were either slaughtered or sold into slavery, the impact was enormous. Were it not for Byron's death and its bloody aftermath, it is unlikely that the allies would have sunk the Turkish fleet at Navarino Bay in 1827. Britain had been neutral during the early part of the war. Although philhellenes had been raising money and support, the death of Byron turned the tide of opinion in Europe. The sinking of the Turkish fleet was the turning point – without it the Greeks would undoubtedly have been crushed.
Byron arrived in Greece in August 1823 and came ashore at Missologhi in January 1824. The war effort was bedevilled by conflict between ineffectual Greek constitutionalists and military leaders who, though brave fighters, were undisciplined some little better than robber chiefs. Byron hoped to bring the factions together. He was to lead a force to lay siege to the Turkish fort of Lepanto (now Navpactos) on the Gulf of Patras, and he recruited a force of wild warriors from the Suli region of North-Western Greece. Missolonghi is on a marshy and desolate peninsula where it rarely stops raining in winter. Byron's health was not good and he rode every day, often in the rain, to improve his stamina. He caught a chill after being rowed home soaking wet after a ride. He became feverish and the doctoring available probably killed him. He died on Easter Monday, April 19th, 1824, having achieved nothing militarily, but having galvanised the whole of Greece by his sacrifice and having focused the eyes of the world on the struggle, Byron is remembered in Britain today as a debauched romantic, wicked but fascinating. To the Greeks he is the young foreign lord who gave his life that their country might be free. A mass of contradictions, he remains one of the most fascinating and enigmatic figures of the nineteenth century.
If you enjoyed this article, you might like these: