England Loses the World Cup
In March 1966, a few months before the England football team won the World Cup, the Football Association lost the trophy. Martin Atherton tells the full, often farcical, story of the theft and recovery of the Jules Rimet Trophy.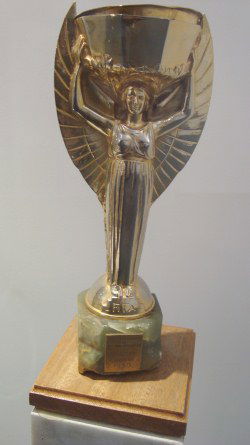 The theft of the World Cup in 1966 is one of the most unusual stories in the long history of football. The solid silver trophy, covered in gold plate and with a lapis lazuli plith, had been made in 1930, and between competitions was kept by representatives of the country that had last won it. During the Second World War, the trophy was hidden by FIFA vice-president Ottorino Barrassi, president of the Italian Football Association. Italy had won the trophy in 1938, and to protect it from theft during the last days of Italy's involvement in the war, Barrassi placed it in a shoebox which he kept hidden under his bed.
This article is available to History Today online subscribers only. If you are a subscriber, please log in.
Please choose one of these options to access this article:
Call our Subscriptions department on +44 (0)20 3219 7813 for more information.
If you are logged in but still cannot access the article, please contact us
If you enjoyed this article, you might like these: