Garibaldi: The First Celebrity
Lucy Riall discusses the life and career of the Italian nationalist and soldier Giuseppe Garibaldi, and the circumstances by which he became the first celebrity of the modern political age.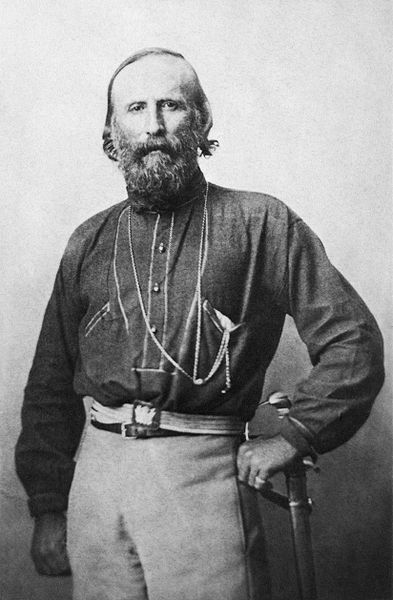 The history of celebrity has still to be written. We know, nonetheless, that one of the most popular genres of nineteenth-century literature was the lives of 'Great Men'. As early as the 1820s, readers in Europe and the Americas were enjoying a steady diet of biographies of historical heroes, saints and contemporary personalities such as Nelson and Napoleon. Their enthusiasm for the genre was encouraged and satisfied by the broadening availability of books and magazines, and by the production in ever larger numbers of the printed portrait, in the form of first the lithograph, then the daguerreotype and finally the photograph. By the mid-nineteenth century, a popular cult of personality had emerged.

Political leaders were among the earliest to exploit this new trend. Queen Victoria (the 'first media monarch' r.1837-1901), Napoleon, his nephew Napoleon III and Pope Pius IX all successfully promoted themselves to create a loyal public. Yet an equally striking sign of modern times was their inability fully to control their image and to guarantee a passive audience for it.

They faced stiff competition from 'Great Men' of a different kind who faced danger, loved women and fought tyranny with equal abandonment. These figures appealed to a growing alternative public which had less polite tendencies, a desire for racy entertainment and an appetite for daring romantic heroes. The alliance between politics and publishing was democratized. Radicals pioneered a new style of both which borrowed from popular culture and romantic conventions, and challenged traditional notions of deference, authority and good taste.

Perhaps the greatest, and certainly the most famous, of the new breed of 'Great Men' was the Italian nationalist and soldier Giuseppe Garibaldi (1807-82). Born to a family of sailors in Nice in 1807, he rose from relatively humble beginnings, and went on to become the most celebrated radical hero of the nineteenth century. He was perhaps the most successful, and certainly the most spectacular, military leader in the wars for Italian independence (1848-49). His victories helped bring about the unification of Italy, while the story of his battles during the siege of Rome in 1849, in the mountains of Lombardy in 1859 and during the conquest of southern Italy 1860 provided the basis of nationalist legend. As part of the struggle for Italy, Garibaldi became a symbol of Italian 'resurgence' (Risorgimento). Initially a political unknown with little, if any, official backing, and a leader who was in power for fewer than six months in his entire political career (in southern Italy in 1860), he was the first to achieve a truly international fame, and to reach a wide audience via the new technologies of mass communication.

At the high point of his fame in the 1860s, Garibaldi's name sold newspapers and books in London, Paris, Berlin and New York, as well as in Italy, and both writers and readers became caught up in his adventures. Countless images of Garibaldi were produced. His appearances became the occasion for mass celebrations: according to The Times correspondent, as head of the 1860 revolution in Sicily, he enjoyed, 'one of those triumphs which seem to be almost too much for a man'; while his visit to London in 1864 'resulted in such a scene as can hardly be witnessed twice in a lifetime.' Young men volunteered to fight and die with him in a long series of wars, and letters arrived at his home on the island of Caprera from adoring fans all over the world.

As told in countless cheap biographies, pseudo-histories and novels, Garibaldi's life had all the ingredients to make him popular among the radical reading public. He was a general who triumphed against terrible odds, an honest leader who cared for the common man and a romantic figure who had experienced his full share of personal suffering, loneliness and hardship. He represented the (handsome) human face of revolution; he was, in the words of an English volunteer who observed him in 1860, both a man of the people and 'immeasurably above them all'.

Garibaldi's fame was a media creation. It was made possible by the expansion in print culture and the increase in mass literacy, and of a fit between the genres of romantic popular fiction and the spread of radical ideas. There was little that was spontaneous about Garibaldi's appeal or its meaning, although its popular reception took everyone by surprise. Rather, it was the result of a deliberate political strategy planned by the nationalist leader Giuseppe Mazzini, and implemented by him and a group of talented publicists. Using both the printed word and the image they set out to promote Garibaldi as a real-life radical hero, and to identify him with the plotlines and themes of Italian romantic literature.

By promoting Garibaldi in this way Mazzini sought to resolve the problem of political credibility. Scholars like Eric Hobsbawm and Benedict Anderson see nationalism as a recent recruit in human history, and modern nations as a conscious invention of new elites. But the symbols and traditions that might have reinforced and legitimized the new nationalist agenda were lacking in Italy. Many of the obvious markers of belonging to a national community – a single, secular monarchy, a common spoken language, a continuous history of national unity – were effectively absent, while the one truly national symbol, the papacy in Rome, seemed resolutely reactionary and was the representative of an alternative, transnational Catholic identity.

The absence of a national, secular political culture explains why Mazzini's proposals for a united Italian nation were often considered foolish by his contemporaries. In order to realize their unitarian aims, Mazzini and his followers had first to persuade Italians that these aims were realistic. Garibaldi, who had made a small name for himself in Uruguay fighting against the Argentine dictator Rosas in the early 1840s, was intentionally taken-up and sponsored by Mazzini as the embodiment of 'Italian-ness' (italianità), and living proof of the national risorgimento which Mazzini promoted in his writings.

As a result of his revolutionary activities Mazzini was forced to live as a political exile in London for almost his entire career, from 1837 until his death in 1872. In London, he created an extended radical network, which included most of the foreign exiles in the capital, and extended throughout Europe and the Americas as well. It was through this network that Mazzini contacted Garibaldi, and through the same network that he spread Garibaldi's fame. Indeed, from the moment he first heard of Garibaldi's military exploits in Uruguay, Mazzini set out to celebrate them. He published two articles about Garibaldi and his Italian Legion in his London paper, Apostolato Popolare. Garibaldi was a man who 'brings honour on the Italian name', the paper announced, 'and we name him with praise and pride ... since we are sure that he considers his career in South America as but an apprenticeship for the Italian war which will call him back to Europe one day' (to his mother, Mazzini wrote that Garibaldi and his men 'should die for Italy and in Italy').

In January 1846, Mazzini wrote a letter to The Times applauding the bravery, honesty and patriotism of Garibaldi's Italian Legion. In July the same year, he wrote a new introduction to this letter, published it as a pamphlet and translated it into French, so as to circulate it in Continental Europe and encourage those 'good people who have strong feelings of charity towards the fatherland'. In the two years before the outbreak of European revolution in 1848, Mazzini promoted Garibaldi relentlessly. With Mazzini's encouragement, the Swiss-based radical, Filippo de Boni, published a celebration of Garibaldi in his new magazine Così la Penso. Giovann Battista Cuneo, a Mazzinian journalist based in Uruguay, produced for the Italian press what Mazzini termed 'a short historical outline' of the Legion; in reality it was a lengthy narrative of courageous deeds, battles won and national honour reclaimed, which bore a striking resemblance to contemporary romantic narratives. Mazzini also wrote to the Turin publisher and prominent reformer, Lorenzo Valerio, with documents and letters about Garibaldi which Valerio duly published in his newspapers and circulated to other journalists and activists. Finally, Mazzini commissioned a portrait of Garibaldi ('it will be useful to increase his fame', he commented), which was lithographed and circulated to raise money for the nationalist cause.

As a result of these efforts, when Garibaldi returned to Italy in the spring of 1848, arriving just after the outbreak of revolution and in time for the self-styled national war on Austria, he was already a well-known figure, celebrated for his exploits upholding Italian honour and political freedom in 'foreign lands'. Thanks to Mazzini's efforts with the press, Garibaldi had become identified with courage, generosity and moral righteousness – virtues exalted as inherent elements of italianità. A heroic script had been established, and radical journalists in Italy and elsewhere were on hand to produce the requisite narrative and to counteract any negative publicity (the Catholic press in France were especially hostile to Italian unitary nationalism).

It helped enormously that Garibaldi himself looked and acted the part. He was good-looking, with long hair, a strong, athletic body, charming manner and flamboyant clothes, notably a bright red blouse that he wore loosely tied around his waist. Perhaps the best description of Garibaldi at this time is given by a British naval officer, who saw him 'in the full vigour of his manhood' shortly before he left South America for Italy, and who commented on his:

... firm well-built frame which sat his horse like a centaur. He wore his hair and beard long; they were then of a dark brown colour, with a reddish tint in the latter. His countenance was remarkable for its serenity, and the lips pressed close together denoted a strong will, whilst his eyes were steadfast and piercing in their gaze. In stature he was of medium height, and was altogether the beau ideal of a chief of irregular troops.
According to a Dutch artist who met him in 1849, Garibaldi possessed extraordinarily expressive eyes; others noted his resemblance to various romantic icons, including a bandit-leader, a 'hero of the Middle Ages' and Jesus Christ. He was accompanied by his exotic Brazilian wife, Anita, and a black ex-slave, Aguyar, both of whom died during the fighting and its aftermath. At the end of the siege of Rome in 1849, Garibaldi appeared in the Roman assembly straight from the battlefield, sunburnt, sweating profusely and carrying a sword covered in blood. He was romanticism personified. He represented radicalism and rebellion, and his roughly physical, distinctly sexual, appeal could scarcely have differed more from prevailing aristocratic conventions of political portraiture.

Garibaldi did not simply look good. He made theatrical speeches, appealing to Italy's famous past, to religion, martyrdom and betrayal, to military violence and hatred of the foreigner, and to family, sex and romantic love. His speeches became instant classics, reprinted in newspapers and recycled in slogans and declarations. He followed these up with a striking run of military victories, first in Rome in 1849, then in Lombardy in 1859 and finally, and most dramatically, in Sicily in 1860. Quite quickly, these achievements allowed him to establish a political space for himself away from Mazzini. He refashioned his own image through public appearances, memoirs and political writings. Garibaldi may have benefited from the popular mood of political romanticism, but he also encouraged it and sought to manage it to his own advantage.
Crucially, Garibaldi understood that in the extended public communities created by the new print media, nothing succeeded so well as the intimate touch. The style of political intimacy, which present-day commentators associate with 'natural' politicians like Bill Clinton, was pioneered by Garibaldi over a hundred years earlier. In person, Garibaldi was quiet, dignified and unassuming, and took care to talk to and notice everyone. 'I was soon convinced', wrote a Scottish enthusiast who met him in 1865, 'that the ­General was not only the bravest of warriors and the purest of patriots, but also the prince of gentlemen.' Gladstone wrote of his triumphant visit to London in 1864:

We who ... saw Garibaldi for the first time, can many of us never forget the marvellous effect produced upon all minds by the simple nobility of his demeanour, by his manners and his acts.

When in southern Italy in 1860 he was greeted by huge crowds, Garibaldi responded with a great show of ease and openness. Stopping in one town in the middle of the military campaign, he allowed himself to be 'almost devoured by kisses':

... seated on a sofa amidst a bevy of young ladies and children, evidently charmed with the variety of their stupid questions, as he fondled a baby one minute, wrote a few words in an album the next, and from time to time gave orders to the civil and military authorities.

In both Naples and Palermo, he took to walking among the people. 'He conquered this town [Naples]', the French writer Louise Colet commented, 'not so much by force as by sentiment and real human warmth.'

Garibaldi's fame was a symptom of the democratization of the public sphere in the mid-nineteenth century, and of the creation of a new relationship between public figures and their audiences in which feelings of awe and hero-worship mingled with a sense of immediacy and familiarity. At the same time, just as Garibaldi's long hair and red shirt could signal the distance between his radical politics and those of conservative Europe, so could his friendliness convey a radical message of democracy and fraternal love.

It has become customary for historians of nineteenth-century Europe to refer to the separation of public and private spheres, but Garibaldi seems to have lived entirely in the public. Much like the lives of eighteenth-century monarchs, Garibaldi's 'private' (home and family) life was put on display as proof of his simplicity, humility and selfless dedication to the Italian nation. While there is no denying that frugality and hard work were part of his chosen lifestyle, they too formed part of a public statement of his radical beliefs. The anarchist Mikhail Bakunin (1814-76) confirmed the political point when, after a visit to Garibaldi at Caprera, the island in northern Sardinia, half of which Garibaldi purchased in 1854, as a home for him and his children, he pronounced the little community hard at work in the fields to be the prototype of 'a democratic social republic'. Reading between the lines, descriptions of Caprera also suggest an existence entirely dedicated to receiving visitors, writing correspondence and physically recuperating from the exhaustions of military and political campaigning. Garibaldi used Caprera not so much to retire from public life, as was often claimed, but as a kind of privileged space from which he could control his political image and extend his network of supporters. All his family and friends were involved in, and dedicated to, pursuing the nationalist struggle and promoting Garibaldi himself.

One area that remained a relatively closely-guarded secret were the many relationships that Garibaldi enjoyed with his substantial group of female admirers. In this respect, journalists showed a remarkable reluctance to look behind the façade of happy family life on the island of Caprera. In fact, from the late 1850s onwards, Garibaldi's partial seclusion there allowed him to pursue various simultaneous relations with rich, educated women: first, an engagement with the wealthy British widow, Emma Roberts, then a close friendship with her travelling companion, Jessie White, and a relationship with a married Italian countess, Maria della Torre (who wrote to him of her pride at being chosen 'as your companion'). He subsequently had a long love affair with the German baroness and writer, Esperanza (or 'Speranza') von Schwartz, to whom he proposed marriage. Throughout this time, Garibaldi also enjoyed a sexual relationship with his housekeeper at Caprera, Battistina Ravello, with whom he had a daughter, Anita, in the spring of 1859.

In 1860, he made a brief and disastrous marriage to Giuseppina Raimondi, a young girl from a noble family, but even this did not stop him from declaring himself to two other women, and proposing marriage to one of them. In the middle of the battles for Naples in late 1860, he found time to seduce two Englishwomen. One of them wrote offering to sacrifice her life for his ('my blood drop by drop'). The other, signing herself simply 'Your Sauvage', wrote to him of her passion which was assuaged only by sleep, ('you are present, near me, close to me ... it is such a happy time!') and of her obsession with him:

I devour any writing of yours in the papers with an avidity which is perfectly frightful, as I feel more hungry and wish for more the instant after – can you understand that feeling? If so, endeavour to remedy it by satiating it, for it is a painful one.

Sex was not the only thing on Garibaldi's mind, however, and nor was it the only element in his appeal. Even these intimate moments formed part of a policy of political recruitment and public show. All of these women were on the same, radical side, almost all of them were enlisted to do political work and, on the whole, they welcomed the opportunities which he gave to them for self-promotion. Jessie White became a leading propagandist for the Italian cause in England, and wrote books and gave lecture tours, while Speranza von Schwartz ghost-wrote Garibaldi's memoirs in German along with accounts of his life in Caprera. Florence MacKnight, the daughter of a British peer whom Garibaldi met in Turin in 1861, wrote passionate letters of her love for him as a man ('real, loyal and tender') not the hero, but was equally happy to put pressure on her father and the Italian king to support Garibaldi ('I'm a soldier too' she told him).

In England in 1864, Garibaldi managed to captivate both the Duchess of Sutherland and her mother-in-law the Dowager Duchess, as well as Mary Seeley, the wife of a liberal MP, and Julie Salis-Schwabe, a rich widow and close associate of Richard Cobden. All wrote to him with the same blend of romantic passion and political engagement, discussing such issues as slavery and Protestantism alongside concerns for his health and expressions of undying devotion. Julie Salis, in particular, was conscious of the public function of their personal relationship. She was, as she put it, his 'sister for life', her enthusiasm for Garibaldi's politics inseparable from her passion for the private man. She fought hard, if unsuccessfully, to control access to him during his stay in England and to have him live with her at her house in Manchester, from where she hoped to orchestrate his public appearances. But when her emotional demands on him became especially insistent, Garibaldi distanced himself by referring to the 'terrible responsibility' of his political position, and she wrote to him that she entirely understood. For these women, love for Garibaldi and support for Italian nationalism was apparently inseparable. Both can be seen as a strategy to assert a public identity, and their dependence on his fame for their own public position may explain why so little information about his 'scandalous' private life ever reached the newspapers.

Although the concept of 'Great Men' as a way to explore history is rightly questioned these days, their stories should remain of real interest to us. The position of a significant individual at the precise coincidence of symbol (as national hero) and lived existence (as political leader) allows us to investigate the relationship between historical narrative as a form of fiction-making and history as real, recoverable truth. Garibaldi's exceptional talent for political communication should be taken seriously. He represents an alternative, democratic, tradition of political heroism, often overlooked by historians more interested in the origins of the authoritarian cults of the twentieth century. His popularity tells us much about the hopes and fears of a nascent mass society, and his military successes help explain the long reach of romanticism and the rapid regime changes of mid-nineteenth-century Europe. In terms of importance, originality and sheer renown, he may be the nineteenth-century's greatest of all 'Great Men'.
Further reading:
D. Pick, Rome or Death. The Obsessions of General Garibaldi (London, 2005)
D. Mack Smith, Garibaldi. A great life in brief (London, 1957)
J. Ridley, Garibaldi (London, 1974)
D. Beales,

Garibaldi in England. The Politics of Italian Enthusiasm

in J. A. Davis & P. Ginsborg, Society and Politics in the Age of the Risorgimento (Cambridge, 1991)
J. Plunkett, Queen Victoria. First Media Monarch (OUP, 2003).
If you enjoyed this article, you might like these: