Dutch Letters from Ghana
Jos Damen tells the stories of two unusual men who lived a century apart in the Dutch colony at Elmina in West Africa; a poet who became a tax inspector and a former slave who argued that slavery did not contradict ideas of Christian freedom.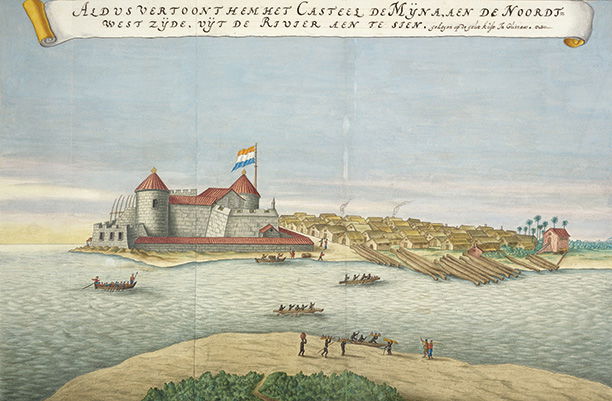 This is an account of two men, Willem van Focquenbroch and Jacobus Capitein, who lived in different centuries and came from different backgrounds. They might at first appear to have nothing in common but there are similarities between them, and their personal stories offer a particular insight into the Dutch colony on the Gold Coast, now part of modern Ghana, in the 17th and 18th centuries.

Both men were educated at Leiden University and both clashed with the societies in which they lived. These were partly cultural clashes and partly personality conflicts. Both were headstrong individuals who followed their own paths. They were the same age – just 30 – when they died. Van Focquenbroch was a Dutch intellectual who studied theology at Leiden and medicine at Utrecht, became a successful playwright and poet and went to Elmina as a tax collector where he died in 1670. Capitein was born a slave in the area a century after van Focquenbroch. He also became a student at Leiden and argued in his dissertation that slavery was in accordance with the Bible. He later returned to the land of his birth to preach the word of God and died there in 1747.

Van Focquenbroch was overcome with homesickness while in Dutch Guinea, whereas Capitein was torn between two races and had to assimilate twice, firstly in the Netherlands and later back in West Africa. Famous in their own times, over the past few decades and after many years of obscurity both van Focquenbroch and Capitein have returned to the limelight. This is partly the result of their work, the letters that survived them and the mystique surrounding their adventurous lives and tragic early deaths. They were individuals who opted to follow their own life paths rather than do what might have been expected of them. Van Focquenbroch was young and full of promise and Capitein reached stardom as a black man and a former slave who not only supported slavery but also tried to convert the heathens in the place of his birth. The growing interest of Africans and African Americans in their heritage has boosted interest in the history of Ghana and the colonial period.
This article is available to History Today online subscribers only. If you are a subscriber, please log in.
Please choose one of these options to access this article:
Call our Subscriptions department on +44 (0)20 3219 7813 for more information.
If you are logged in but still cannot access the article, please contact us
If you enjoyed this article, you might like these: