Richard II: King of the White Hart
When Richard II succeeded his grandfather, Edward III, he turned to alchemy to create a more pious ideal of kingship. Though his reign ended in failure, it left us one of medieval England's most enduring and complex images. Jonathan Hughes explores its symbolism.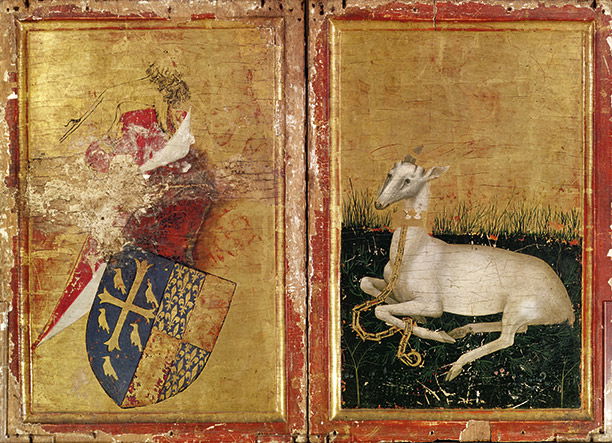 Perhaps the most mysterious and haunting image in English art is a chained white hart decked in pearls and wearing a golden crown. It adorns the back of an altarpiece, known as the Wilton Diptych, originally erected in a small chapel in Westminster Abbey during the late 14th century. This creature can still be seen on signs at public houses throughout the country. Its meaning and origins can be found in the reign of an equally mysterious king whose beauty, capriciousness and obsession with purity left traces in the satirical portraits of the vernacular literature written during his reign (1377-99), including some of Chaucer's Canterbury Tales, in the Cheshire poems, Sir Gawain and the Green Knight and Pearl, and in the 16th century in Shakespeare's Richard II, which portrays a monarch familiar with alchemy.

In medieval symbolism the colour white was subservient to its opposite, red. In Grail mythology, originating in the 12th century, the status of Albion as a holy land came from the cruets brought by Joseph of Arimathea containing the red blood and white sweat of Christ. According to the Arthurian legends started by Geoffrey of Monmouth in his History of the Kings of Britain (1136) the nation was born when the red Celtic dragon overcame the white one of the Saxons, a conflict reflected in the domination of the white national flag by the red cross of St George.

The origin of the religious significance attached to these two colours lies in the writings of medieval Muslim alchemists who theorised that all matter was derived from red sulphur and white mercury. By the 14th century Latin writers in western Europe and England were adapting Arab alchemical texts in original compositions and claiming that the four elements were created from an incestuous and hermaphroditic union, the product of an assertion of the divine will in a descent of the divine spirit, or white mercury into the maternal waters of chaos to create red sulphur. Alchemists, by reducing the four elements to their primitive state, believed they were witnessing the very act of creation. The alchemical symbol for mercury, two horns on a circle, is at least 3,000 years old and its divine spirit was believed to be present in matter in the form of cinnabar or mercury sulphide, which was coloured red and white.
This article is available to History Today online subscribers only. If you are a subscriber, please log in.
Please choose one of these options to access this article:
Call our Subscriptions department on +44 (0)20 3219 7813 for more information.
If you are logged in but still cannot access the article, please contact us
If you enjoyed this article, you might like these: