Russia's First Embassies
Trade was the impetus for early contacts between Russia and England, though each country had its own view of how the relationship should function. Helen Szamuely examines the first two centuries of Russian embassies to London.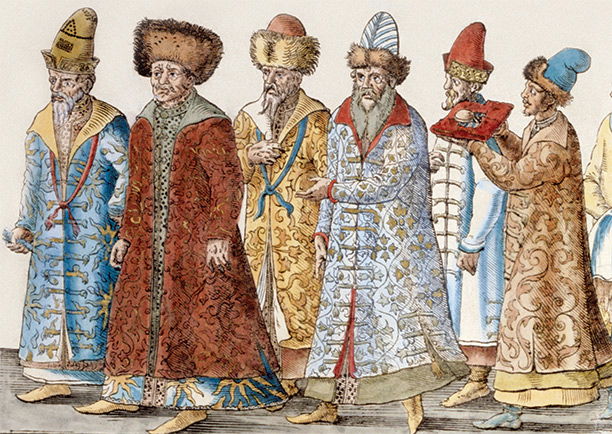 According to an article by the Jewish historian Joseph Jacobs, published in the Academy in December 1888, the first Russian in England was a Jew, Rabbi Iza or Isaac, who arrived in 1181 from Chernigov, at that time the largest grand principality in Kievan Rus. The evidence for this claim is a little scant but there were sporadic Anglo-Russian links in the following centuries, mostly before the Tatar invasion of the Russian principalities during the 13th century. The English 'discovery' of Russia and the subsequent difficult but more or less continuous relationship can be dated to the mid-16th century. In May 1553 the recently chartered Company of Merchant Adventurers sent three ships under the command of Sir Hugh Willoughby to find a northern passage to Asia and another market for English woollen cloth.

The journey, described in detail by Richard Hakluyt (c.1552-1616) and the pioneer student of Anglo-Russian relations Joseph Hamel (Iosif Khristianovich Gamel, 1788-1861), had its share of disasters: the ships were separated and Willoughby perished in Lapland together with the crews of two of them. The diaries and other papers were recovered later together with the ships, which sailed again. The explorer Richard Chancellor, captaining the Edward Bonaventure, was more successful: he reached Archangel and at the end of November set out on a sled to Moscow, on the way meeting Tsar Ivan's messengers who issued an official invitation.
This article is available to History Today online subscribers only. If you are a subscriber, please log in.
Please choose one of these options to access this article:
Call our Subscriptions department on +44 (0)20 3219 7813 for more information.
If you are logged in but still cannot access the article, please contact us
If you enjoyed this article, you might like these: