The Russian Mrs Beeton
Helen Szamuely explores the unprecedented success of a household manual and cookery book produced by a Russian housewife, Yelena Molokhovets, following the Emancipation of the Serfs in 1861.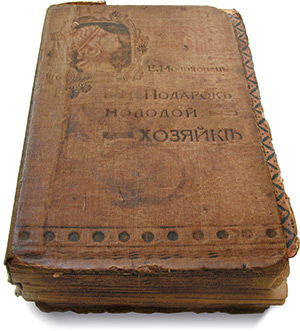 The year 1861, in which the British Isabella Beeton's famous Book of Household Management was first published in its full form, also saw the publication of an equally important domestic manual in Russia. Yelena Molokhovets' A Gift for Young Housewives acquired a similarly popular status and ran to 29 editions in the turbulent period between the Emancipation of the Serfs, also in 1861, and the collapse of the Russian Empire in 1917.

Mrs Beeton's manual, containing 900 recipes and numerous entries on how to deal with aspects of running a home, was targeted at the increasing numbers of middle-class women running households in mid-19th century Britain. Mrs Molokhovets' book had similar aims but she was writing for a relatively small middle class that was only just emerging. The large patriarchal households of Russia were breaking up, the liberated serfs were beginning to acquire property and build their own businesses and the number of instantly available servants was in decline. There was confusion about which way Russia should develop: should it aim to become a European country and simply copy western customs or should it go its own, somewhat poorly defined, way determined by age-old customs? The question of food and its preparation became part of that discussion. Earlier cookery books had been linked largely to treatises on the management of estates rather than individual households. For the most part cookery books had been translated from the French but had run into difficulties: many of the methods and ingredients were unfamiliar to ordinary Russian families and the books did not take into account either Russia's climate or the Russian religious calendar, which defined a good deal of the country's diet (the Church decreed around half the days of the year as fasting days of varying severity).
This article is available to History Today online subscribers only. If you are a subscriber, please log in.
Please choose one of these options to access this article:
Call our Subscriptions department on +44 (0)20 3219 7813 for more information.
If you are logged in but still cannot access the article, please contact us
If you enjoyed this article, you might like these: