The Mughal Dynasties
Francis Robinson looks for the distinctively tolerant and worldly features of Mughal rule in India and that of the related Islamic dynasties of Iran and Central Asia.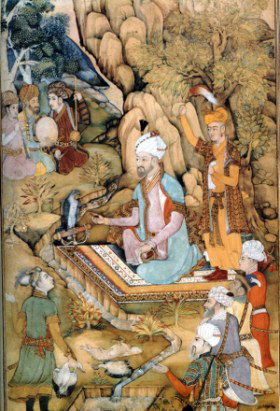 Some ten years ago I was invited to contribute to a series of books covering rulers of the major societies of the world. My area was to be the Muslim world. There were far too many Muslim rulers, however, to fit into a single volume, so they were divided very roughly into two - the rulers of the western Muslim world and those of the eastern Muslim world.

Using a degree of selectivity, it proved possible to bring together some of the rulers of the eastern Muslim world up to about 1900 as a fairly coherent group. They were: the dynasties of the Delhi Sultanate, 1206-1526, which created the framework in which the subcontinent came, by the twenty-first century, to support one-third of the world's Muslims; the II-Khanids, 1256-1340, the descendants of Chinghiz (Genghis) Khan through Hulagu (r.1256-65), who began to lay the basis of modern Iran; the Timurids, 1370-1506, the descendants of the last mighty Mongol conqueror, Timur [Tamerlane], who fashioned a brilliant Persianate civilisation in Iran, Central Asia and Afghanistan; the Mughals, 1526-40, 1555-1858, who ruled the greatest and richest of the Muslim 'gunpowder empires'; the Safavids, 1501-1773, who made Iran into a mainly Shia society, at the same time achieving new heights of artistic excellence; and the Qajars, 1796-1925, who valiantly strove to build up central power in Iran as they were increasingly hemmed in by pressure from Russian and British expansion.
This article is available to History Today online subscribers only. If you are a subscriber, please log in.
Please choose one of these options to access this article:
Call our Subscriptions department on +44 (0)20 3219 7813 for more information.
If you are logged in but still cannot access the article, please contact us
If you enjoyed this article, you might like these: