Man and Beast: 'Visiting Your Troops of Cattle'
Erica Fudge and Richard Thomas explore relationships between people and domestic animals in early modern England and how new types of archaeological evidence are shedding fresh light on one of the most important aspects of life in this period.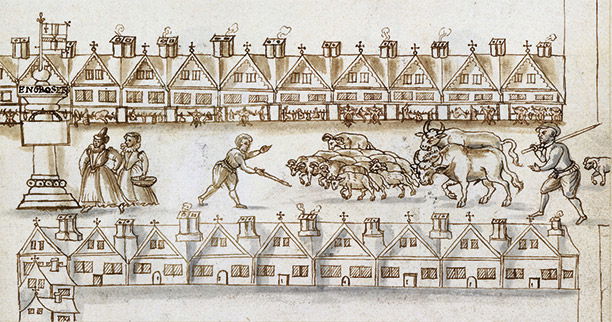 In early modern England one relationship was vital to the economic and dietary wellbeing of most families: that between people and their animals. Indeed local and national economic stability was reliant on the presence of horses, cows, sheep, pigs and poultry. This dependence can be measured in terms of the need for a large amount of meat in the diet of those who worked the land; the demand for raw materials, such as hides, bones and fats, for crafts and industry; the importance of animal manure to the fertility of the soil; and the necessary power of animals to move goods and support agriculture through the pulling of equipment, such as ploughs and harrows.

The period 1500-1700 also marks a watershed in the nature of farming in England. It witnessed a decline in the number of smallholdings, the emergence of large farms and a consequent growth in herd size, as well as increasing specialisation and commercialisation of husbandry. Arguably it is over this time that the system of intensive agriculture emerged that is familiar in much of the West today. For this reason the study of animal care has a particular resonance.

However, while economic and agricultural historians have explored the general shifts in human-livestock husbandry, the close connections between humans and animals have received almost no attention. One area where it is possible to gain an insight into such relationships is in the matter of animal health care and wellbeing. The moments when the relationship shifts from the normal to the fraught – such as when a healthy animal ceases to be able to fulfil its role in the domestic economy – provide particular insight into people's attitudes to their beasts. Yet in the period of early modern agriculture, when many of those working with animals did not, or could not, document their practices, the study of livestock care requires an imaginative approach to research to build the fullest possible picture. As we shall see here different types of evidence – books, wills and bones – offer different clues about human/animal relationships. Husbandry manuals by their nature are addressed to a general readership and provide an idea of a wide-ranging, indirect engagement with animals; wills reveal people's direct relationships with specific animals; while bone remains unearthed during archaeological excavations are evidence of the animals themselves. These can reveal both general trends and provide insight into the lives of individual beasts.
This article is available to History Today online subscribers only. If you are a subscriber, please log in.
Please choose one of these options to access this article:
Call our Subscriptions department on +44 (0)20 3219 7813 for more information.
If you are logged in but still cannot access the article, please contact us
If you enjoyed this article, you might like these: