Contingency and Cricket
Ed Smith considers contingency, a factor central to both sport and history.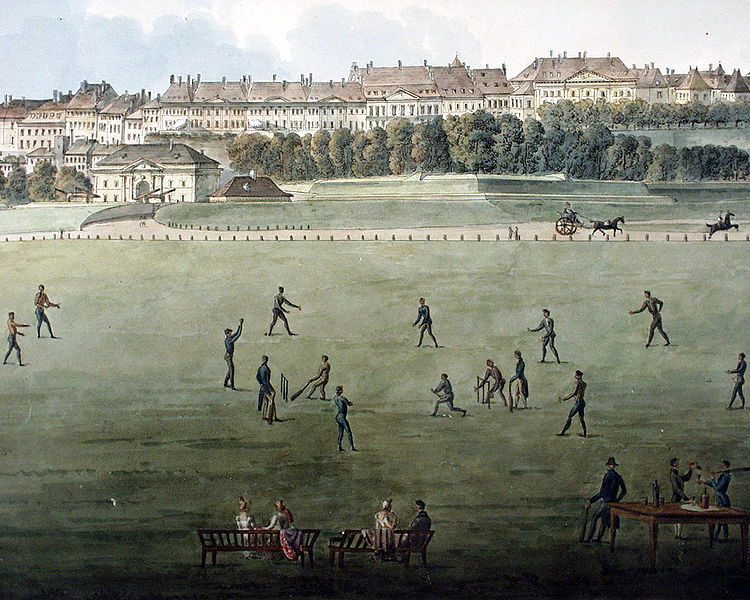 Does observing the process of cause and effect in our own lives make us look at the historical process with a different perspective? My intuition is that it does. My exposure to chance as a professional cricketer provided the launching pad for me to examine the role of luck beyond the boundary.
First, when I played for England against South Africa at the Oval in 2003, I was wrongly given out leg before wicket. Today's cricketers have access to the Decision Review System (DRS), enabling them to challenge umpiring mistakes. But it hadn't yet been introduced in 2003. So I trudged off, thinking that simple bad luck couldn't possibly end my international career. I never played for England again.
Second, as captain of Middlesex at Lord's in 2008 I suffered a freak injury while batting. Running a mundane two runs, I somehow managed to roll my ankle, causing a spiral fracture. For more than three weeks I continued to train, run and practise on a broken ankle. By the time it was diagnosed, I was ruled out for the rest of the season. I never played professional cricket again.
As a history graduate, I shouldn't have been surprised to learn about contingency. But those two experiences made me think about different types of luck. I had needed luck to make it onto the professional sports pitch in the first place. The sporting world imagines itself to be meritocratic, but in fact the non-random luck of a privileged education (the philosopher John Rawls defined privilege as 'social luck') increasingly determines who gets to wear an England cricket cap. Simply, if you want to play for England, first attend a private school. That is a relatively new phenomenon. On England's tour of Pakistan in 1987-88, only one England player had been to private school. In contrast, over two thirds of the current team are privately educated. The composition of the England rugby union team and the British Olympic team reveal the same trend, evidence, perhaps, of a recent decline in social mobility.
There are deep reasons, though, for sportsmen to deny the power of luck – even genetic luck or 'talent'. It allows them to cling to the idea that events are shaped by factors within their control: first, practice and hard work; second, will power and determination. The logical error is failing to acknowledge that in a contest between two athletes who have prepared equally well and have equally ferocious self-belief, one of them still has to lose. Self-belief and determination cannot explain outcomes in sport as much as the media would have us believe.
I witnessed the same narrative fallacy when I was a player. After a last-ball victory in which my team clearly benefited from the rub of the green, I was amazed to hear team mates say that they always 'knew' we were going to win. Knowledge of the future is always easier in retrospect.
Yet sport (and history) also teaches us that some apparently lucky 'turning points' are deceptive. Sometimes luck merely hastens the march of probability. Imagine a war between two nations, ultimately won by the mightier economic power, in which the final battle revolved around a moment of pure good fortune. That doesn't explain why the war was won. In all likelihood, the superior economic power would have prevailed eventually, even if it had taken a longer sequence of battles to do so.
If we want to understand success and failure, both in sport and in history, we must accept that causality revolves around the complex interaction of agency and pure circumstance. The difficult thing is distinguishing one from the other.
If you enjoyed this article, you might like these: