On the Crest of a Wave
Colin Greenstreet describes a new collaboration to transcribe and enhance 17th-century records of the High Court of Admiralty.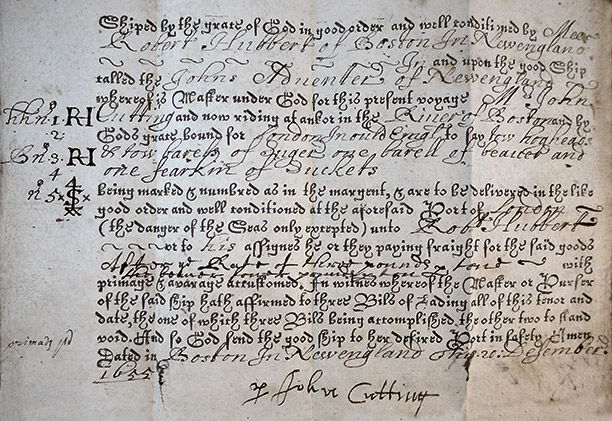 The Deptford mariner Robert Mill was 32 years old when he appeared before the High Court of Admiralty in London on October 3rd, 1653. Captain Mill was giving evidence of a strenuous chase and skirmish off the English coast between Beachy Head and the Isle of Wight. He was indignant at the duplicity of his foe, the master of the Golden Starr, who had hauled down his Dutch colours and replaced them with the colours of the Commonwealth. Personal insult was added to injury and a sea fight broke out, which concluded four hours later with the arrival of a second Commonwealth ship, the Water Hound, and the boarding and subduing of the Golden Starr:
[This deponent] being come upp with her within pistoll shott side by side haled the sayd shipp Golden Starr, and badd them severall tymes that they should strike for the parliament of England, wherto the sayd master of the Golden Starr refused to strike, and bad this deponent kisse his breech and sayd he would not strike to such a small shipp as the Advantage was and immediatley fetcht out his Cutlase and waved it att this deponent bidding him to do his worst…
Mill's story has survived in the court's leather-bound deposition books, which are held at the National Archives in Kew. Each volume contains up to 1,000 pages, with the details of mid-17th-century life at sea and on shore captured by the court's clerks in a range of legal hands.
The High Court of Admiralty was a London-based specialist court, staffed with civil lawyers. Its extensive records are full of rich lives, with lightermen in the River Thames off Wapping jostling with mariners from Cadiz and from Curland, and with French whalers off the Greenland coast. They are also full of descriptions of material life and goods:
This deponent saw packed up at Roane, namely 5. or 6. bailes or bundles of quilts, a Case of white earthen ware, a trunck with bookes and Cloathes belonging to the said director and another baile of bookes, linnen, artificall flowers and other inventions, which from thence were transported to Diepe aforesaid, and there imbarqued in the said shipp the St George…
[John Conyet, of Chambory, Savoye, Gentleman, aged 26, October 22nd, 1653]

In a digital project, MarineLives, a team of volunteers is being put together to transcribe, link and enrich a single volume of the court's records to be selected from the period 1650-69. The chosen year is likely to be 1656, towards the end of the Protectorate, an under-researched but eventful period for English, Scottish and Irish history. The end product will be a freely available online academic edition accessible to all.
Successful digital humanities projects, such as Old Bailey Online and London Lives, have helped popularise large repositories of data among a cross-section of users. But MarineLives is unusual in that it is the initiative of a public historian, seeking to connect the expertise and interest of other public historians in schools and local communities to the networks and expertise of professional archivists and university-based academics. It is hoped that the volunteers will be drawn in equal measure from schools, local historians and from universities. Those involved will be asked to volunteer 50 hours of personal research time between September and the end of December 2012.
Dr Perry Gauci, fellow and history tutor at Lincoln College, Oxford, has worked extensively with High Court of Admiralty documents and describes them as 'one of the richest of 17th-century sources'. Welcoming the wide public access that MarineLives promises, he believes that its collaborative format should serve as a model for the future.
Public historians, postgraduates and academics from London, Cambridge and Oxford will work as facilitators with small teams of three or four project associates to make the transcriptions and explore and record links to other primary and secondary material. The budget is minimal, since the project is staffed with volunteers and is using open-source software. The goal is to develop an immersive electronic edition, which will take the user into the marine and land world of the records.
MarineLives is supported by the National Archives, which has agreed to make the images available for the team to digitise the chosen volume. Jo Pugh, from the Education and Outreach Department at the National Archives, describes the project as one with 'huge potential to produce new insights, not only into Britain's maritime past, but also into what might be the future of archival research.'
Good history creates a kind of shared narrative and memory – a community of understanding, says Tim Hitchcock, co-director of Old Bailey Online. MarineLives builds that community into the very process of researching and writing about the past: 'More than just one more bespoke digitisation project, or even one more book, MarineLives suggests one of the ways that history can be re-imagined for the online and the connected.'
If you enjoyed this article, you might like these: