Kim Philby: Living a Lie
Almost everything written about and by Kim Philby is wrong, claims Boris Volodarsky. The Soviet spy and his KGB masters sought to exaggerate his successes against the West, beginning with the fictions that surround Philby's first mission during the Spanish Civil War.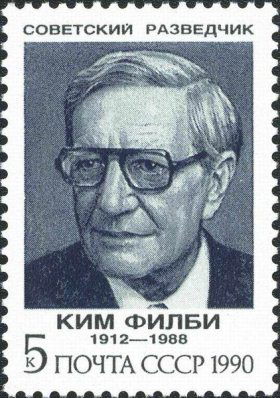 On October 1st, 1967 The Sunday Times front page bore the headline 'I Spied for Russia From 1933'. A large black and white photo (right) showed a man, standing in Red Square, in an open-necked shirt, in front of the Kremlin. The editor of The Sunday Times, Harold Evans, knew little about the figure in Moscow. Some months before, he had summoned his Insight team of investigative journalists and instructed them to track down and find out as much as possible about the man, whose name they had learnt was Harold Adrian Russell 'Kim' Philby. The team soon discovered that John, Philby's son by his second marriage, lived in London. As John's ambition was to be a war photographer, The Sunday Times commissioned him to go to Moscow to photograph his father. Philby was glad to see the son he left behind after he was secretly extradited to Russia from Beirut in 1963.
John came back both with pictures of his father and some valuable information. 'My father told me,' said John to Evans, that 'the Russians had given him the task of penetrating British intelligence in 1933 and that it did not matter how long it took.' The Insight team also learned that Philby was the 'third man' in a group of Cambridge alumni (the other two were Donald Maclean and Guy Burgess) who stole British secrets for Stalin. In an interview about the investigation that appeared in The Sunday Times in 2009, Evans also referred to Philby's time in Spain during the 1930s: 'When the Spanish Civil War broke out, Philby took himself off to the battlefront as a freelance reporter with General Franco's Fascists.'
John Philby died last year and in spring 2010 his daughter, Charlotte, decided to visit Russia to talk to Philby's third wife and widow, Rufina Ivanovna Pukhova, and see again the Moscow flat where her grandfather lived out his long exile and where, 27 years ago, she had secretly been taken for the first time. Charlotte knew, of course, who Philby was and why he became so famous. In 1933 Philby had gone to Vienna where he married Litzi Friedman, a fellow Communist. According to Charlotte's recollections, published by The Independent in March 2010, 'when the pair returned to England in May 1934, Philby, by then a Soviet agent, found work as a foreign correspondent'. She also believed that he was the 'third man'; that he was recruited by the mysterious 'Mar'; used the codename, 'Stanley'; and that 'the leading Russian writer, Genrikh Borovik,was given access to Philby's unseen KGB file in 1994, six years after the spy's death'. In Moscow, an unnamed KGB comrade of Philby told Charlotte that 'a gang of five or six of Philby's former colleagues still meet up every month and raise a toast in his honour'.
But much of this is untrue. Philby lied to his son and the KGB lied to his granddaughter. Kim Philby was the first man rather than the third, but he was not recruited to penetrate British intelligence, as he claimed and as the KGB continued to claim, even after the end of the Cold War, eager to demonstrate their supposed success against the West. The truth is very different.
When Philby and Litzi came to London in May 1934, Philby decided to join the Communist Party and came into contact with one of its underground cells. He was promptly reported to Edith Suschitzki, by now Edith Tudor-Hart, a talent-spotter for the NKVD, the KGB's predecessor. She was Austrian and had met Philby and Litzi in Vienna after Philby travelled to Austria as a sympa-thiser of the Social Democrats who waged a civil war against the government of Engelbert Dollfuss. After vetting Philby for the NKVD, Edith introduced him to 'Otto', another Austrian NKVD agent whose covert mission in London was to recruit for Stalin's secret service. Otto's real name was Dr Arnold Deutsch. The first meeting between Deutsch and Philby took place in early June in Regent's Park. On June 19th, 1934 an officer of the NKVD foreign department, Lev Nikolsky (codenamed 'Schwed'), then in Vienna, received a coded message from Moscow:
At the time of this letter dispatch we received from 'Mar' [NKVD station chief Ignace Reif], currently in Copenhagen, the following [deleted] information: The group has recruited the son of the Anglo-agent Philby, counsellor of Ibn Saud. Mar established contacts and started working with the sources 1/ Inspector [unidentified, possibly George Whomack], 2/ Got [Percy Glading; he and Whomack were members of the Woolwich Arsenal spy ring, convicted in 1938 of passing on secrets concerning Royal Navy armaments to the Soviets] and 3/ Professor [unidentified, possibly Maurice Dobb, Philby's former tutor at Cambridge].
The KGB mistakenly believed that Philby's father, Harold St John Bridger Philby, an influential Arabist, Muslim convert and adviser to Ibn Saud, King of Saudi Arabia, was a member of British Intelligence. Who better to spy on him than his son? So far, they had only 'cultivated' Philby in order to check whether he was ready for future secret collaboration; Philby would be fully recruited as an agent in December 1934. In February 1935, Nikolsky became his handler in London. Soon Philby would make a list of all his Cambridge friends for the NKVD and that would be his only contribution to Soviet intelligence for some time. From that list, first Maclean (recruited in or about February 1935) and then Burgess (recruited between July and September) would start working for the Soviets under the control of Reif and Deutsch. As with Philby, the recruitment would be made 'under a false flag', that is, they would be told not that they were to be Soviet spies, but that they were joining the Comintern's struggle against Fascism.
Before the outbreak of the Spanish Civil War in July 1936 the NKVD station in London failed to place Philby anywhere of interest to Moscow, though they tried in vain to get him to use his father's influence to gain a position as a personal assistant to a prominent politician. He finally ended up as the assistant editor of Review of Reviews, a liberal-left journal. A year after Philby's first meeting with his recruiter, Nikolsky reported to Moscow:
You know Mädchen [Burgess], we got him through Sirota [Maclean] … Mädchen is a former compatriot [member of the Cambridge Communist cell], a very well educated fellow with adventurous inclinations. Though I rate him lower than Synok [Philby] and Sirota [Maclean], I nevertheless believe that he may be of service.
Maclean would be the first to penetrate the British establishment, getting a job at the Foreign Office. In September 1936, Nikolsky, alias 'Alexander Orlov', was sent to Spain, to be replaced in London by Theodor Maly, a Hungarian. In January 1937, Maly received instructions from Moscow to send an agent to Spain.
Stalin had decided that one of the ways to solve the 'Spanish problem' would be to assassinate Franco. In 1937 Soviet military intelligence, the GRU, sent several operatives on a mission to murder the Caudillo. Before the GRU officers started to move, the NKVD asked Maly in London to find an agent for a risky assignment in the rebel zone. Philby was chosen partly because he had expressed interest in Spain and had holidayed there with his wife in 1935. It was not concealed from Philby that his task would be to find a way to approach Franco and kill him. Though Philby was enthusiastic, Maly was not; he suspected that the young agent-in-training, or 'probationer', would be unable to fulfil the task. In spite of this, the NKVD foreign department chief ordered Maly to continue preparing Philby for the mission.
Maly's file in the KGB archives shows that Philby left London for Spain on February 3rd, 1937. John Costello and Oleg Tsarov, the authors of a KGB-sponsored biography of Orlov, Deadly Illusions (Crown, 1993), state that Maly gave Philby an address in Paris to which he was to send his intelligence reports by post. They also add, quoting from Philby's memoirs, that in an emergency he could pass intelligence reports through his wife (who later went herself) to Lisbon, where he had collected his visa from the so-called 'Franco Agency', presumably a reference to the office run in the Portuguese capital by Franco's brother Nicolás, the Nationalist ambassador to Portugal. According to Tsarev and Costello, Litzi was under orders to stay in Portugal and remain in contact with the Soviet courier network there while her husband made his way at the end of February to the Nationalist stronghold of Seville. The authors remark that 'it is not clear from Philby's file whether this system was ever put into operation'. It was not.
In fact, when Philby went to Spain his wife departed for Paris, on NKVD instructions, maintaining a safe house there. She lived in luxury, occupying an atelier apartment on the Quai d'Orsay and entertaining guests in a country house in Grosrouvre, about an hour's drive from the capital. According to her oral memoirs she met Philby once in Biarritz, about 11 miles from the Spanish border, but most of the time Litzi spent partying, dancing and drinking with her lover, Pieter, a Dutch sculptor. Litzi later recalled that in the house in Grosrouvre they lived in a group of 12 people, 'all strongly sympathising with the Spanish republic, Léon Blum and the People's Front'.
Having arrived in Spain, Philby familiarised himself with the country and probably sought ways to approach Franco. On his return to London in May 1937, Philby was instructed by the NKVD to get hired as the correspondent of a national newspaper, a job that would give him a chance to penetrate the British establishment and, upon his return to Spain, get better access to Franco. With help from his father, he gained an introduction to the foreign editor of The Times who, in turn, introduced him to the editor, Geoffrey Dawson. It was proposed that Philby spend a couple of weeks in the editorial offices before returning to Spain as The Times' correspondent.
Philby arrived in Spain in the last week of June 1937. Once there he made considerable mileage out of a brief meeting with Joachim von Ribbentrop, the German Ambassador in London and future foreign minister, whom he had met during a reception at Carlton House Terrace in the summer of 1936. Dazzled by such references, Franco's press aide, Luis Bolín, thought that Philby was 'a decent chap who inspired confidence in his reports because he was so objective' and considered him to be 'a gentleman'.
On September 4th, 1937 instructions came to Deutsch from Moscow requesting him to contact Philby. The telegram read:
To Stephan [Deutsch]. Establish contact through Sam contact of Schwed [Nikolsky/Orlov] with Synok [Philby] in your presence in Biarritz in the lobby or café of Hotel Miramar.
Having found Nikolsky's codename in the message, Tsarev and Costello could not avoid the temptation to introduce him to this operation in their book:
Ten days later [after Deutsch received Moscow's missive] Philby travelled to Biarritz, the elegant spa on the French Atlantic coast to make his first rendezvous in two years with Orlov. In the café of the Miramar Hotel they arranged that they would meet at least twice a month at Narbonne to exchange military and political intelligence according to a pre-arranged schedule. This quiet French town just north of the Spanish frontier was selected because Orlov could easily travel there from Republican territory and Philby would not arouse suspicion by taking his breaks from front-line duty.
The authors are wrong. Philby, as a correspondent in Nationalist Spain, would have been accompanied constantly by Franco's people. He could not have simply 'slipped out' to France on a regular basis. Moreover, visas and border stamps in Orlov's diplomatic passport show that he did not visit Biarritz or any other French town in September 1937. Indeed, at the time he was dealing with Trotsky's secretary, Erwin Wolf, who had been sent by Trotsky to Spain to observe the 1937 'May Days' in Barcelona; Wolf 'disappeared' on September 13th, 1937. Finally, according to Litzi's memoirs she was asked by Deutsch to go to meet her husband in Biarritz, as Deutsch could not do it himself, because he had been recalled to Moscow. It was a single meeting whose aim is unclear but it could have just been an instruction to abandon the assassination plan.
The KGB and Philby himself invented their 'adventures' in Spain during 1937-38 in order to give the impression that Philby was sent to the Iberian peninsula on a risky intelligence mission rather than to track Franco's whereabouts. One such anecdote concerns his 'escape' from Nationalist Spain 'almost literally by the skin of my teeth,' as Philby wrote in his KGB-sponsored biography My Silent War, published in 1968. He related that two months after his arrival in Spain in April 1937 two Nationalist Civil Guards hammering on his bedroom door woke him in the middle of the night. As he dressed, he realised he had left his NKVD cipher written on a piece of rice paper in the ticket pocket of his trousers. There then follows the thrilling tale of his masterly deceit of the guards by throwing his papers on the table to distract their attention while he chewed and swallowed the compromising sheet of paper.
In reality, he didn't need any 'code on a piece of paper' because he was not ciphering messages – he was not that advanced as an agent and his mission in Spain was not to collect intelligence. Rather, in the event that he should come across something valuable to report to his NKVD controller concerning Franco, he had agreed with Deutsch on a simple code of communicating the information in every fifth word of the letter or postcard that he was instructed to write to 'Mademoiselle Dupont' in Paris.
It was a huge error on the part of Deutsch that the address of Dupont was the Soviet embassy on Rue de Grenelle. This, if realised by the Spanish censors, would have swiftly ended Philby's career as a spy. The whole story of the letters to Paris, however, looks like another anecdote produced by Philby and his KGB mentors. There was no shortage of addresses in London to which he could have written.
Philby's true mission becomes clear from Maly's communications with NKVD headquarters at Moscow's Lubyanka building, in April 1937. Maly reported that he had personally briefed Philby on the need 'to discover the system of guards, primarily of Franco and then of other leaders'. Philby was instructed to report on vulnerable points in Franco's security and recommend ways to gain access to him and his staff 'by observing the control over those visiting him or his headquarters, his (their) excursions into the streets, their daily schedule, their home addresses or the locations of the places they frequent, where they sleep, where they eat (whether they eat in restaurants) – in short, all that is needed to act'.
Tsarev and Costello assert that 'it is not clear from the files so far examined whether the NKVD chiefs intended Philby to be Franco's executioner or merely the agent who opened the door for others to deliver the lethal blow'. Given Philby's lack of experience, it was surely the latter, since the assassins were most likely to be saboteurs from the units that the NKVD officers in Spain were especially preparing for such missions. After debriefing Philby in London, Maly wrote to the Lubyanka on May 24th, 1937:
The fact is that Söhnchen has come back [from Spain] in very low spirits. He has not even managed to get near to the 'interesting' object. But I think or rather feel from my talks with him that, even if he had managed to make his way through to Salamanca, even if he had managed to get near to Franco, then – in spite of his intention – he would not have been able to do what was required of him. Though devoted and ready to sacrifice himself, he does not possess the physical courage and other qualities necessary for this [assassination] attempt.
After Maly was sentenced to death by the Soviet Military Tribunal in Moscow on September 20th, 1938, during Stalin's purges, Deutsch thought it would do no harm to criticise his old friend:
This was the case when 'Mann' [Maly] according to the Centre's order, was given the task of ordering Söhnchen to assassinate Franco, although Mann knew that Söhnchen would not be able to cope with this assignment. When the Centre continued to insist on this operation, he communicated the task to Söhnchen, but in such a way that Söhnchen saw that Mann himself did not take this assignment seriously. Such behaviour undermines the Centre's authority in the eyes of these people – the more so since they have a natural tendency to cynicism, which they have inherited from their class and the general attitude of the British intelligentsia. That is why they should always see our officers display an unshakeable confidence in the Centre, because only in this manner will they be able to overcome this attitude inherited from their bourgeois class.
Another story often repeated in Soviet publications about Philby, from where it leaked to Western accounts, concerns Philby's alleged meetings with Nikolsky/Orlov and other NKVD officers during his time in Spain. Thus, according to his KGB-sponsored biography, in mid-September 1937, Philby travelled to Biarritz to meet his former London controller. This is another case of deception aimed to glorify both the NKVD and Philby. As already mentioned, from the border-crossing stamps in his passport, one can see that Orlov did not visit France either in August, or in September, and not in fact until October 8th. Equally wrong is the claim made by the author Phillip Knightley, in his biography of Philby published in 1989 and in the introduction and epilogue to Orlov's book The March of Time (published in 2004) that Philby passed on the intelligence he gathered from within the Franco camp at meetings with NKVD officers at Hendaye or St Jean de Luz, two small towns between the Spanish border and Biarritz. In reality, the young agent had little opportunity to gather any intelligence. Philby was not competent in military matters and would certainly see no difference between a platoon and a company or between a light and a heavy tank. Moreover, those officers remaining in the NKVD station in Paris after Stalin's purges were unable to travel to the southern French region of Pyrénées-Atlantiques.
The persecution by Stalin of former legal and illegal London station chiefs as imaginary enemy agents put the entire future of intelligence operations in Britain in doubt. With one exception, NKVD officers working under the cover of the Soviet Embassy were recalled to Moscow. Though the stations in London, Berlin, Vienna and Tokyo, as well as in Paris and Barcelona, did not close, they were reduced to one or, at the most, two officers each. Most of the foreign department's staff and agents were purged. Maly was recalled to Moscow in early June 1937 and shot after a confession had been beaten out of him that he was a German spy. Upon his return from London Reif was promoted to head the British desk at the Lubyanka but was then arrested and shot. Deutsch was sacked. All these measures did severe and potentially catastrophic damage to the NKVD's British operations.
Philby came close to catastrophe too. In his book, We Saw Spain Die: Foreign Correspondents in the Spanish Civil War (Constable and Robinson, 2008), Paul Preston writes:
On New Year's Eve 1937, during the battle of Teruel, Philby was a passenger in a car with three other correspondents eating lunch when it was hit by Republican artillery fire. The 23-year-old Bradish Johnson of Newsweek, who had been in Spain for only three weeks, was killed instantly. Richard Sheepshanks, the star reporter of Reuters, was badly wounded, as was Edward J. Neil of the Associated Press. They were taken to hospital in Zaragoza, where they both died. The only one to survive was Philby, who suffered a minor head wound.
The bloodshed was caused by an old Russian projectile fired by the Republicans.
On March 2nd, 1938, while Orlov was still in Spain as the NKVD station chief, General Franco himself pinned on Philby's chest the Red Cross of Military Merit. Philby later claimed, probably accurately:
My wounding in Spain helped my work – both journalism and intelligence work – no end. Before then there had been a lot of criticism of British journalists from Franco officers who seemed to think that the British in general must be a lot of Communists because so many were fighting with the International Brigades. After I had been wounded and decorated by Franco himself, I became known as 'the English-decorated-by-Franco' and all sorts of doors opened to me.
The only remaining officer in London, Anatoly Gorsky (alias Gromov), a former cipher clerk, was poorly briefed about his agents. In the summer of 1939, when Philby was due to return to London after the end of the Spanish Civil War, Gorsky informed the Lubyanka: 'When you give us orders on what to do with Söhnchen, we should appreciate some orientation on him, for he is known to us only in the most general terms.' His entreaties were to no avail, as an assessment in Moscow concluded that Soviet intelligence work in Britain 'was based on doubtful sources, on an agent network acquired at the time when it was controlled by enemies of the people and was therefore extremely dangerous'. It was recommended to break contact with all British assets, Philby included.
Genrikh Borovik, a Soviet writer whom the former KGB General Oleg Kalugin calls 'our pet journalist', was unable to access Philby's 'unseen KGB file' but was offered a collection of fabricated documents from which to write a hagiography that is full of factual errors. Mentioning Gorsky, the London NKVD station chief codenamed 'Kap', Borovik claims that he was 'shot as a Polish spy', while in reality Gorsky successfully continued his career in America. Among other people who dealt with Philby, Borovik mentions 'Pierre', but gives a wrong name (Pierre was Naum Eitingon, Orlov's successor in Spain; he had nothing to do with Philby but in August 1938 went to Paris looking for Orlov, who deserted from his post, and allegedly met Burgess there). Borovik recalls that he asked Philby: 'When you later worked in Washington, were you afraid that you might bump into him [Orlov]? Say, in a café. Or in the corridors of the CIA. It could have happened at any time, couldn't it?' 'It could have,' Philby agrees. 'What would you have done?' pressed Borovik further. Philby improvised, 'I think I would have walked past, without noticing him,' Borovik: 'And he?' Philby: 'I think he would have done the same.'
This dialogue makes no sense because the US authorities insisted that Philby be recalled in 1951, after he tipped off Maclean and Burgess about the imminent arrest of the former. Orlov surfaced in the USA in 1953 after he decided to publish his book. The CIA had never heard of him before and he had never been in the 'CIA corridors'. With his own departure from Washington, Philby's career effectively came to an end. Yet in his memoirs he claims that he was 'a Soviet intelligence officer for some thirty-odd years' while he continued throughout this period and until his death to be 'agent Tom'.
Often, what Philby allegedly wrote about, he was simply not in a position to know. The following assertions made by Philby in his memoirs contain multiple errors and inventions. For example, he claimed that:
[Orlov] … was recalled to Moscow at the end of the Spanish war, but instead he went to America. He lived in the States, in Canada. But he never said a single word about me, though of course he was interrogated in a tough way by the CIA and the FBI and he was in constant contact with them.
That passage is riddled with fabriction, but, as we have seen, Philby's published and unpublished memoirs often fail to tell the truth. That was never their purpose.
Further reading:
Anthony Cave Brown, Treason in the Blood: H. St John Philby, Kim Philby and the Spy Case of the Century (Houghton Mifflin, 1994)
Christopher Andrew and Vasili Mitrokhin, The Mitrokhin Archive (Penguin, 1999)
Phillip Knightley, Philby: KGB Masterspy (Pan, 1989)
S.J. Hamrick, Deceiving the Deceivers: Kim Philby, Donald Maclean and Guy Burgess (Yale University Press, 2004)
Oleg Tsarev and John Costello, Deadly Illusions: The First Book from the KGB Archives (Century, 1993)
Christopher Andrew, The Defence of the Realm: The Authorised History of MI5 (Allen Lane, 2009).
If you enjoyed this article, you might like these: