Iraq's Revolution: Bastille Day in Baghdad
The chain of events that led to the rule of Saddam Hussein began with the murder on July 14th, 1958 of the 23-year-old King Faisal. Antony Hornyold was a junior diplomat at the British embassy in Baghdad at the time.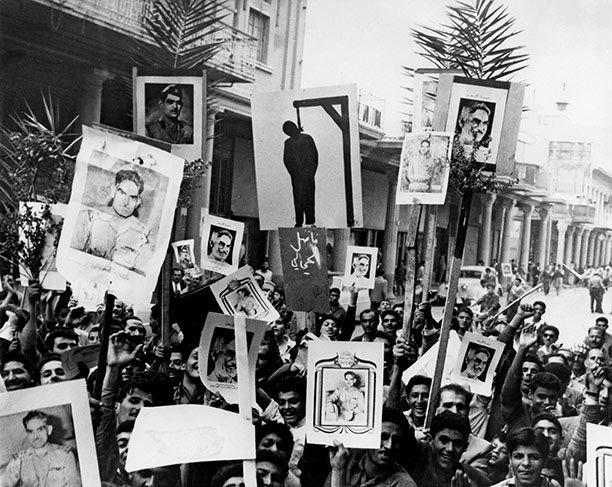 "The sun shines in my city
The bells ring out for heroes
Awake my beloved we are free…"

So wrote Abdul Wahab Batati in a poem to commemorate the Iraq Revolution of July 1958, which occurred exactly 169 years after the storming of the Bastille in Paris. Apart from sharing the same birthday, the French and Iraqi revolutions were both regicidal and were both greeted with euphoria.

Baghdad in the spring of 1958 was a pleasant place to live. It was the headquarters of the Baghdad Pact, an alliance of Iraq, Turkey, Iran, Pakistan and Britain, formed in 1955 with US support and designed to combat the Communist threat to the region. The staff of the pact included defence and economic experts, as well as diplomats who, together with cultivated Baghdad society, made up a convivial community. For those who enjoyed field sports there were wild fowl to shoot and giant perch to catch while the Iraqi Royal Family owned a pack of fox hounds that hunted jackals twice a week in season. Iraq also had much to offer the archaeologist and historian, including, within easy reach, the sites of Babylon and Ctesiphon. At a domestic level the Alwiyah Club provided a large swimming pool and other facilities, attractive to families with children. This club had been founded in 1924 by the Arabist Gertrude Bell who, as chief assistant to the British High Commissioner, Sir Percy Cox, had shown a deep sympathy and understanding for Iraq and its peoples.
This article is available to History Today online subscribers only. If you are a subscriber, please log in.
Please choose one of these options to access this article:
Call our Subscriptions department on +44 (0)20 3219 7813 for more information.
If you are logged in but still cannot access the article, please contact us
If you enjoyed this article, you might like these: