Remains found at Durham University shed new light on Oliver Cromwell's victory at the Battle of Dunbar.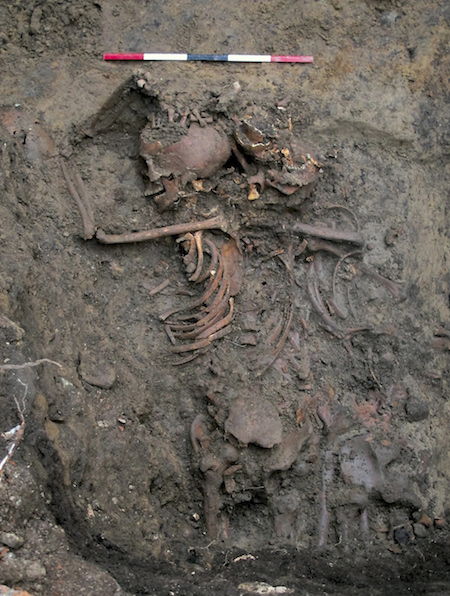 Archaeologists from Durham University confirmed this week that the burials found under a new University cafe are those of Scottish prisoners, who died in 1650 following Oliver Cromwell's victory at the Battle of Dunbar. Up to 29 skeletons were identified in two mass graves; all those that could be sexed were males who had died not from battle wounds, but from secondary complications brought about by their poor physical condition and by infectious diseases during their captivity in Durham. Many, if not all, probably fell ill in Durham Cathedral and died later in the adjacent Castle. Examination of the human remains revealed fine linear marks consistent with the gnawing of rodents, so it appears they were not buried immediately. When the time came to dispose of the corpses it was done quickly, as a matter of necessity. The deceased were stripped of their possessions and piled in pits on top of one another and covered over again. The mass graves were in a place that was out of sight behind the castle wall and other buildings, some of which are still standing today in the shadow of the cathedral.
The Battle of Dunbar took place a year after the trial and execution of King Charles I, when England was ruled as a commonwealth. At this time, the bishoprics were suppressed, and so the castle and cathedral were empty buildings. Cromwell's campaign in Scotland was intended to prevent the covenanting Scots invading England in order to place Charles II on the throne and impose Presbyterianism on the home countries. The battle itself was over quickly, reportedly in less than one hour, with many thousands of Scottish soldiers being taken captive. Cromwell released those who posed least threat: the wounded, the very young and the old; but upwards of 4,000 men were marched south through Berwick, Morpeth and Newcastle before arriving in Durham 100 miles away. Cromwell himself predicted that many would die from their wounds, others were shot en route, but some did escape along the way. Already disease and malnutrition were rife. Corralled in a walled garden in Morpeth, the desperate prisoners were driven to eat raw cabbages and roots.
Precise numbers are hard to come by, but eventually 3,000-3,500 prisoners were marched into the cathedral at Durham after more than a week on the road. Conditions inside would have been cramped. The capacity of the cathedral today is only around 1,600 (seated), so it seems likely that the prisoners spilled out into the cloister and adjoining ranges, perhaps even the former monastic dormitory since it had a connected latrine. It was claimed that books and woodwork were burnt and, whether this is true or not, reddening on the surviving stonework inside the cathedral might indicate where the prisoners huddled around burning braziers. More serious than the cold was 'the flux': dysentery, which is highly infectious and spreads quickly through groups in close contact where sanitation is poor. The prisoners in worst health were led away to the castle where Sir Arthur Hesilrige, the governor at Newcastle upon Tyne, who was charged with their care, claimed that they were decently fed and nursed. Whatever the truth, Hesilrige himself stated that 1600 were dead within 50 days.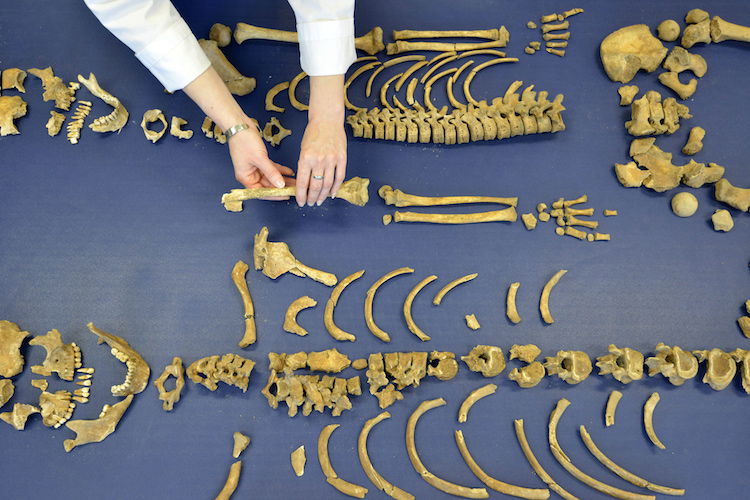 However, the final fate of those who died in captivity has been a mystery until now. As recently as 2011, when a commemorative plaque was unveiled at the altar dedicated to St Margaret of Scotland, in the Chapel of the Nine Altars in the cathedral, it could only state that their final resting place was unknown. Of those who did not die in Durham, some are known to have been transported across the Atlantic to be sold as indentured servants. Their descendants can still be found today in Maine and Massachusetts. Others were sent to Barbados, France and Ireland, or were put to work in draining the Fens of East Anglia, and in the coal mines and salt pans of the Northeast of England. The diaspora of Durham captives remains to be fully traced, and the Durham team are keen to contact anyone who may be able to help.
But what do these new findings from archaeology tell us? The skeletons were mainly those of young adults and adolescents aged between 13 and 19 years, as well as those of two older males, one aged between 36 and 45 years and the other over 46 years. Isotopic analyses demonstrate that they come from a wide range of places, a geographical diversity which seems compatible with what we know of the nature of the recruitment before the battle. A contemporary list of Scottish officers names their estates, and they are spread across a wide area of Scotland. By extrapolation, this may also tell us where the men who fought under them came from. Similarly, the colours captured at the battle suggest that many regiments came from the Lowlands, but that others came from much further north: from Perthshire, Aberdeenshire and Argyll. The isotopic evidence also shows that some of the men in the mass grave were foreigners, perhaps mercenaries from places such as Scandinavia, the Baltic and the Alps. 'Dutchmen' and 'High Germans' were recorded in the Scots army only a few weeks after Dunbar; and at least one 'High German' is known to have been present at the battle.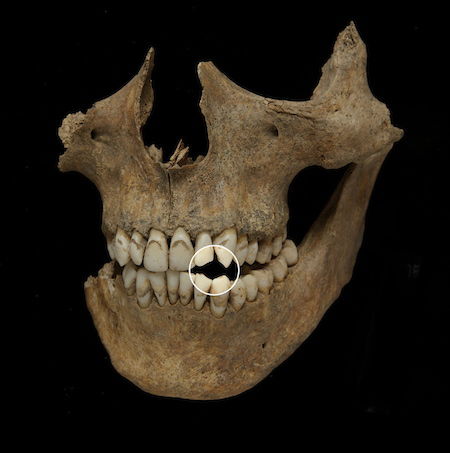 Two skeletons showed clear facets in their teeth, smooth neat crescents on the central incisal surface of both left canines, probably the result of the habitual smoking of thin-stemmed clay pipes. Almost all the men had suffered from poor health in the past, either from nutritional deficiencies such as lack of Vitamin D, or from illness. Their dental health was predictably poor, with examples of painful carious lesions, abscesses, tooth fractures and periodontal disease. One third of the men had experienced some form of long-standing inflammation, probably due to infection, low grade trauma or chronic ulceration. The majority had also developed upper respiratory tract infections, probably as the result of exposure to smoky or polluted air. Four individuals had V-shaped notches in the upper central incisor; this may have resulted from their using their teeth as a tools to grip with. The team has speculated that this might be related to their previous occupations, perhaps in the weaving industry; there were certainly weavers among the prisoners. It should not be forgotten that these are the remains of ordinary people, and this information contributes to our relatively limited knowledge of their lives and conditions in 17th-century Scotland.
The skeletons showed little evidence for trauma of the kind that might have been received on the battlefield. One individual had a possibly fractured rib, another a fractured and disarticulated finger, but both injuries had healed. Two individuals had fractured teeth, but there was no convincing cranial trauma, blade injuries or anything to indicate the use of blunt force such as might be expected in men who had survived previous battles. This is consistent with what we know about the process of recruitment. Quite possibly these men were new conscripts rather than veteran soldiers, or they may have been army followers.
What happens next? There is the potential to learn much more about the individual lives of these men, and the Durham team hope to carry out further research on their remains. A decision as to their final resting place will be taken in consultation with interested parties, the Church of Scotland, and the Ministry of Justice who granted the licence for their exhumation.
Additional information about the project and contact details for the Durham archaeology team is available here or via Twitter using the hashtag #Scotssoldiers.
Pam Graves is Senior Lecturer in the Department of Archaeology at Durham University. Chris Gerrard is Head of the Department of Archaeology at Durham University. They are part of the Scottish Soldiers Project.