There's Something About Marie
Going beyond the clichés to reveal Marie-Antoinette as a political operator with real influence.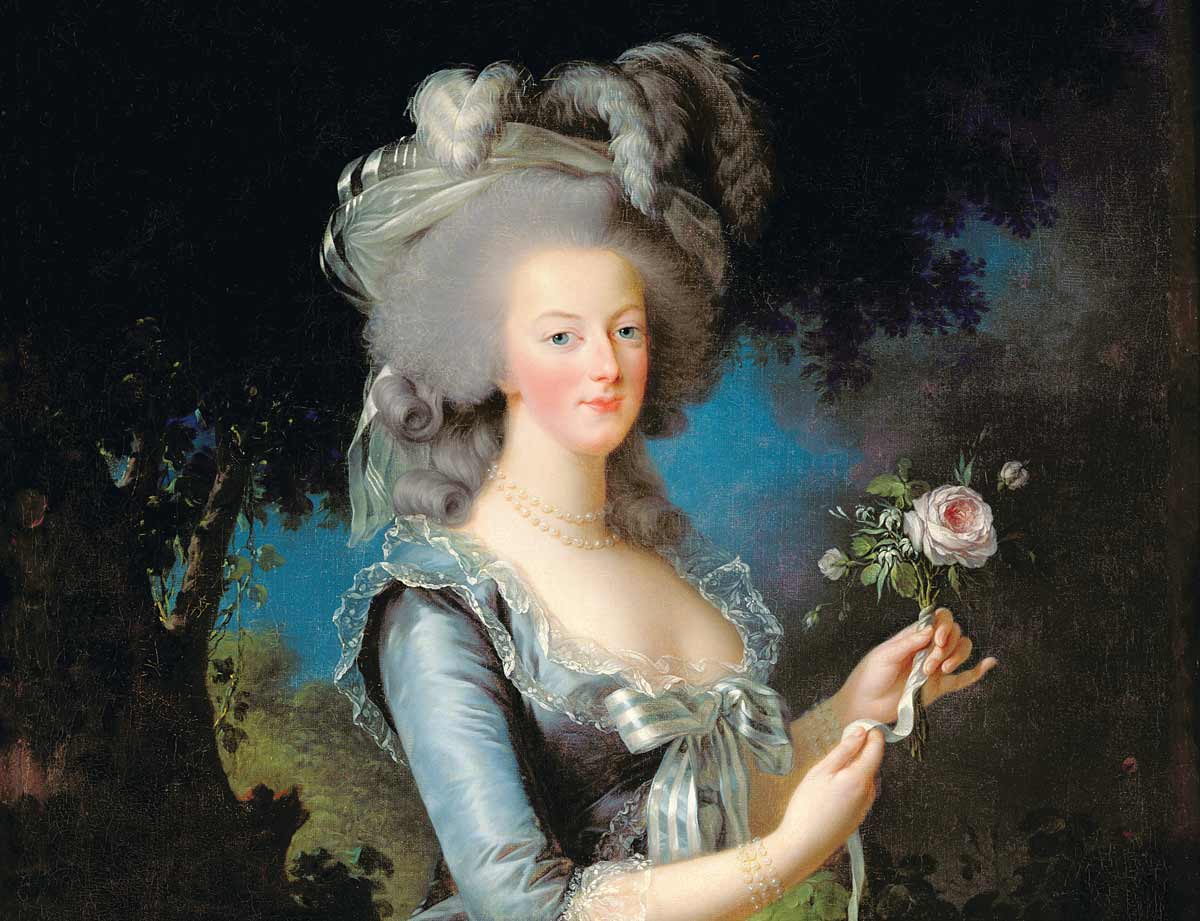 In August 1855, during a state visit to France, Queen Victoria was treated to a tour of Versailles in the company of Napoleon III. The visitors' final stop was the Queen's Hamlet, the collection of mock-rustic buildings constructed in 1783 as a retreat for Marie-Antoinette. Victoria mused in her journals on the lingering presence of the dead queen: the trees that surrounded them had been 'planted by poor Marie-Antoinette herself' and the royal party dined in a cottage named by 'that poor unhappy Queen'.
Just what is it about Marie-Antoinette? Almost 230 years since she met her end on Place de la Révolution, now Place de la Concorde, in October 1793, the 'poor unhappy Queen' continues to fascinate. Visitors to Versailles in the 21st century can purchase compact mirrors, tote bags and hairbrushes emblazoned with her image. In October 2019, an exhibition opened at the Conciergerie in Paris – where Marie-Antoinette spent the last weeks of her life – examining her image and powerful afterlives.
In his new biography of the queen, John Hardman goes beyond the clichés of Marie-Antoinette's life – the enormous wigs, her extravagant spending and 'let them eat cake' – to reveal her as a political mover and shaker with real influence, particularly during the last months of the French monarchy. This French queen was made in the political and social hothouse of Versailles. In her first years in France, the young Austrian archduchess was forced to negotiate court politics, an unhappy marriage and close scrutiny by both the aristocracy and her mother. The lack of an heir – the couple's first child was not born until eight years into their marriage – raised eyebrows at court and among the public. Hardman concurs with many of the queen's biographers, suggesting that her initial pleasure-seeking and early attempts at political interference were a kind of 'displacement activity' for a young woman yet to establish her role.
The Marie-Antoinette who emerges from this book is a woman who transitioned from the exorbitant spending and hedonism of the early years of her marriage to become a political force to be reckoned with in the last six years of her life. As the economic and political crisis of the 1780s deepened, Louis XVI suffered a kind of nervous breakdown. Into the breach stepped Marie-Antoinette, becoming a familiar presence at meetings of cabinet committees.
By 1791, Marie-Antoinette was plotting her family's escape from revolutionary Paris. Their attempted escape that summer ended when they were recognised in the town of Varennes and the royal entourage returned to Paris accompanied by armed guards. The so-called 'flight to Varennes' made compromise between king and Revolution impossible. Yet, as Hardman shows, the events of June 1791 marked the beginning of a period in which Marie-Antoinette would be 'more actively engaged in government than at any time in her life'. Much of this political role was conducted through the queen's relationship with the politician Antoine Barnave. Marie-Antoinette's friendship with Barnave was politically motivated, as Hardman makes clear, but a mutual attraction certainly existed between the queen and the revolutionary. Over time, this developed into both an emotional affair and a 'form of epistolary government' via secret correspondence. The letters of Marie Antoinette and Barnave, Hardman argues, demonstrate the queen's commitment to making the constitutional monarchy work.
Hardman's emphasis on Marie-Antoinette as political player, especially in the last two years of her life, reveals a queen who was far from the naive airhead some contemporary critics believed her to be. Equally, however, this detailed account of Marie-Antoinette's attempts to influence the course of French history puts paid to modern views of the queen as an unfortunate innocent with no political role. In 1792, as war between revolutionary France and Austria rapidly became a European conflict, Marie-Antoinette – via her lover, the Swedish aristocrat and soldier Axel von Fersen – arranged for Louis XVI to reimburse Prussian military costs. Through the actions of the queen, the king effectively 'subsidize[d] the invasion of his own country'. Marie-Antoinette also saw fit to share the French plans of campaign with Fersen and Mercy-Argenteau, the former Austrian ambassador.
In this respect, Hardman notes, Marie-Antoinette was 'clearly guilty' of the second charge put to her by the Revolutionary Tribunal at her trial, that 'of having informed the enemies of France of the plans of campaign and attack'. Other accusations were designed to smear the queen's reputation and moral character, including a suggestion that she had committed incest with her son. As Hardman indicates throughout his biography, both Louis XVI and his wife were keenly aware of the ever-growing power of public opinion. Marie-Antoinette knew that she was unpopular: she was described as the 'Austrian bitch', depicted as a rampaging harpy and became the unwitting star of pornographic prints and pamphlets that presented her as a nymphomaniac conspirator.
Historians of gender and culture have long argued for the importance of this ephemeral, scurrilous material to understanding how Marie-Antoinette came to be so reviled. It is disappointing, therefore, to see Hardman dismiss this valuable scholarship as 'chic in some academic circles'. This may explain why some aspects of Marie-Antoinette feel unsatisfactory. Hardman repeatedly shows us a woman obsessed with her public image, but does not interrogate the means by which that image was created and sustained. However, Marie-Antoinette makes a valuable contribution to our understanding of the queen as political actor. Spendthrift queen of fashion she may have been, but Hardman's biography uncovers another side of Marie-Antoinette: the political operator who paid the ultimate price for her interventions.
Marie-Antoinette: The Making of a French Queen
John Hardman
Yale 376pp £20
Laura O'Brien is Senior Lecturer in Modern European History at Northumbria University.