Stauffenberg: Portrait of a Plotter
The views and actions of the man who tried to kill Hitler.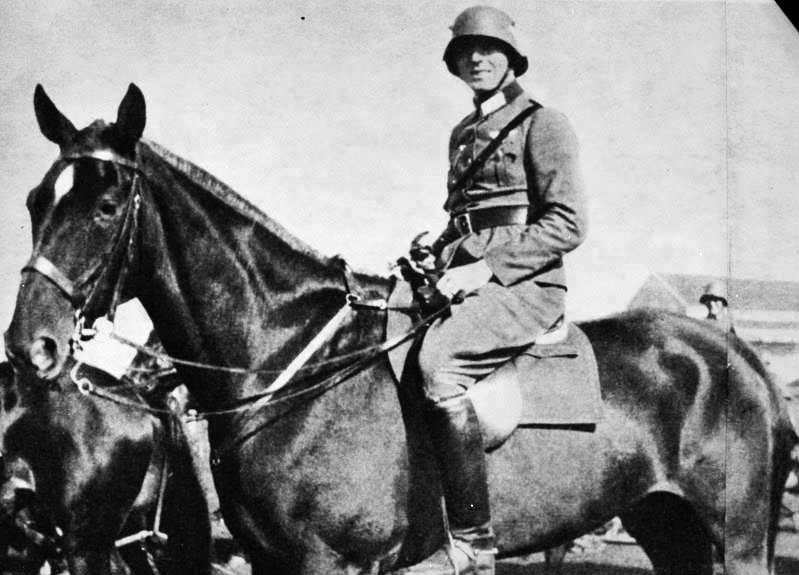 We know too little about the lives of saints. If we knew more, they probably wouldn't be saints. We know that St Augustine was a happy sinner, once, and that he repented; but we don't know what the Virgin Mary was like when she had a headache; maybe, as she was the Virgin Mary, it is at best to assume that she never did.
Claus Schenk Graf von Stauffenberg was the man who placed the bomb near Hitler's chair on 20 July 1944 and who was executed later that day. As the story goes, he sacrificed his life for Germany's honour. Without Stauffenberg and his circle, Germany would find it even more difficult to come to terms with its recent past. Early biographers were therefore inclined towards hagiography, although it has to be said that Peter Hoffmann's classic account of 1998 – revised in 2009 – is pretty 'warts-and-all'. In the past few years, however, the old questions have re-emerged: was he such a good egg? Or was he just another right-winger who wanted to end the war because his side was losing?
I say the old questions because that argument is as old as Hitler's statement that night: the assassination attempt had been carried out by 'a very small clique of ambitious, irresponsible, and at the same time senseless and criminally stupid officers'. The plotters were traitors and traitors they remained officially until the trial of Otto Remer in 1952. Remer, it will be recalled, was the man who went to see Goebbels that night and, after the propaganda minister connected him to Hitler, Remer quashed the coup d'état. The court found that Nazi Germany was not governed by the rule of law. From that moment onwards, to call the men and women behind the plot traitors was defamatory.
But we must be thankful that the Remer case did not shut down debate. Last year the Spectator published an article dishing dirt on Stauffenberg and his friend Fritz-Dietlof Graf von der Schulenburg and this year Thomas Karlauf's biography of Stauffenberg – so far available only in German and innocuously subtitled 'Portrait of a Plotter' – has also administered a few slaps to his reputation. Karlauf is a biographer of the German poet Stefan George, whose quasi-monastic, quasi homoerotic circle Stauffenberg entered at the tender age of 15. There is no suggestion that Claus was in any way sexually molested by the other men, although the association worried his mother.
The men allowed into the presence of the master formed a secret society that strove for a new Germany that would transcend the sordid reality of modern life. George-men were to be gentlemen. In a rare moment when his message emerged from the clouds, George said that meant 'not behaving like pigs'. Many aspects of George's thinking were acceptable to the Nazis, but his sexuality was not. After Hitler came to power, George went into exile in Switzerland, where he died in December that same year. All three Stauffenberg boys were committed George-men; Claus and his brother Berthold, both executed in 1944, were George-men to the end. As a George-scholar, Karlauf has therefore something important to offer us. I am grateful for that.
A lot of the book rehashes the history of the opposition and for pages and pages you lose track of the subject. Karlauf relies heavily on the transcriptions of what the plotters said under torture; yet it is likely that the bush telegraph in the prisons meant that they heaped the blame onto those they knew to be already dead. Where he has no evidence of Stauffenberg's views, Karlauf resorts to telling us that it was 'probable' that he thought this or that and admits to finding his subject arrogant and irritating.
Karlauf shows us that the upper-class officer Stauffenberg failed to oppose the expansion of the army after 1933, the gelding of the SA in 1934 – the Night of the Long Knives – and the detaching of the German-speaking Sudetenland from Czechoslovakia in 1938. He believed in the conquest of the East, particularly those parts of Poland that had been German a couple of decades before. Stauffenberg was not particularly philosemitic and, during the Polish Campaign, he expressed disdain for common Jews and people of mixed race in the occupied territories. He nonetheless had an officer broken to the ranks who ordered the shooting of two Jewish women in the Polish town of Wieluń.
Stauffenberg was a general staff officer whose job it was to plan campaigns. It comes as no surprise, therefore, to learn that he played to win. Before the turning of the tide in the Soviet Union at the end of 1942, Stauffenberg exulted in war. He was a proud and enthusiastic German officer, not a modern 'peacekeeper'. Karlauf doesn't tell us, but you wonder whether he, like so many other Germans of his generation (Schulenburg was one) hadn't drunk deep in the writings of Ernst Jünger?
Stauffenberg cannot be made a metaphor for upper-class army officers, first and foremost because he wasn't remotely typical. How many noblemen join the circles of mystical poets, pen verse or correct translations of Homer? Stauffenberg was politically adventurous and far keener that the socialist Julius Leber should lead a post-Nazi Germany than the conservative Carl Goerdeler. Karlauf tells us that Adam von Trott was one of Stauffenberg's three closest collaborators, yet he too was a man of the left. Once Stauffenberg became convinced of the need to eliminate Hitler, he threw himself into the business with predictable efficiency, reinvigorating a plot that had been bumbling along since 1938.
Karlauf suggests that the reason the bomb failed to kill Hitler was because Stauffenberg was too reluctant to risk his own life by placing it any closer to the target: he felt he was needed back in Berlin. He was sadly right – without him there, the others twiddled their military moustaches. Stauffenberg was surely no saint, but knowing a bit more about him doesn't necessarily make him a lesser man.
Stauffenberg: Porträt eines Attentäters (Portrait of a Plotter)
Thomas Karlauf
Karl Blessing Verlag 366pp £15
Giles MacDonogh's books include On Germany (Hurst, 2018) and Prussia: the Perversion of an Idea (Sinclair-Stevenson, 1994).