A History of Gypsies, Roma and Travellers
A subtly nuanced picture of European Roma.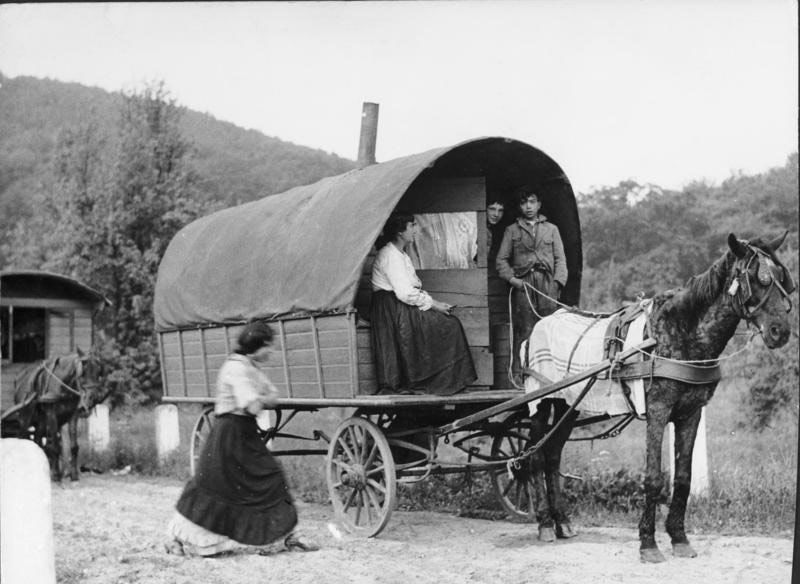 There are too few solidly written, accessible books on the situation of Gypsy, Traveller and Roma (GTR) populations in the UK and mainland Europe that contextualise their long, often tortuous and highly contested histories. Frequently, these diverse populations are identified simply as 'Gypsies'. Thus, although the cover of Becky Taylor's book, Another Darkness, Another Dawn: A History of Gypsies, Roma and Travellers, uses images (perhaps ironically) that play to popular ideas of the romantic, exotic and squalid/poverty stricken Romani, it is a relief to find that the text is far more sophisticated and challenging.
Becky Taylor starts by exploring the divisions between the ethnic groups collectively known as GTR or Romani people, explaining that the popular categorisation of such communities relies on a mixture of recognition of ethno-linguistic and cultural variations, as well as an over-arching narrative of nomadism, spiced with presumptions of criminality, artistic endeavour and use of the 'dark arts'. The trope of 'travelling' as a key characteristic of GTR people is so common as to lead to a frequent presumption that Gypsies or Travellers who no longer 'travel' have lost their ethnic and social identity. However nomadism as a way of life for GTR peoples is in sharp decline across Europe as a result of harsh policies enacted over centuries, which have limited stopping places and criminalised nomadic lifestyles. At some points in history this was on pain of death, enforced through shooting horses used to draw wagons or imprisoning and deporting migrant or nomadic Romani populations (even when born in the country in which they travelled).
Taylor and her team of research assistants, whose work she generously acknowledges, have drawn together a vast amount of literature, including the extensive annals of the Gypsy Lore Society journals and newsletters dating back over 140 years, as well as specialist books, administrative reports and scholarly articles. The result helps explain the wide variety of contexts and social milieus in which these populations have lived and the contradictions and challenges inherent in localised enforcement of centralised edicts and the influences of changing normative constructions of race, community and nationalism across Europe.
The densely-packed and extremely well-referenced text is a welcome addition to the burgeoning field of Romani studies, albeit the sheer volume of materials incorporated means that there is a frustrating tendency to jump from one well drafted, precise discussion to another. Indeed, the attempt to incorporate too much material is my main criticism of this substantial introductory volume on Romani historical studies. Thus, it is less a history of its subject than an engaging tour-de-force of temporal political and policy practice across diverse localities; one in which mechanisms for representing and reframing poverty, migration/ethnicity and non-normative (that is, nomadic) behaviours are represented through a body of controlling, politically-driven practices addressed at diminishing the threat of dangerous 'others'.
However, Taylor presents a subtly nuanced picture of European Roma, showing the everyday lived reality of complex community relations, the impact of inter-marriage and personal contacts, which alleviate what could appear to be a relentlessly grim picture of centuries of bureaucratic and legislative oppression. Historical evidence, such as the genocidal round-ups in the Iberian peninsula in the 16th century and the horrifying brutality during the Nazi era, are contrasted with examples of how individual warmth, humanity and discretion could subvert policy decrees and the intent of rulers to create a monolithic nation state.
The text perhaps relies too heavily on existing publications by key scholars, some of which are relatively dated and fails to engage fully with more recent historiographies of Romani peoples. Indeed Roma scholars in Eastern Europe are engaged in both deconstructing historical narratives of their own people and accessing first-hand 'hidden narratives' by dint of empathic shared histories. That said, this book is highly suitable for the general reader and students alike, who require a clear grasp of the post-Enlightenment spread of nationalism and the impacts of changing political regimes on populations who are outside normative constructions of the 'good citizen'.
The topical concluding chapter and afterword emphasise the recent resurgence of anti-Roma rhetoric and violent racism in the context of far Right political activities in Europe; resonating uneasily with concerns about the recycling of negative stereotypes, which have pursued Gypsies, Travellers and Roma for centuries and across many lands.
Another Darkness, Another Dawn: A History of Gypsies, Roma and Travellers
Becky Taylor
Reaktion Books  272pp  £25
Margaret Greenfields is Professor of Social Policy and Community Engagement at Buckinghamshire New University and the author of numerous articles on Gypsies and Travellers in the UK.