The life of Walter Gropius, founder of the Bauhaus.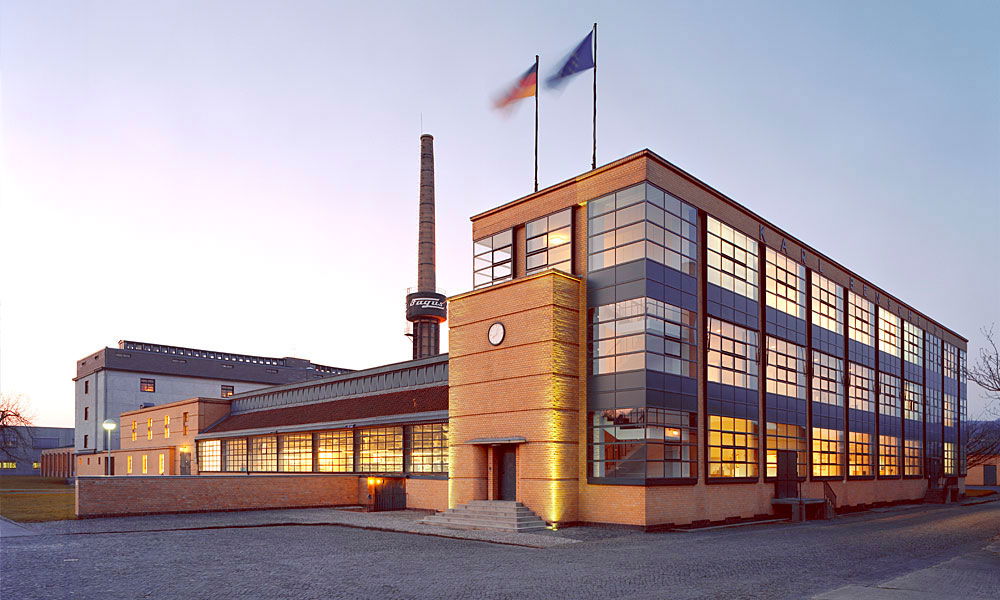 In 1948 Irving Penn undertook a series of portraits of celebrities in a corner he'd assembled in his New York studio. The aim was to provoke the subjects into revealing something of themselves. Of all the figures, from Marcel Duchamp to Marlene Dietrich, the hardest to read was the architect Walter Gropius. Where others had responded with an element of theatricality, Gropius remained as impassive as the façade of his Bauhaus building in the German town of Dessau.
The portrait adorns the cover of Fiona MacCarthy's biography of the enigmatic Bauhaus founder. Her approach is engaging and surprisingly nimble given the size of the book. Though not without criticism, she retains admiration for Gropius throughout, gleaned from meeting the quietly charismatic architect towards the end of his life. This is understandable. Gropius managed to create the most influential design school of the 20th century from virtually nothing, having proved himself architecturally with modernist works created, astonishingly, during the rule of Kaiser Wilhelm II. MacCarthy's account of Gropius' privileged youth becomes particularly compelling when contrasted with his brutal, vividly painted, experiences in the First World War. Almost killed on numerous occasions, Gropius conducted himself with immense courage, taking control of situations when superiors were slain. He retained this bravery and integrity throughout his Bauhaus years, when defending the school against vicious attacks from the Nazis and aiding refugees while in exile. He remained stoical about these experiences, bar the death of his beloved daughter Manon.
There is a prevailing sense, throughout MacCarthy's book, of Gropius at the eye of the storm; a figure of resolve and calm. Yet there is something of Prospero to him, in terms of conjuring his own storm of activity. He was bourgeois yet radical. Measured yet intensely romantic. Suave yet mercurial. This is evident in the webs of intrigues, rivalries and love affairs which MacCarthy explores, often via correspondence. Characters pass by fleetingly but vibrantly, particularly the tempestuous Alma Mahler (MacCarthy is less enamoured by her than many writers – including Alma Mahler herself). Hints of stranger undercurrents emerge with Gropius' attempts to bring order and guidance to situations best left alone; such as mediating with the third party in affairs, culminating in the oddly haunting scene of a lantern-wielding Gustav Mahler leading Gropius through the darkness so Alma can choose between them.
When the architectural elements come into focus, MacCarthy writes with insightful depth. It would be easy to dismiss Gropius' early encounter with the Catalan architect Gaudí as superfluous, but she raises intriguing suggestions of influence. She points out often-overlooked classical elements to modernism, noting in Gropius' Werkbund exhibition building 'Assyrian-style columns' and 'echoes of ancient Egyptian structures'. MacCarthy emphasises how the existence and legacy of the Bauhaus was by no means secure, financially or philosophically. She is particularly adept at myth busting, deconstructing the ill-founded cliché of 'a rigorous architectural technocrat, impervious to human needs and feelings' by showing an individual with a 'strongly spiritual side' dedicated to the 'creative freedom of the artist'. Indeed, the scenes that resonate are the personal, from the young Gropius going to 'find himself' in Spain but bringing a revolver 'just in case', to dancing with his wife Ise (Frau Bauhaus as MacCarthy celebrates her) at a Bauhaus party until four in the morning and then being carried aloft on the shoulders of his students.
While MacCarthy's research is extensive and her storytelling abilities undoubted, her main strength is an openness to her subject. She writes with nuance, complexity and context, asking reflective questions when contentious topics arise. The result is a book that feels refreshing in our age of moralism and polemic. There is room for the subject to breathe and for readers to formulate their own thoughts. Flawed as he inevitably was, Gropius' genius is shown, convincingly, to be his rejection of the mantle of lone genius, encouraging collaboration, empathy and subjectivity. It is a spirit that MacCarthy shares with the Bauhaus and trusts in her readers.
Walter Gropius: Visionary Founder of the Bauhaus
Fiona MacCarthy
Faber & Faber
560pp £30
Darran Anderson is the author of Imaginary Cities (University of Chicago Press, 2017) and the forthcoming Inventory (Chatto & Windus).