Resistance and the Making of the Modern World
As a historical concept, resistance has been largely ignored by academics.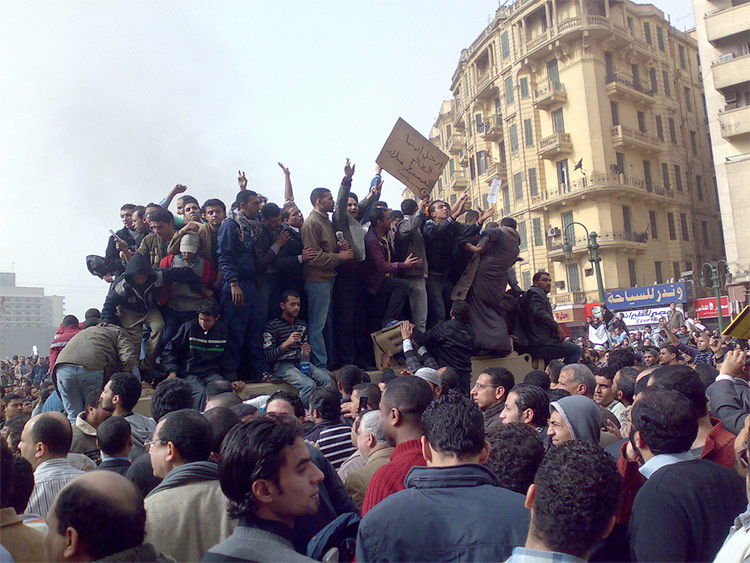 We go the square and discover that we love life outside it and to discover that our love for life is Resistance.

Egyptian protester in Cairo's Tahrir Square, 2011
As this eyewitness comment demonstrates resistance was at the heart of the 2011 Egyptian revolution. Protestors, many of them young people coordinating their actions through social media, were drawn to Tahrir Square in Cairo because they wished to challenge a system which they saw as rotten. They wanted to make a public show of resistance and in the end this resistance movement was what overthrew Hosni Mubarak. As such Egypt in 2011 is an example of how resistance – resistance to oppression, resistance to corruption, resistance to everyday injustices – defines so much of the world over the last hundred years. Yet, when compared to ideas such as imperialism and revolution, it is remarkable how little work has been done on resistance as an historical concept. Indeed it is true to say that there is not a connected and comparative analysis of resistance that explores the similarities and differences between say anti-Nazism, anti-Stalinism and anti-Apartheid in South Africa.
The need to address this historical gap is why the at Sussex University is establishing a Centre for Resistance Studies led by myself and Dr Chris Warne. Crucially this centre will be the home for an Archive of Resistance Testimony which will focus upon the significance of civilian action within constrained or repressive circumstances, drawn across a variety of situations, and expressed in different times and places. Already it has received a unique set of in-depth oral interviews that Professor Roderick Kedward, one of the founding members of the History Department at Sussex in 1961, conducted with French Resisters from the late 1960s through to the 1990s. These testimonies uncover the origins of the French Resistance from 1940 to 1942, namely how and why a small minority passed over into clandestine activity when most of their compatriots did not. They also investigate hidden aspects of rural Resistance in 1943 and 1944 when large numbers of men, avoiding the draft to work in Nazi Germany, took to the hills and formed guerrilla groups known as the maquis. Collectively this first-hand evidence became the basis of Kedward's two path breaking books on the French Resistance: Resistance in Vichy France (1978) and In Search of the Maquis (1993). Alongside the Kedward archive the Centre has also been donated a series of filmed testimonies with local Resisters from South-West France by the film maker Martyn Cox as well as hundreds of interviews with grass-roots anti-Apartheid activists carried out by the late Elizabeth Wolpert, another documentary film maker who set out to give a voice to anti-Apartheid Resistance within South Africa. It also awaiting further donations of interviews that focus upon the World War Two Italian Resistance; anti-colonial resistance in Algeria and India; and the British and Israeli Black Panthers.
However. the Centre will more than just a repository. It will also enact a much broader theoretical conversation that explores resistance as a key concept in the making of the modern world. The starting point is World War Two anti-Fascist Resistance, but the ambition is to analyse resistance as a multi-directional idea; one that has crossed time and space and moulded political and social movements across the globe in a profound manner, ranging from the anti-colonial liberation struggles and the 1989 revolutions in Eastern Europe, through to the Arab revolutions as well as the global Occupy movement and even contemporary far right-wing movements.  
As part of this conversation there will be a public discussion on May 10th during the Brighton Festival between Roderick Kedward and the biographer and human rights journalist Caroline Moorehead. Moorehead is the author of two acclaimed studies of the French Resistance. Her first book, A Train in Winter (2011), focuses upon 230 female French Resisters deported to Auschwitz-Birkenau in January 1943. Skilfully reconstructing their story, she shows how they defied their captors through a shared commitment to French Resistance values. These values gave them the courage to defy Nazi brutality, although the final human cost was enormous. Only 49 survived. While her second, Village of Secrets: Defying the Nazis in Vichy France (2014), is an account of a remote mountain village, Le Chambon-sur-Lignon high in the eastern Massif Central, that provided sanctuary for 800 Jews, including many children, who were pursued by the Gestapo during the Occupation. It is a remarkable portrait of courage, yet one that eschews simplistic interpretations. Moorehead's account is riven with complex responses which in turn will form part of her discussion with Kedward as both historians reflect upon why did people resist? What forms did this resistance take? What was the aftermath of resistance and how did it inspire other movements across the globe?
This conversation will also consider representations of resistance in theatre and film. So, as part of the Brighton Fringe Festival on 9 and 10 May the French company, Compagnie des Barriques, will perform Partisans. Written by Régis Vlachos, I saw Partisans in a small Parisian theatre last May and was struck by the raw power of the play. By any measure this was an intense theatrical experience. It was fascinating to see how Vlachos engaged with the moral and political ideas of anti-Nazi Resistance through three real-life characters – Yvonne the Jewish Socialist, Marcel the right-winger and Robert the Communist – who are present at a key moment in French Resistance history: the meeting that unifies the Resistance in Paris on 27 May 1943. Through these three characters the play explored motivations. It considered the emotional resilience that underpinned clandestine activity. It portrayed how paranoia and conflict went hand in hand with hope and idealism. Finally it shined a light on the complex tensions between the respective gender roles, particularly over the question of why some men were so hostile to the participation of women in armed action. 
Alongside Partisans there will be two film screenings that engage with the themes of resistance in two different global contexts, the first of which will be a screening on 5 May of the 1986 documentary Mama I'm Crying by Elizabeth Wolpert and Joyce Seroke. Capturing a critical moment in the development of anti-Apartheid, this is an intimate portrayal of the idealism that drove the struggle. It shows how, in the face of daily despair and violence, ordinary activists were continually fortified by notions of resistance and the quest for basic human dignity. This will then be followed by a showing on 12 May of the 2013 documentary The Square by the American-Egyptian director Jehane Noujaim. Shot in a rough cinema-vérité style, The Square bears witness to the struggle of ordinary Egyptians in their bid to overthrow oppression. Like Mama I'm Crying, it is a close-up study of resistance that foregrounds feelings, emotions and everyday idealism. In this way juxtaposing the two films highlight the similarities between South Africa in 1980s and contemporary Egypt. Comparing them points towards a new, globally connected history of resistance which will be at the intellectual heart of the Centre for Resistance Studies at Sussex University.
For information on all of the above events go to www.sussex.ac.uk/history/research/resistancestudies/events.
Martin Evans is Professor of Modern European History at the University of Sussex and a member of the History Today Editorial Advisory Board.