Food and drink have a habit of landing Rome's leaders in trouble.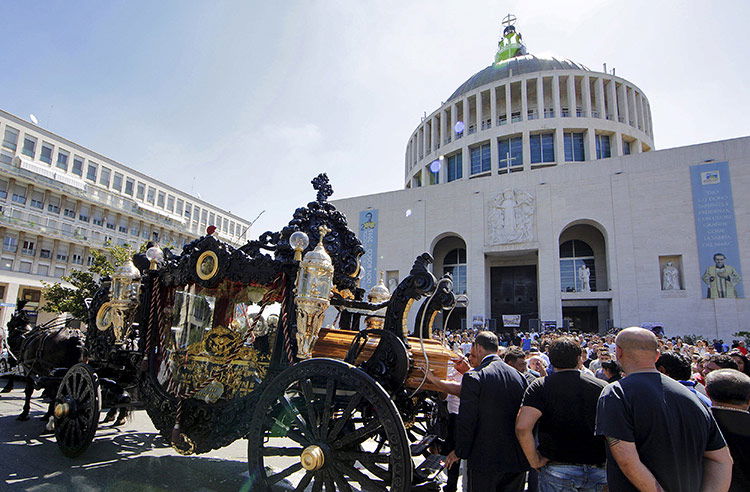 Roman history has many examples of extravagance, such as the entertaining fourth-century source Macrobius quoting a pontifical record of a banquet held on the occasion of the election of Cornelius Lentulus Niger in 70 BC to the priesthood of the flaminate. It was clearly a good evening, which involved not only priests but also Vestal Virgins and Lentulus' wife and mother-in-law. The menu is mouth-watering and gargantuan at the same time: the opening fish course includes oysters, scallops, cockles and mussels; there were thrushes on asparagus, figpeckers and fattened fowls in pastry; haunches of venison and boar; sow's udders, boar's head; stewed fish; ducks, teal and hares.  
Excessive banqueting could get one into trouble in antiquity; Cicero attacked Verres, the governor of Sicily, for his extortionate behaviour in the province, which included demanding dinners. Mark Antony was said (admittedly again by his enemy Cicero) to have indulged so much at a wedding party that he threw up during an assembly the following day.  And Juvenal's brilliant satire of the senators summoned to advise Domitian on how to cook a fish shows ways in which food could be a weapon.  
Sadly, food and drink have got some of Rome's current politicians into trouble, too. Rome's mayor Ignazio Marino is in trouble over an alleged €20,000 of restaurant expenses and former prime minister Silvio Berlusconi is accused of having swilled down a 240-year-old bottle of sherry with Russian leader Vladimir Putin on a visit to Crimea. Again, the accusation comes from an unfriendly source and is as yet unsubstantiated; but it shows that consumption has always been symbolic.
Similarly, funerals could be moments of high tension and drama. The dictator Sulla's funeral in 78 BC was a sort of triumph as well; there was a long procession, with 210 litters and large statues made out of frankincense and cinnamon. Thousands were in attendance. Funerals could also be riotous, such as Clodius' funeral in 52 BC, which led to the destruction of the senate house in a remarkable moment of spontaneous popular anger and violence.
This summer Rome witnessed another grand funeral, that of Vittorio Casamonica, whose family is accused of being involved in organised crime. The elaborate funeral involved a horse-drawn hearse carrying the deceased from his home to the church (pictured above). Flower petals were dropped from a low-flying helicopter and the theme from the film The Godfather was played in the procession. At the church, banners read 'King of Rome'. The occasion was subject to much criticism, but also shed light on the relationships between parts of Rome that are often hidden from view and the authorities.    
Happier spectacles may be expected from the current Pope's announcement of a Jubilee. Jubilees used to come around every 50 years but their frequency (a little like the Roman declaration of a saeculum or symbolic century) has increased; the last one was in 2000. This has led to some rather hurried announcements, among which was the association with the Jubilee of the erection of three columns in the Forum of Peace, Vespasian's Forum.  Augustus's saeculum, of course, involved a hymn, composed by Horace and sung in 17 BC. The marble inscription which describes the games is now beautifully displayed in the baths of Diocletian, which have been restored and opened up very successfully.
The houses of the great and good are always fascinating. In Rome, one of the grandest of all is the Quirinal Palace, a huge and dominant building, and the official residence of President Mattarella. Just down the slopes of the hill, in Largo Santa Susanna, another interesting building has been found. In the old Geological Institute, a major temple was discovered a couple of years ago and now late sixth-century housing has been uncovered by a team led by Mirella Serlorenzi.  The relationship between the houses and the temple remains unclear, but it is yet another light shone on archaic Rome.  As ever, continuities and discoveries abound in the eternal city.
Christopher Smith is Director of the British School at Rome.