Margaret Clitherow, a butcher's wife from York, was one of only three women martyred by the Elizabethan state. Her execution in 1586 was considered gruesome, even by the standards of the time.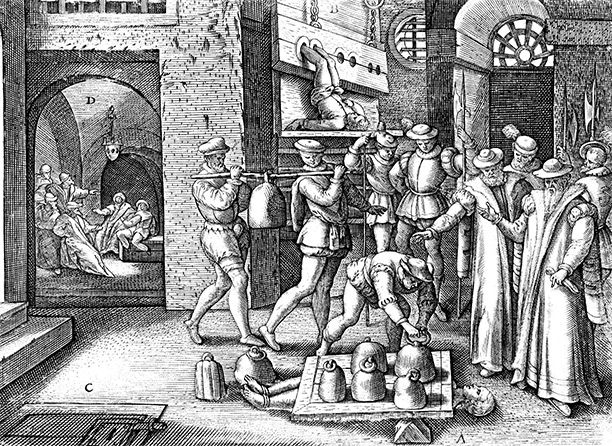 On March 25th, 1586, naked but for a linen shift, Margaret Clitherow was crushed to death in the Toll Booth on the Ouse Bridge in the city of York. The sanction was known as the peine forte et dure. She was, we are told, 'in dying one quarter of an hour. A sharp stone, as much as a man's fist', was 'put under her back'. Upon her, or rather, onto the door placed over her, were put stones 'to the quantity of seven or eight hundred weight at the least, which, breaking her ribs, caused them to burst forth of the skin'.
Sentence had been pronounced against her in highly controversial circumstances a few days before. While Clitherow and the sheriff, Mr Fawcett, bickered in her last moments over whether she died as a martyr for Christian faith and the true (Catholic) church or as a traitor to her husband, children and country, the undersheriff, Mr Gibson, stood sobbing in the doorway. Clitherow's was an extraordinary fate – she was one of only three women martyred by the Elizabethan state – and her execution was the product of an extraordinary confluence of circumstances. The proceedings against her had spun out of control, culminating in a show trial, which backfired against the local regime that initiated it and gained both sympathy and notoriety for Mrs Clitherow herself.