Switzerland's Nation of Hoteliers
At the turn of the 20th century, Switzerland embraced the Grand Hotel. The First World War brought one golden age of hotels to an end, ushering in a new, more uncertain one.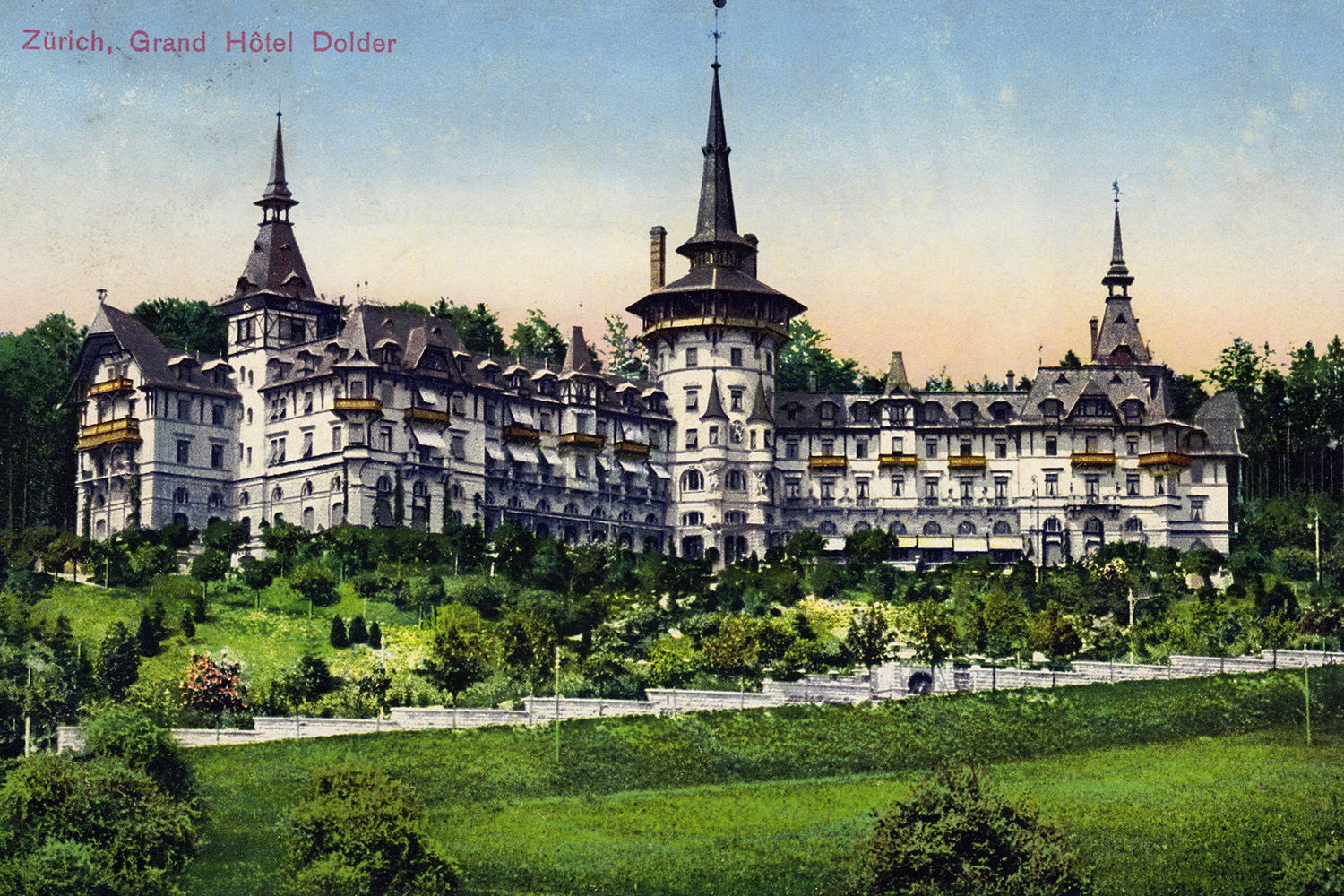 In March 1873, George Augustus Sala – newspaper columnist and founder of London's Savage Club – published an article titled 'Philosophy of Grand Hotels' in Belgravia magazine. Imagining the capital engulfed in flames, Sala fantasised about a fabulous grand hotel rising from the ashes in Leicester Square. A year earlier, the Great Boston Fire had ravaged the American city, igniting interest in architectural renewal. In a sideswipe at the Gothic revival architect Gilbert Scott, Sala wrote that the hotel he imagined would not be some mere annex of a modern railway station (as, he implied, was the case with Scott's Midland Grand Hotel at London's St Pancras station). Instead, Sala's satirical article proposed a new luxury residence that would take pride of place in central London, boasting the 'best characteristics' of American, French and Swiss-German grand hotels. And it would better them all.
Sala credited the Americans with being hospitality trendsetters. He celebrated the culinary talents of French hoteliers. When it came to Switzerland, however, he simply acknowledged the country's many reputable hotels (though they housed too many children for his liking). Yet if the decades either side of 1900 were a Golden Age for such hotels, then it was the Swiss who played the starring role. This international success story of 'ritzy', glitzy modernity is perhaps best embodied by Cesár Ritz who, by the turn of the 20th century, was the world's leading hotelier. Investing in hospitality establishments throughout Europe and Africa, Ritz gave his name to hotels in Paris, London and Madrid. It is no coincidence that in Arnold Bennett's 1902 novel The Grand Babylon Hotel, the owner of the eponymous high-end establishment on London's Embankment is Swiss. Bennett's novel describes swaggering American nouveau riche guests and the intrigues of petty German princelings. But it was the Swiss who created these pleasure palaces for the privileged, cosmopolitan classes.
Around 1900, Switzerland went from being a country of crops to a land of dairy farms and a home for banks – and hotels. Railways – laid by British engineers –transported British travellers en masse to the Alps, many of them on Thomas Cook's tours. Just before the First World War, there were 22 million overnight stays in Swiss hotels. In the small Alpine village of Wengen, church services catered for German Protestants and French Catholics. Mass was also said in English. Tourists could choose from around 30 hotels, which signposted the hiking trails. Local property prices rose through the roof.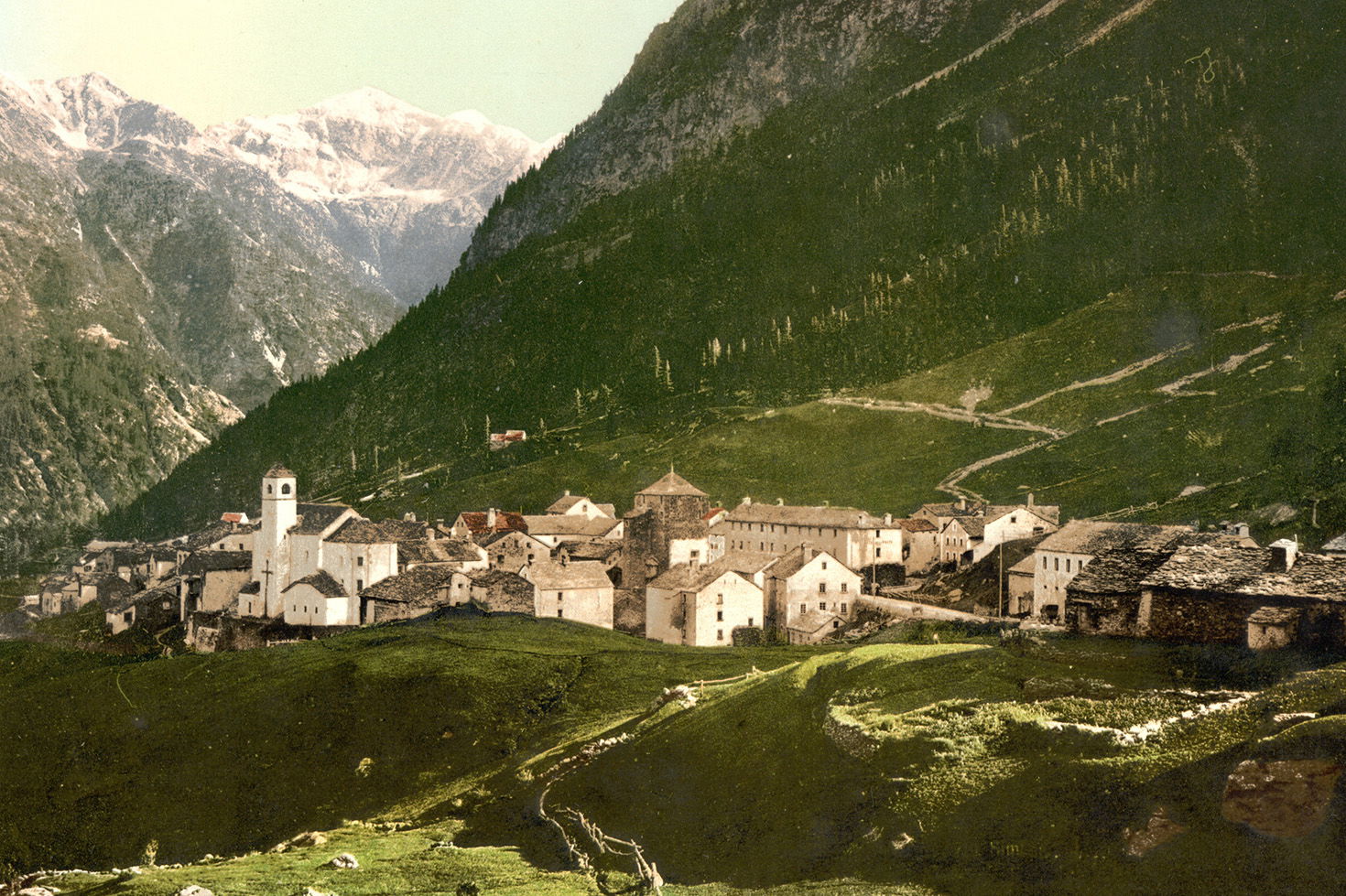 Unsurprisingly, tourism took a hit during the First World War. In the postwar era the Swiss were not immune to the economic woes of the nations around them. German hyper-inflation had knock-on effects on its small neighbour. Supplies were scarce and foreign visitors from the Old World stayed at home. Grand hotels and spas seemed out of place in chastened times.        
The Swiss government had already stepped in during the war years, banning the construction of new hotels or guest houses, and the expansion or redevelopment of old ones – unless permission was granted by parliament in exceptional circumstances. Known from 1920 onwards as the Hotelbauverbot, the law was relaxed in 1925 as the hotel industry began to recover. It became easier to get permission to extend properties. New builds were still rare, but when two hotels collapsed during a fire in Mürren in 1926, the authorities allowed them to be replaced by a bigger and better double hotel: Hotel Alpina und Edelweiss, designed by Arnold Itten.
Significantly, planning cases were based on speculative logic – not actual demand. It was generally held that hotels must be re-modelled and enlarged in order to stimulate the market. Hoteliers had to contend with beach resorts, so they carved bathing spots and promenades out of the picturesque Alpine rocks. They tried to lure rich American visitors. The US had become the world leader in luxury accommodation and innovation, so Americans would expect the most modern conveniences and the grandest of residences if they were to venture to Switzerland.
But relaxing the Hotelbauverbot in the middle of the 1920s came at a social and political cost. The new imposing hotel facades united conservative and socialist opponents alike. A popular narrative gained traction that the expansion and modernisation of hotels caused rural flight among the working poor, particularly in mountain communities. The political left and religious groups, particularly Catholics, said that hotels exposed the hypocrisy of a domestic society increasingly hostile to migrant workers, but which welcomed affluent foreign visitors. They saw hotels as a symbol of an unequal, unethical society.
Liberals, for their part, objected to any laws for hoteliers at all. The regional newspaper St. Galler Tagblatt gave the example of a Bernese hotel that chose not to install running water in its rooms, allegedly due to protectionist regulation. Politicians and the public were at odds in their visions of the hotel industry, disagreeing on its place in Swiss society. But all agreed that the situation had been much better before the war.
Hotel lobbyists proposed new business plans and came up with novel marketing campaigns (in one instance, the strategy was quite literally a novel). One hotelier suggested subsidised hotel resorts for the lower-middle classes to keep them happy (and healthy). His idea of towns or villages being marketed as hotspots for 'affordable' accommodation was taken up by the national press, but received short shrift from fellow industry insiders. It was considered a defining feature of Swiss spa towns that they offered the full range of hotel accommodation. Hotel owners objected to measures that would level the playing field in a single location. Any new market had to preserve price differentiation. A more successful venture was the hosting of conventions. Davos ran a summer school from 1928 to 1931. In the session of 1929, the keynote speakers – philosophers Martin Heidegger and Ernst Cassirer – were put up in the Grand Hotel Belvedere, while the town's other hotels were filled by visiting students.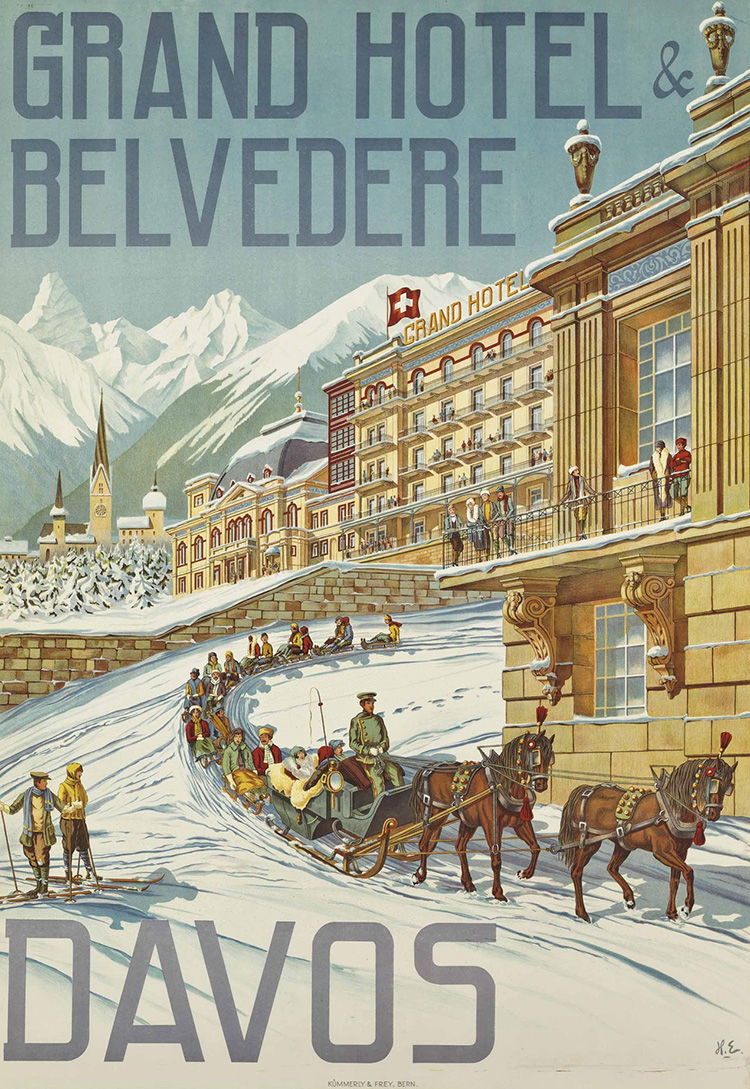 Hoteliers of this era began to appreciate the value, or indeed the threat, of 'hotel literature' to advertise their cause. The weekly bilingual magazine Schweizer Hotel-Revue / Revue Suisse des Hôtels regularly summarised the latest studies on subjects such as rural flight and other industry news. But it also reviewed recent hotel novels, recommending or criticizing them according to how positively they represented the industry and especially the Swiss national image. There was a glut of literary works set in Switzerland and its Alpine hotels or sanatoria in the 1920s. These included Thomas Mann's Der Zauberberg (The Magic Mountain) (1924) and Polish author Zofia Nałkowska's Choucas (1927). In Grand Hotel Excelsior (1928), the Swiss author Meinrad Inglin told a home truth: that in contemporary Switzerland, hotels were contested, socially uncomfortable spaces.
In the closing scene of Grand Hotel Excelsior, the hotel is on fire. From the ashes rise plans for a nightmarish monstrosity of a grand hotel typical of all that was supposedly wrong with modernity. The new building would be an eyesore blighting the Alpine landscape built with American money. It would also be a temple to consumerism, built to profit from catastrophe. Though the novel was attacked by hotel lobbyists, Inglin was personally invested in Swiss hotels. He had worked as a waiter in one and stood to inherit another. Beyond his own financial interests, though, he was dispirited by the social disagreements of the age.
The resort of Davos went one stage further in its PR campaign. The town not only promoted hotel literature, but also funded it. From 1926 onwards, the community advertised its literary, artistic, scholarly and sporting activities and achievements in a special periodical. Then the local tourism association commissioned its own novel, seeking a cheerful counter-story to Mann's The Magic Mountain. Erich Kästner began writing Der Zauberlehrling in 1938, though the novel would remain unfinished.
Hotels, like much in Europe, changed after the First World War. It is worth remembering that Archduke Franz Ferdinand had been travelling from Hotel Bosna in the spa town of Ilidža when he was shot. His assassination triggered worldwide war, of course, but more trivially it also increased cultural concern across Europe, for a few decades anyway, about grand hotels, their clienteles, and their stature in society. This was the case for countries like Switzerland, whose economy and national image was built on what came to be called 'foreigners' palaces'.
Seán Williams is Lecturer in German and European Cultural History at the University of Sheffield. He is the editor of Modern Central European Hotels and Spas in Cultural Criticism: Grand Hotel Nostalgia (Oxford, 2019).