Arkwright: Cotton King or Spin Doctor?
Was Richard Arkwright really the mechanical genius of the Industrial Revolution? Karen Fisk questions his record as Britain's first cotton tycoon.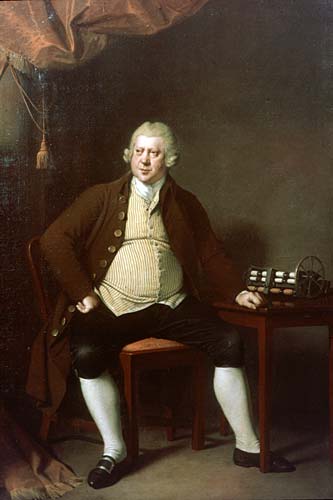 Sir Richard Arkwright (1732-92) is usually credited with revolutionising the technical basis of cotton production between 1768 and 1792, transforming it from a cottage industry to one of worldwide proportions. Apart from developing machinery to do the work, he is credited with creating the factory system, earning him such titles as a 'founding father' of the Industrial Revolution and the 'father of the factory system'. Undoubtedly an inspirational figure of the eighteenth century, he emerged from a working-class background and achieved immense wealth. However, closer scrutiny of the evidence raises uncertainties about the traditionally accepted view of Arkwright, the mechanical genius, and his technical achievements.
Indeed, it appears that Arkwright's first patent was obtained by simply improving existing spinning frames. Having trained as a barber, Arkwright was unlikely to have possessed the technical skills required to produce these machines himself. It therefore seems curious that Arkwright achieved such recognition for the invention, which proved a catalyst to all the events that followed. So how and why has Arkwright been made the Cotton King?