The neglected life of a political idealist, whose 30-year ordeal, hidden from the world, spans a period of momentous change in Spain.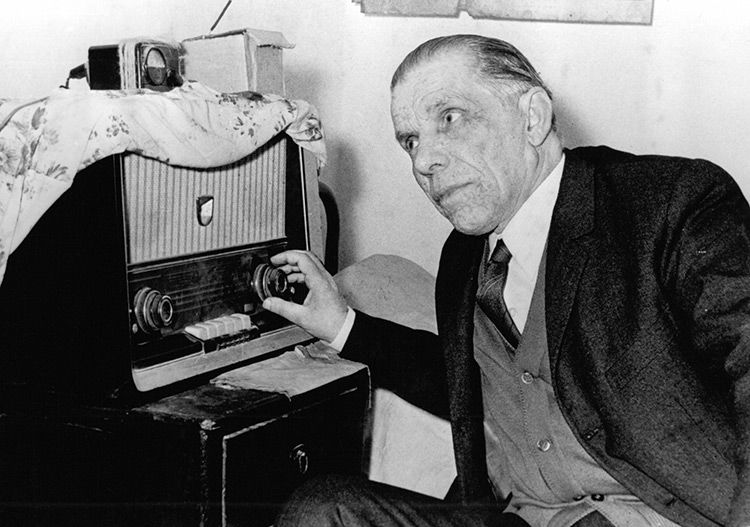 In the hills overlooking the Mediterranean, 20 miles west of Málaga, lies the village of Mijas, whose white cubist houses and narrow cobblestone lanes attract thousands of tourists. But, as Ronald Fraser observed in the superb but little-known oral history, In Hiding: The Life of Manuel Cortes (1972), 'behind its tourist façade, Mijas today hides its past'.
A barber and deeply committed socialist, Manuel Cortes (1905-91) was mayor of Mijas during the last year of Republican government in Andalusia. His wife Juliana, whose bitter pragmatism contrasts with his generous idealism, described their separation just before Franco's Fascists occupied the village in February 1937:
I'll never forget that moment, not if a hundred years pass over me. Never. I can feel the pain now as I felt it then ... having to say to him, 'Go'. Not knowing whether I would ever see him again, and the people saying, 'They're coming, they're killing as they come'.
He rushed up the coast toward Almeria with thousands of other refugees.
When Cortes secretly returned to Mijas after the Fascist victory in 1939, the terrified Juliana told him he would be shot, if he surrendered. A denuncia, signed by three witnesses and easy to obtain in those times of rabid hatred, was sufficient to secure an execution. Most of the notable survivors had either fled into exile or become bandits in the sierra, but Cortes decided to wait for a regime change or an amnesty that would make it safe to reappear. He waited for 30 years until 1969, from the age of 34 to 64. His story is a unique combination of personal and historical narrative, in which the dynamics of his secret family life merge with his vivid recollections of the most momentous years of modern Spain – from the fall of the monarchy to the end of the Civil War – as it was lived by the rural working class.
Cortes lived alone with daughter Maria and wife Juliana, who thought only of his welfare and safety and supported the family for three decades in times of great hardship. He feared betrayal, but remained hidden and undiscovered. His first hiding place, where he lived for two years, was a hole in the wall near the entrance of his foster-father's inn, where many people came and went all day. His shoulders touched the walls, he was unable to move about and could only come out late at night when everyone had gone to sleep. Eventually, Juliana – who had begun by selling eggs and built a prosperous business of taxis and trucks – bought her own house. On a dark, rainy midnight, Cortes, disguised as an old woman, shuffled down the street to his new hideout where he had the upstairs floor. But he was still in constant danger of discovery and his old political enemies put pressure on the Guardia Civil to subject the ever-silent Juliana to frightening late-night interrogations in their barracks.
Cortes fought boredom by keeping busy and by trying to recreate a semblance of normal life under extreme threats and pressure. He occupied himself by looking at the outside world through the narrow crack of his curtained windows, listening to radio broadcasts, reading newspapers and pulp fiction, preparing illegally gathered esparto grass for weaving into baskets and espadrilles, playing with his daughter and, later, with her children. Forced into passivity and completely dependent on Juliana, he sometimes felt like a child. Though he had once tutored younger boys after school, he lacked the patience to teach Maria and compensate for her poor tuition in the classroom. He had to watch her wedding while crouched at the keyhole and lamented: 'For a father not to be present at his daughter's wedding – that's a sad thing to happen to a man.' When grandchildren came, they too were schooled in silence and were never told the real name of their abuelo. Though he was able to share a bed with Juliana, and wanted to have another child, he could not have one. Juliana's pregnancy would have been scandalous for her and perilous for him.
Constant danger
Cortes experienced many terrifying moments: he was seen by children who luckily did not know who he was; Juliana was almost trapped by a blackmailer. The Guardia searched the house, not for him but for illegal esparto grass that Juliana threw off her roof and into the neighbour's patio; and the eight-year-old Maria threw vegetables into a pan of hot oil which suddenly flared up, setting the outdoor brushwood roof on fire and almost burning down the house. Just in time, a friend pulled down the post of the roof and 'the whole thing collapsed and lay burning on the ground where they could put it out'. Cortes also had some serious medical problems. He had to tear out his own decayed teeth with pliers with only white wine as an anaesthetic. When he had a fever, Juliana treated him with penicillin and learned how to give him injections. When he developed an agonising pain in his left side Maria took to her bed, simulated his pain and got the necessary medicine from the doctor.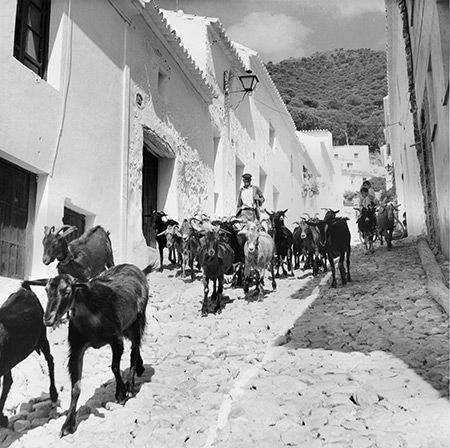 Village of goats: Mijas, October 1969.
Cortes' oral narrative reveals the contrasting stages of his life. He recalled his childhood poverty and youthful years of oppression, when the landlords exploited the peasants and the mayors 'ate' all the taxes. He described his own short but effective term as mayor of Mijas, bringing electricity and telephones to the village, building a new road to the coast and beginning agrarian and educational reforms. He rescued religious objects from the burning churches and personally prevented the massacre of brutal right-wing landlords by marauding anarchist militias.
Even in his moments of despair Cortes was too proud to give himself up. He hoped for the best, followed the progress of the Second World War and awaited his fate. If he had been caught in 1939 he would have been shot; later on, he would have been imprisoned and eventually released. Granted an amnesty in 1969, he emerged to find the world he knew had disappeared. Tourists had brought enormous prosperity to the region, the older men had left the land and the young ones lacked political awareness. But the village was jubilant at his return – his seeming resurrection – which seemed to symbolise the healing of old wounds.
Manuel Cortes showed great fortitude when trapped and faced with the unremitting danger of discovery, but he never gave up hope. His personal narrative bears witness to his suffering and speaks for all victims who sought justice against oppression. Juliana exclaimed: 'Politics brought us nothing but slavery and ruination.' But he maintained, 'my convictions will remain till I die'. His legacy is exemplary: nothing less than the patience, devotion, loyalty and courage of the ordinary man, which transcends the violence of contemporary politics.
Jeffrey Meyers is the author of Impressionist Quartet (2005) and Modigliani (2006). His Robert Lowell in Love will appear in January 2016.