At a moment when puritans had to tread carefully, William Hacket tried to overthrow the queen and Church.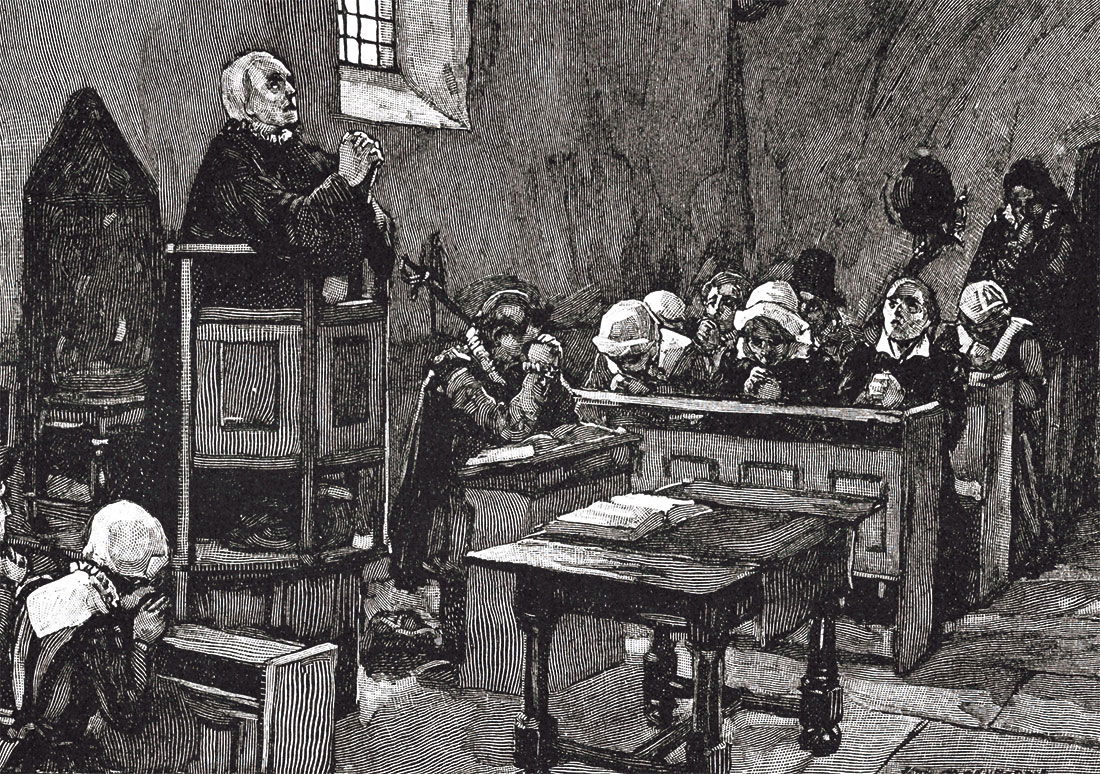 Elizabethan puritans had to spend a lot of time assuring people that they had no desire to overthrow the queen. Since Elizabeth I had faced repeated uprisings and conspiracies from Catholics, who opposed her religion from one end of the spiritual spectrum, many in positions of power feared such rebellion from the opposite end. Puritans, however, were campaigning for Church reform from a position of complete loyalty. In the eyes of the Lord Chief Justice, being a radical puritan meant being 'a very rebel', ready to 'draw thy sword, and lift up thy hand against thy prince'. The puritan in question assured him, not unexpectedly: 'Not so, my Lord, a true subject.'
It was, therefore, bad luck for the movement that in 1591, as its leaders languished in jail for their nonconformity, a puritan malt manufacturer from Northamptonshire said God had told him to overthrow the queen and become king of Europe.
Before his conversion, William Hacket had been notorious for his violent temper. It was said that he bit off a schoolmaster's nose in a fight and 'did in a most spiteful and divelish outrage eat it up'. As a puritan, Hacket was censured for pinching his parish minister's surplice and sitting on it through the service to stop him wearing the offensive vestment. Hacket started travelling around northern England and the Midlands, prophesying and performing exorcisms. Listeners were enthralled by his appeals to God to strike him down if he lied. It seems he also used this opportunity to take sexual advantage of women – or, as he saw it, fell foul of his enemies' plan 'to ensnare him with women'. He was punished by local authorities for making seditious speeches and during one spell in custody it was rumoured the guard saw bright light coming from his room in the night, as if he had been visited by an angel.
Hacket came to London in 1591, where he later claimed to have wrestled the lions in the Tower of London without being hurt, though his main purpose was to follow some celebrated trials of puritans. Nine men were being tried for covert Presbyterian organisation, including the most influential puritan of all, Thomas Cartwright; three others were charged with anti-episcopal writings.
Hacket won the devotion of two London gentlemen, Edmund Coppinger and Henry Arthington, who were impressed by his unscripted prayers, 'as it were speaking to God face to face', and by his claims to be tormented by devils in revenge for humiliating Catholics in debate. One of the jailed puritan writers, Giles Wigginton, was an old friend of Hacket and his partner in the malt trade. Another, the former MP Job Throckmorton, befriended the three, to the extent that he believed Coppinger's overlong prayers had made him ill. Cartwright, on the other hand, refused to meet them, saying Coppinger sounded as if he had 'some crazing of the brain'. Cartwright soon had good reason to be glad of his decision.
That May, Hacket, Coppinger and Arthington heard the call of God: they were to release the imprisoned Presbyterians, overthrow the bishops, depose the queen and cast all non-preaching ministers out of the Church of England. Hacket would succeed to the throne and eventually become king of Europe. They do not seem to have drawn anyone else into this conspiracy and their isolation led them to conclude that they must be important apocalyptic figures: Coppinger was the last prophet of mercy before the coming of Christ and Arthington the last prophet of judgement. Hacket was Christ himself.
Coppinger produced hundreds of pamphlets and distributed them to Londoners on the night of 18 July, promising 'tremendous' events the following day. The next morning, while Hacket stayed in bed, Coppinger and Arthington gathered a crowd, then the pair of them mounted a cart outside the Mermaid Tavern in Cheapside and proclaimed Hacket as King and Messiah. They escaped the constables, but all three were arrested later that day.
They maintained their beliefs in prison and Coppinger fasted and prayed continuously. Hacket was tried on 26 July, pleading insanity, and was condemned to death. At his execution two days later he denounced the queen and called on the Lord to 'send some miracle out of a cloud', but was killed anyway. Faced with this substantial counter-evidence to Hacket's claims, Arthington recanted and repented, which, perhaps with the support of some influential friend, saved his life, although he remained in prison; Coppinger starved himself to death.
The immediate outcome for the Presbyterian leaders on trial was that their chief lawyer was arrested. Their trial dragged on and when the Lord Chancellor died in November it was abandoned, but the men remained in prison. Even after they agreed to a statement renouncing their Presbyterian meetings and organisation, Archbishop Whitgift refused to release them.
Of the three writers, Throckmorton was well connected and he and Wigginton gained their release. Most of the other nine were released, some into house arrest, several of them in ill health after their stretch in prison. They were, along with the puritan movement in general, demoralised and discredited. They had not denied their Presbyterian faith, but had in a sense promised to stop practising it. When Elizabeth's eighth Parliament met in February 1593, for the first time in decades there was no attempt at puritan reformation. No Presbyterian synod met in London as it had during previous parliaments to lobby MPs and orchestrate its work. The puritan movement had received a body blow and it took the crisis that led to civil war half a century later for Presbyterianism to regain its vigour.
Stephen Tomkins edits Reform magazine and is the author of The Journey to the Mayflower: God's Outlaws in the Underground Church (Hodder & Stoughton, forthcoming).