A new old take on the Danish succession, complete with tales of derring do.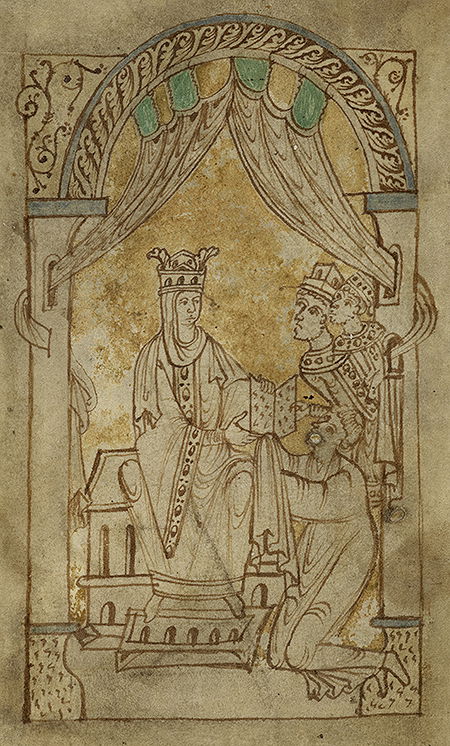 As early as the mid-12th century, elements of the volatile pre-Conquest era were sufficiently murky to permit a chronicler such as Geffrei Gaimar to remodel events with a political slant of his own. His Estoire des Engleis is the earliest surviving example of historiography written in French and is too often overlooked in studies of the remarkable period of literary innovation often described as the 12th-century Renaissance.
The Estoire is an Anglo-Norman verse history written in England during the bitter civil war between Stephen and Empress Matilda. It draws heavily upon the Anglo-Saxon Chronicle as far as the reign of Edgar the Peaceable. It once included a history of the British, apparently based upon Geoffrey of Monmouth's Historia Regum Britanniae, but this section of the work has been lost. The surviving portion of Gaimar's history covers the period from the reign of Haveloc the Dane to the mysterious death of William II in 1100.
Gaimar, like other vernacular writers of this period, has often been dismissed as an inadequate historian, more concerned with his work's entertainment value than its veracity. Recent scholarship, however, has shown how the line between history and literature blurs in 12th-century chronicles. Writers such as Gaimar used models and imagery drawn from romance and local legend to add layers of meaning to episodes and figures within a narrative. This addition of dense allusions and references is a key element of the art of rewriting practised by Gaimar and his peers.
The Estoire's depiction of Cnut and his queen, Emma, is a fascinating example of this approach. Cnut is one of the Estoire's outstanding figures: a king with imperial ambitions, sweeping opponents from his path, but forced to acknowledge his inferiority to God when the relentless tide proved the limits of his power. Gaimar's portrayal gains in nuance, however, through the poet's focus on Cnut's treatment of the heirs of Edmund Ironside, his former foe in the struggle for the English crown. The princes' long exile, in Gaimar's telling, becomes an adventure featuring a tyrannical king, a steadfast guardian and a dash of romantic intrigue.
In Gaimar's account Edmund Ironside – here murdered by his treacherous brother-in-law, Eadric Streona – leaves two infant sons: Edward (later known as the Exile, and erroneously named Edgar by Gaimar) and his brother, Edmund. Cnut's reconciliation with his English rival was sealed with a vow that they would be closer than brothers; as such, the children are Cnut's responsibility.
His queen, Emma – formerly the wife of Edmund Ironside's father, Æthelred II – is concerned that the princes will prove a rallying point for those opposed to Cnut and his heirs. She encourages her husband to have them sent to Denmark, where their kindly guardian, Walgar, raises them in the appropriate style.
Time passes and Emma's fears of a threat to her own heirs are revived as Edmund Ironside's boys grow older. She lies to Cnut, telling him that the English are plotting to bring them home and advising him to have them killed, but Walgar learns of the plan and swiftly spirits the boys away to Hungary, where they are warmly welcomed by the king and queen. Edward falls in love with the king's daughter, whose subsequent pregnancy her father takes remarkably well, and the young lovers are soon married. In Gaimar's version of events, Edward is made the Hungarian king's heir.
Gaimar moves on to tell us of Edgar Atheling, Edward's son and another of the 'nearly men' of 1066. The poet's main focus, however, is on the Atheling's sister, Margaret, whom he describes as a 'precious jewel', writing approvingly of this future saint's piety. He recounts the siblings' journey to England, recalled by their father's people after Edward's death; as Gaimar puts it, the legitimacy of Edgar Atheling's claim to the English throne is obvious 'to anyone willing to recognise the truth' (in Ian Short's translation). A storm drives their ship off course to Scotland, though, where they are intercepted by its king, Malcolm III, who goes on to marry Margaret.
Cnut's reputation as a strong ruler is undermined by Gaimar's depiction of his weak-willed reliance on Emma's malicious counsel, not to mention his betrayal of his vow to Edmund Ironside. Emma's cameo role in the Estoire, meanwhile, is unflattering. Her callous scheming is reminiscent of Edgar the Peaceable's queen, Ælfthryth, whose involvement in the killing of her stepson – yet another Edward – is hinted at earlier in the Estoire. This, however, is more than misogyny on Gaimar's part. Emma's machinations also anticipate those of Earl Godwine, who, in Gaimar's account, has one of Emma's own sons by Æthelred brutally murdered in a bid to secure his own family's place in English history. Gaimar's Emma is no one-note Jezebel, but a power player to rank among other influential, if unsavoury, figures in the Estoire.
The facts behind this episode remain elusive. Walgar appears to be an invention of Gaimar's, while various possible origins have been suggested for Agatha, Edward the Exile's bride.
Gaimar's expansion of the tale employs elements drawn from vernacular romance, with its emphasis on love, fate and attractive young people in peril. These distinctive features highlight Gaimar's real point: the blood of Cerdic, the Anglo-Saxon royal progenitor, runs in the veins of Edward and his descendants. Having opened his work with a strikingly similar account of the exiled Haveloc's triumph over usurpers, Gaimar has already provided us withthe imagery necessary to interpret his account of this more recent banishment. Overt condemnation of Cnut's hubris and Emma's malice is unnecessary; the poet has already criticised the perfidy of such figures in the harshest possible terms.
Gaimar's audience needs no reminder that the union between Margaret Atheling and Malcolm produced Edith-Matilda, future queen of Henry I. The illustrious ancestry of the wife of the Conqueror's youngest son was worth highlighting in the Estoire, written against the backdrop of civil war. The names of the two rivals are never mentioned, but Gaimar's focus on the empress' mother's family as representatives of the ancient Anglo-Saxon line is the subtlest of political statements. With the accession of her son, Henry II, the heirs of Edmund Ironside were at last triumphant.
Gemma Wheeler researches Geffrei Gaimar and the politics of kingship.