Appeasement: Britain's Political Turning Point
The by-elections of 1938 are part of the long history of Independent Progressives in British politics.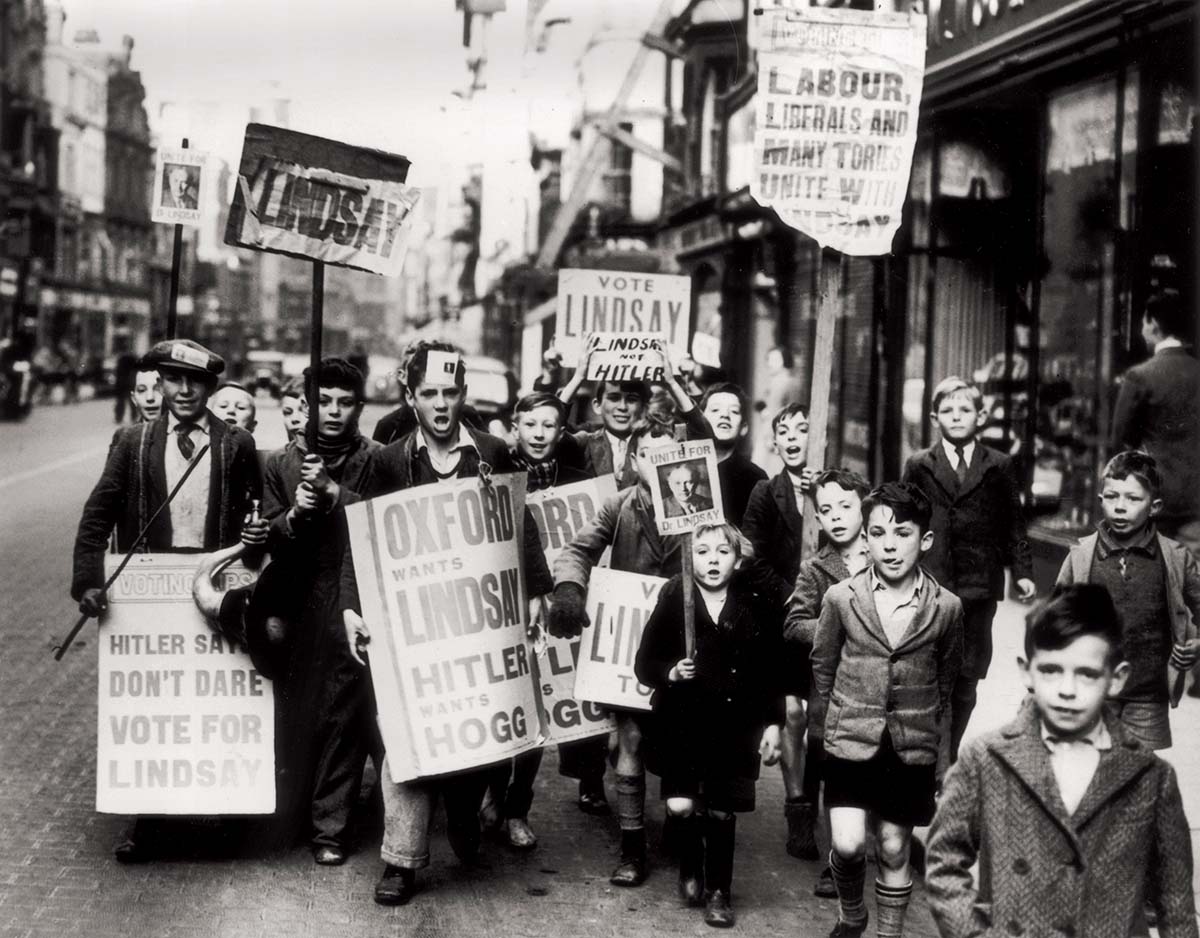 In his parliamentary by-election address at Oxford in 1938, A.D. Lindsay hoped to represent 'men and women of all parties who are profoundly disturbed at the outlook before us and the policy which the present government seems to propose to follow'.
Standing as an 'Independent Progressive', Lindsay only narrowly lost to the Tory candidate, Quintin Hogg, who managed to maintain the Conservatives' hold on the constituency. Lindsay, who had never stood for election before, racked up an impressive 44 per cent of the vote share, attracting the support of the young Edward Heath and Roy Jenkins, who were Oxford students at the time and would end up on opposing sides in their distinguished political careers.
Oxford was just one of eight by-elections that took place between September and December of 1938. Coming just a month after the emergency Munich conference, where prime minister Neville Chamberlain signed an ill-fated deal with Hitler to appease his territorial grievances, Oxford marked a halfway point in a downward spiral in British politics. In the space of four months, Chamberlain went from being hailed a hero for delivering 'peace for our time' to facing Cabinet resignations and the painful realisation that a snap general election 'would be suicidal in view of the doubts about my foreign policy'.
While several of these by-elections were simply triggered by the death of the incumbent and remained in the hands of the same party, others were political turning points that revealed deep political divisions. The British Parliament and electorate of 1938 found itself polarised by the prime minister's policy, paving the way for an informal, anti-appeasement 'independent group', who sought to break the political deadlock.
After returning from Munich on 30 September, Chamberlain was greeted at Heston Aerodrome by triumphant crowds, relieved that the Sudetenland region of Czechoslovakia had been peacefully ceded to Germany, hauling Britain back from the brink of war. But within the Cabinet serious discontent had already started brewing. The Foreign Secretary, Lord Halifax – a loyal colleague who had supported Chamberlain's appeasement policy for years – began to have serious doubts. Six days before the Munich agreement was signed, Halifax wrote to the British delegation in Germany, warning them that the 'great mass of public opinion seems to be hardening in sense of feeling that we have gone to the limit of concession'. The government split was further widened on 3 October, when Duff Cooper resigned as First Lord of the Admiralty, directing his fury squarely at Chamberlain for signing the Munich agreement 'without, so far as I am aware, any reference to his Allies, obviously without any communication with the Dominions and without the assistance of any expert diplomatic advisers'.
Indeed, Chamberlain, rather than the foreign secretary, became the target of criticism, as it became increasingly clear the Foreign Office had been eclipsed by the PM's domination of foreign policy (Halifax did not even accompany Chamberlain to Germany).
In such a febrile political climate, by-elections became mini-referendums on Chamberlain's appeasement policy. In Oxford, Quintin Hogg, the pro-appeasment Tory candidate, was trailed by campaigners who shouted 'A vote for Hogg is a vote for Hitler'.
While disgruntled Conservative backbenchers, led by Anthony Eden and Harold Macmillan, met with senior Labour politicians to try to oust Chamberlain, splits within both groups meant little came of this. Both Tory MPs and the Labour Party stuck to their own anti-appeasement efforts, forming more of a pincer movement on the beleaguered government. The void in the centre became the birthplace of an Independent Progressive movement that was able to scoop up the large fluid vote Chamberlain's policy had created.
Patrick Gordon Walker, who was initially put up as the Labour candidate in Oxford before standing aside, observed that the Independents did well because the international crisis had created a 'hysterical state of mind' among the middle class:
The hysteria took the form of 'We must do something' … It concentrated itself on the worst, most obvious fault – namely hostility to Chamberlain himself … Quite ludicrous ideas about the importance of Lindsay's victory were evolved. That it would check Chamberlain, lead him to alter his policy, frighten Hitler, etc.
This sense of urgency was exacerbated in the Bridgwater, Somerset by-election, which took place on 17 November. Coming shortly after the terror of Kristallnacht, the electors of Bridgwater showed even greater dissatisfaction with Chamberlain's policy than those of Oxford. Here, the Independent candidate, Vernon Bartlett, scored a remarkable victory, winning the safe Conservative seat by a majority of 2,332 votes.
Bartlett, like Lindsay, was new to campaigning, but stood on an even more fervently anti-appeasement platform. In his job as a foreign correspondent at the News Chronicle, Bartlett had covered Chamberlain's visits to Germany and was 'absolutely convinced that Chamberlain's policy was disastrous'. The pertinence of this issue brought a record turnout: 82.4 per cent of Bridgwater's electorate went to the polls, an impressive increase of 9.7 per cent on that of the 1935 general election.
These candidates did not seek to challenge Labour or the Liberals. At both the Oxford and Bridgwater by-elections, Labour and Liberals voted to step aside and remove their candidates to allow the Independent Progressives a clear run. In fact, the senior Labour politician Stafford Cripps donated his car and money to Bartlett's campaign, while the Left Book Club (a socialist group linked to the Labour Party) sent campaigners to leaflet on Bartlett's behalf.
The Independent Progressive movement also caused a defection. The Duchess of Atholl, Katherine Stewart-Murray, triggered a by-election in her Kinross and West Perthshire constituency in December by resigning from the Conservative Party. The duchess had long been a thorn in Chamberlain's side, criticising his foreign policy in her Commons speeches. Munich was the final straw. Having witnessed the popularity of Independent candidates in Oxford and Bridgwater, Stewart-Murray sought re-election as an Independent, leading a fiercely anti-appeasement campaign. Although the Conservatives held onto the seat (largely because voters wanted a local, familiar MP), Stewart-Murray still managed to secure just over 47 per cent of the vote. Even in a constituency far removed from Westminster, there was some appetite for a new kind of politics.
Examinations of party defectors often look to the Labour Party split of 1981, when a group of Labour MPs, led by Roy Jenkins, formed the Social Democratic Party. But the appeal of independent groups and movements stretches back further. Jenkins, when questioning the future of two-party politics, must surely have remembered his days at Oxford during that autumn of 1938.
Beth Fisher is a postgraduate history student at the University of York.