The enduring vision of Dad's Army
The classic BBC comedy owes much of its appeal to its acute observation of the realities of life on Britain's Home Front.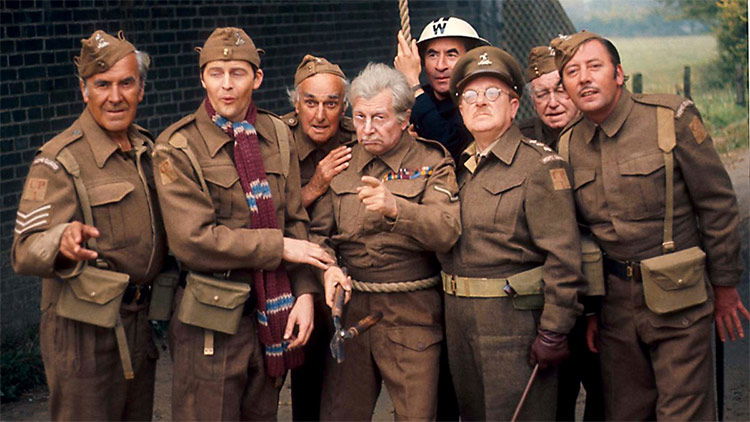 How does popular culture help people learn about the past? It is a question that fascinates cultural historians. By the late 1960s the Second World War was retreating from public memory. This was despite the fact that prefabs remained and children encountered war heroes in comics or constructed warplanes from the phenomenally successful Airfix kits. In this respect the arrival of the BBC TV's situation comedy Dad's Army in 1968 – now revived in a film that has gained little of the original series' plaudits – addressed a gap. It portrayed the British Home Front as one of bureaucratic anomalies, mistakes, personality clashes and dubious activities to which all, including the audience, once turned a blind eye. Nonetheless the series did make it feel as though the whole of Britain itself was involved in this war effort. Dad's Army's Private Fraser, along with Talfryn Thomas' portrayal of the Welsh Private Cheeseman, brought the nations of the British mainland together  in the manner that Fluellen, Jamy and McMorris had done in Laurence Olivier's wartime film of Henry V.  Intriguingly the actor playing Fraser, John Laurie, appeared in both.
Dad's Army observed human interests and the societal hangovers from the interwar period as well as wartime compromises. The figure of Captain Mainwaring reminds us tellingly of a rung of interwar middle-class life hemmed in by other classes and their behaviour, yet propelled by propriety and duty. He is uncomfortable with the louche morals of Sergeant Wilson, who is manifestly from a higher class and (in one episode emerges as the son of a viscount, demanding he be addressed as 'the honourable'). Yet Wilson remains the black sheep of the family and is revealed in the last ever episode to have been a former officer in the Great War. His relaxed and bohemian attitude to life, echoed perhaps a contemporary pronouncement upon the Duke of Windsor and his compatriots who had returned from the trenches 'embittered and even sceptical … if saved from spiritual inanity'. It was a world away from the experience and attitude of the Victorian Corporal Jones. Yet Mainwaring's pride in his white-collar status is equally appalled by the coarseness of the ARP Warden Hodges who is merely 'trade', grasping at the petty imagined power afforded by the war.  Class however bites back at Mainwaring, since he clings to his loveless and, in every other way, unsatisfactory marriage for the sake of decency and propriety. Likewise, in one particular episode he becomes uncomfortable joining an officer's mess where he is outwitted by the social conventions administered by the upper-class career soldier Captain Square. Mainwaring's other collision with the wartime Britain's upper classes have him unable to escape his social position, his role and his marriage as he falls and has a clandestine affair, Brief Encounter-style, with a genteel woman bent on philanthropic war work. 
Throughout, the writers and producers of Dad's Army also introduced us to other quirky and otherwise dark corners of real wartime history. The platoon acquires the much-derided Ross Rifles: a dubious present from the Canadian government. Likewise, young Private Pike is entrusted with a Thompson Sub-Machine gun, an unwitting gift from an American mobster whose confiscated weapons arrived in Britain as an often forgotten provision of the lend lease policy. We learn also of Private Godfrey's conscientious objection and how many such incidents were perhaps quietly solved by moving such individuals into non-combatant roles.
And what of Private Pike, the man too young to be called up, who eventually cannot go because of his rare blood group. Pike's life in wartime must have echoed the experience of considerable numbers of the male audience for Dad's Army, as they struggled to cope with dramatic change and the sudden bustling mobility of almost everyone around them. Pike's mother has made her own choices about her marriage and her domestic arrangements mirrored those of many women who felt emotionally bereft at the absence of husbands. Pike's own frequent bouts of naivety about his mother and the clandestine behaviour of Sgt Wilson, his 'Uncle Arthur', were again a reminder of the persistence of degrees of innocence that had probably been overwritten by the events of the late 1960s. His mother's neurotic obsession with his health, embodied in his glaringly obtrusive scarf, acquainted audiences with how mothers earlier in the century lived in fear of their children contracting Tuberculosis or other ailments. It may even have silently reminded them of mothers whose preoccupations about their children's health spoke of earlier, more common, experiences of infant mortality.
Dad's Army came to an end in 1977, in the age of punk rock. It is fascinating to speculate that it knew its moment had passed since it was faced with an audience prepared to say 'goodbye to all that'.
David Nash is Professor in History at Oxford Brookes University.