The Dark Side of Admiral Benbow
Sam Willis welcomes the campaign to erect a statue of Admiral Benbow in Shrewsbury, but argues that we have a responsibility to explore and understand every part of this complex character.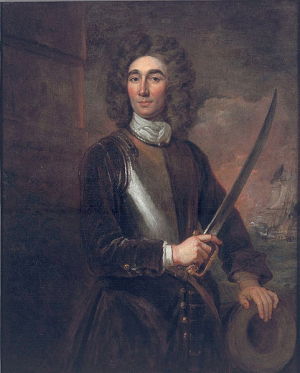 It is with great pleasure that I can announce the launch of a campaign to build a statue of Admiral Benbow in the heart of Shrewsbury, a town long associated with the Benbow legend.
And yes, you probably have heard of him. Perhaps, like me, you know the name because Robert Louis Stevenson chose it for the name of the pub in the opening chapter of Treasure Island, were Jim Hawkins meets the likes of Blind Pew and Black Dog and discovers the existence of Captain Flint's treasure map. Stevenson chose the name because it reeks of maritime legend. He was a real man, a fighting sailor, with a quite extraordinary story. 
The most famous incident of his life is known as 'Benbow's Last Fight', a battle off Cape Santa Marta in 1702 when Benbow piled head-long into the fray, but was unsupported by his fellow captains, one of whom hid behind the mizzen mast of his ship. But there is so much more to his life to celebrate than that sorry battle. He fought Barbary Corsairs, designed ships, ran a dockyard, helped to found Greenwich Hospital, was involved in the first Eddystone lighthouse, sub-let his house to Peter the Great, Czar of Russia, (who destroyed it in a riotous bout of partying); and played a major role in the naval wars against the magnificent fleets of Louis XIV. 
One episode, however, should make us stop and think carefully about his reputation. In 1694 the British were faced with an incessant wave of highly successful French privateers. The enemy was elusive. This was state-sanctioned piracy undertaken by privately owned ships. The Admiralty needed someone utterly ruthless to shock the privateers into submission. And they turned to Benbow, a man who would stop at nothing. 
Benbow's solution to the problem was to take a 300-ton merchant ship and fill it with twenty thousand pounds of gunpowder. On top of this he piled exploding mortars, broken iron bars, shards of glass, bullets, chain and nails. And he sailed it into the heart of St. Malo - a civilian harbour - where he detonated it. While St Malo rocked from the concussion of the explosion, which was heard 100 miles away, Benbow took a group of men ashore and burned the convent.
Raising a statue to Benbow in Shrewsbury is a super idea that will boost interest both in the town and the Admiral but, when commemorating a person so publicly, we have a responsibility to explore and understand every part of his character. And what we find may sometimes be distasteful.