A Sticky Tragedy: The Boston Molasses Disaster
The rupture of a giant molasses tank in Boston just after the First World War caused devastation and led to the longest legal case in the city's history, writes Chuck Lyons.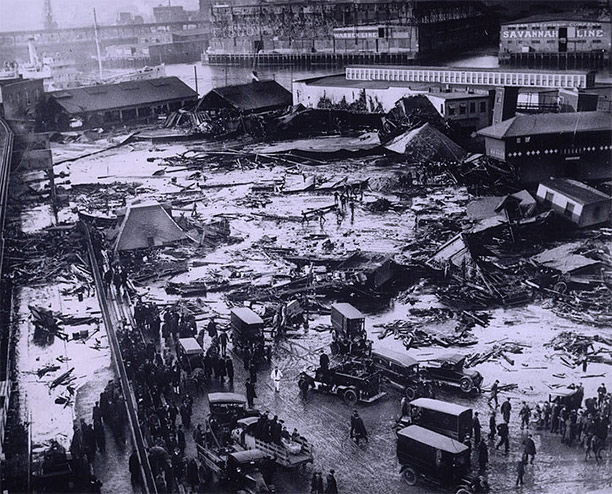 On January 15th, 1919, in what was probably the most bizarre disaster in United States' history, a storage tank burst on Boston's waterfront releasing two million gallons of molasses in a 15 ft-high, 160 ft-wide wave that raced through the city's north end at 35mph destroying everything it touched.
The wave killed young Pasquale Iantosca, smashing a railroad car into the ten-year-old. It pinned Walter Merrithew, a railroad clerk on the Commercial Street wharf, against the wall of a freight shed, his feet 3 ft off the floor. He hung there as he watched a horse drowning nearby. The wave broke steel girders of the Boston Elevated Railway, almost swept a train off its tracks, knocked buildings off their foundations, and toppled electrical poles, the wires hissing and sparking as they fell into the brown flood. The Boston Globe reported that people 'were picked up and hurled many feet'. Rivets popping from the tank scourged the neighbourhood like machine gun bullets, and a small boat was found slammed through a wooden fence like an artillery shell. By the time it passed, the wave had killed 21 people, injured 150, and caused damage worth $100 million in today's money. All caused by molasses.