Britain and Argentina's Shared History
Despite recent difficulties, Britain and Argentina have endured a long and fruitful relationship, as Paul Lay explains.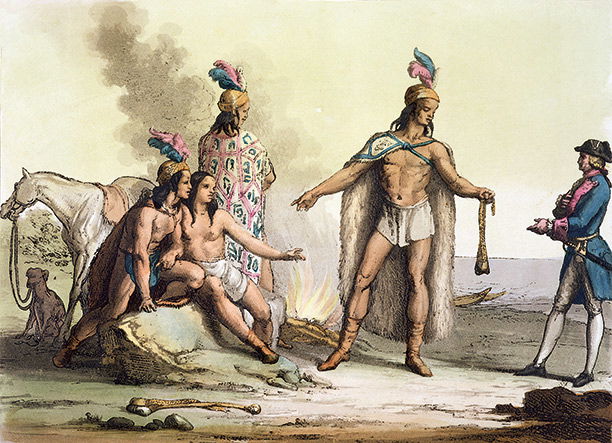 On February 2nd, 1825 Britain officially recognised Argentina as an independent state. The Treaty of Friendship, Commerce and Navigation was signed on behalf of Britain by the marvellously named Woodbine Parish, chargé d'affaires in Buenos Aires. It was the beginning of a long and often fruitful relationship, which saw many British industrialists and landowners make their mark on the young country.
Football, a sport at which Argentina long surpassed England, was introduced in 1867 by two railway workers from Yorkshire, Thomas and James Hogg, the founders of Buenos Aires FC. Many of Argentina's most famous clubs, such as Newell's Old Boys, River Plate and Temperly, betray their roots in their names. Polo and rugby union, sports identified with Britain's colonial classes, have similar purchase.
Two presidents, Raúl Alfonsin and Carlos Pellegrini, were of British descent, as was Carlos Büsser, the commander of Argentine forces during the 1982 Falklands War. Jorge Luis Borges, Argentina's greatest man of letters and one of the giants of world literature, had an English grandmother, Fanny Haslam, and was immersed in the literature of her homeland, in love with Shakespeare, Wells, Chesterton and Stevenson – and familiar with Anglo-Saxon. Today there are as many as 100,000 Anglo-Argentines, a powerful and wealthy community.
That is not all Argentina has in common with Britain. It, too, was a colonial power, a product of often bloody expansion ever since the Conquistador Juan Diaz de Solis entered the River Plate in 1516. This was never more apparent than during the Conquest of the Desert, which began in the 1870s and saw General Julio Argentino Roca take the southern region of Patagonia into Argentine control, brutally subjugating the indigenous population, whose predecessors had trod the land for 13,000 years. Roca was rewarded with the presidency in 1880 and featured until recently on Argentina's 100 peso note.
All of which only adds to the irony of President Cristina Fernández de Kirchner's recent appeal, made on the 180th anniversary of Britain's colonisation of the Falkland Islands, to Prime Minister David Cameron to 'return' them to Argentina, largely on the grounds that, at 14,000 miles distance from London, they are of considerably closer geographical proximity to South America.
Kirchner's statement anticipates a referendum to be held on the Falkland Islands in March, in which its population is expected to give overwhelming backing for the territory to remain British. There is domestic popularity at stake as well as mineral rights, but neither side can appeal to history any more than geography for its blessing. We are where we are and we will soon discover the wishes of the Falklands' current inhabitants. Their views should be respected and Argentina and Britain should return to the path of mutual enrichment.
From The Archive
Civilisation and Barbarism: The impact of Europe on Argentina
The European images of Argentina are complex, and mirror profound debates about nationalism and universalism, popular and elite culture.