Longman-History Today Awards 2009: The Winners
All the news from our annual event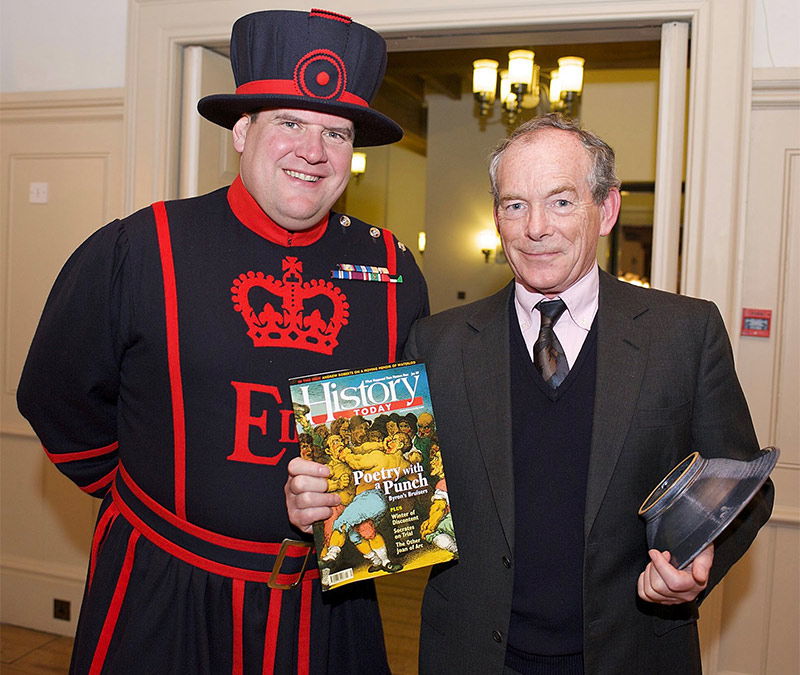 An eerily misty winter night greeted the attendees at the 2009 Longman / History Today awards ceremony, held last night at the Tower of London.
Tim Tzouliadis was the overall winner for his book The Forsaken: From the Great Depression to the Gulags – Hope and Betrayal in Stalin's Russia published by Little, Brown. In awarding the prize of £2000, Paul Lay said:
Diligently researched and profoundly moving, Tim Tzouliadis has written a deeply moral and gripping work that anticipates further research.

There were also awards for the best history dissertation, won by Catherine L Martin of the University of Greenwich, and for picture research, won by Melanie Haselden for her work on Going Dutch: How England Plundered Holland's Glory, by Lisa Jardine, published by HarperCollins.
Overall winner: Tim Tzouliadis with

The Forsaken: From the Great Depression to the Gulags – Hope and Betrayal in Stalin's Russia

published by Little, Brown. [The winner also receives a cheque for £2,000.]
In joint second place were:

The Pain and the Privilege: The Women in Lloyd George's Life

by Ffion Hague (Harper Press); and

Pilgrims: New World Settlers and the Call of Home

, by Susan Hardman Moore (Yale).
Highly commended were:

War in England 1642-1649

by Barbara Donagan (OUP);

Richard II: Manhood

,

Youth and Politics

by Christopher Fletcher (OUP);

The Jewel House: Elizabethan London and the Scientific

Revolution

by Deborah E Harkness (Yale); and

Blessed Days of Anaesthesia: How Anaesthetics Changed the

World

by Stephanie J Snow (OUP).
Winner of the Longman-History Today Picture Research Prize was picture researcher Melanie Haselden, for her work on

Going Dutch: How England Plundered Holland's Glory by Lisa Jardine

, published by HarperCollins. [The winner also receives a cheque for £500.]
In joint second place were:

Discovery! Unearthing the New Treasures of Archaeology

, edited by Professor Brian M. Fagan, published by Thames & Hudson - picture research Alice Foster; and

A History of Herbert Smith

by Tom Phillips, published by International Financial Law Review - picture research Caroline Wood.
The dissertation of the year was awarded to Catherine L Martin of the University of Greenwich. Highly commended were Robbie Maxwell (University of Edinburgh) and Katherine McMullen (Oxford University)
The journalist Simon Jenkins was the winner of the Trustees Award, traditionally given to a person, or an institution, that has done remarkable work to promote and defend history. Mr Jenkins was praised by Paul Lay as: