Stephen Usherwood describes how, in 1544, reports of a marvellous new flower, the tulip, first reached Western Europe, where it soon aroused a 'fever of excited speculation'.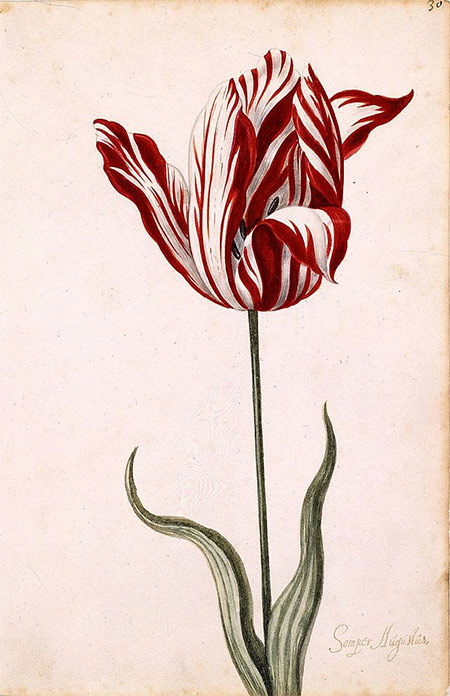 Anonymous 17th-century watercolor of the Semper Augustus, famous for being the most expensive tulip sold during tulip mania.
'That distemper which Hippocrates calls Tulipomania could,' said Joseph Addison in The Tatler in 1710, 'cause a very plain honest man, and a person of good sense to value a bed of flowers not above twenty yards in length and two in breadth more than he would the best hundred acres in England.' His readers were obviously already familiar with the tulipomaniac.
Addison was almost certainly imitating something the French satirist La Bruyere had published in 1691 in the 6th edition of his very popular book Les Caractères. For him the tulip-fancier was an example of les curieux, people suffering from collectors' mania, for whom rarity is the only standard of value. The idle and rich, he pointed out, needed such fads and fashions as the tulip craze to ease the boredom of their lives; and this is how in his peculiarly biting staccato style he describes le fleuriste: