"The moving spirit" of the English Reformation, Cromwell incurred all the odium inseparable from the revolutionary changes that he helped to bring about. He was nevertheless, given his aims, a skilful and far-sighted statesman, writes G.R. Elton.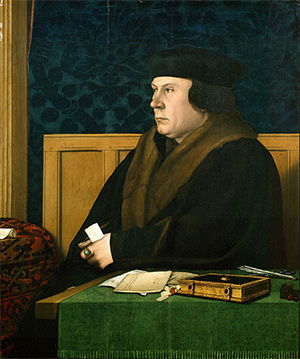 Thomas Cromwell, after Hans Holbein the Younger, c. 1540
Thomas Cromwell was born about 1485; he died on the scaffold in July 1540. Of the fifty-five years of his life, the first twenty-five are quite obscure, illuminated only by some romantic stories with a thin substratum of fact. His father was a shearman of Putney who seems to have possessed a quarrelsome temper.
Thomas, thrown early on his own resources and without the career in the Church that so often rescued low-born ability from oblivion, made his way abroad; he travelled through France and Italy, served as a soldier in the Italian wars, may have seen the Pope, made lasting friends with some eminent Italian merchants, and then set off home again, with the beginnings of a fortune acquired in a thoroughly unconventional fashion.
About the year 1510 he appears in the light of accurate, if still very limited, knowledge as a merchant with interests in the Low Countries, and at this time, too, he must have begun that training in the common law which enabled him to secure admission to Gray's Inn in 1524. Whatever else may be thought of this helter-skelter education, it suggests the most lively intelligence and general curiosity.