Teenage Rampage: Mods vs Rockers, 1964
Though it all seems rather mild from the distance of half a century, the riots that took place in English seaside towns during 1964 revealed a shift in values from those of the austere war generation to the newly affluent baby boomers, argues Clive Bloom.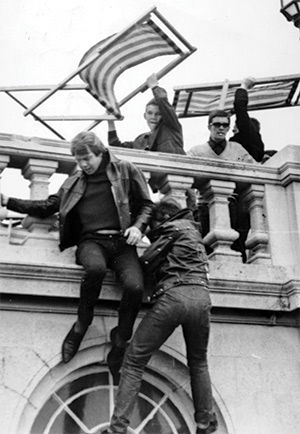 This summer marks the 50th anniversary of the mods and rockers 'riots' at the English seaside towns of Clacton, Margate, Brighton and Hastings. The fights on the beaches and on the promenades became symbols of rebellious and uncontrollable youth and, although the participants are no longer young, some still remember those scuffles with a sense of pride that might be unimaginable in other violent circumstances.
The troubles began on Easter weekend in Clacton, Essex, where scuffles broke out between rival groups. Things went quiet until the following Whitsun bank holiday (May 18th and 19th). Foreign travel was still in its infancy and going to the coast was a cheap alternative, especially when the weather over the summer proved so good. Families with buckets and spades and old ladies on deck chairs were treated to the sight of hundreds of teenage mods and rockers, who had come to the seaside towns of Margate and Brighton to enjoy the freedom of a weekend without work (for most were employed), wearing their best clothes and looking forward to hearing their favourite pop group on the end of the pier. This was a perfect way to meet the opposite sex away from prying eyes and perhaps to let off some steam. The Rolling Stones were performing at Hastings that weekend and Johnny Kidd and the Pirates had played Margate Winter Gardens the day before.