Taking the Blitz to America
In the summer of 1941 a collection of paintings by serving members of the London Fire Brigade  was exhibited in the United States. Anthony Kelly describes the success of a little-known propaganda campaign celebrating Britain's 'spirit of civilian heroism'.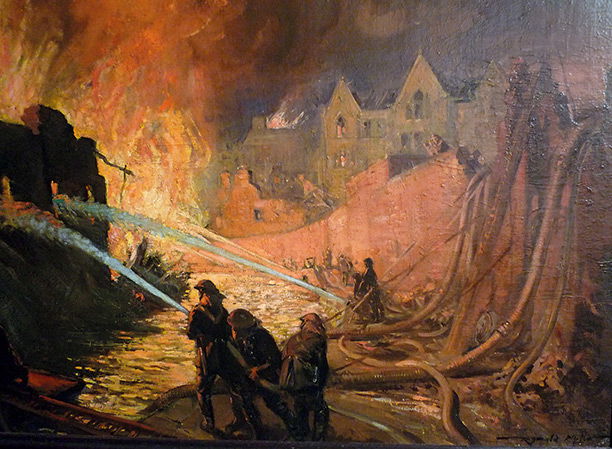 From the moment Winston Churchill came to power in May 1940 the United States was central to his strategy. His aim was to use all possible means, including propaganda if necessary, to persuade Americans to join in the war. But Britain's mouthpiece in the US, the British Library of Information, was not designed for propaganda and was said to have reflected a remote, 'Sleepy Hollow' worldview.
Things changed in the summer of 1941 when the British Ministry of Information reorganised and revitalised its American operations. This enabled it to oversee a little-known but remarkably successful propaganda campaign in the US, conceived and executed by an unlikely agency, the London Fire Brigade.
On February 1st, 1941 Major F.W. Jackson DSO, Officer Commanding London Fire Services, wrote to the secretary of the War Artists Advisory Committee (WAAC), E.M. O'Rourke Dickey, to inform him that he had recently called for a list of artists serving in his force, which had revealed 'a large amount of hidden talent of which we were not previously aware'. He stated that he had invited all artists in the service to submit works of art for an exhibition in his headquarters and wondered if the WAAC would assist in judging them. If the standard was sufficiently high then perhaps the works might be sent to the US. Instead of dismissing the idea as fanciful, Dickey arranged for the works to be seen by J.B. Manson, a former curator of the Tate Gallery, after getting agreement from the WAAC chairman, Kenneth Clark, that depending on the quality 'it would be quite a good thing to send it to America'.