In 1943 a train was stopped by resisters as it travelled from Flanders to Auschwitz. Althea Williams tells the story of a survivor.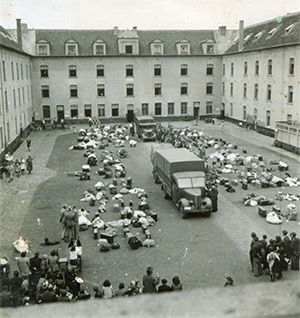 Kazerne Dossin, a former infantry barracks, during its use as a detention centre in 1942.
On the night of April 19th, 1943 a train pulled out of Mechelen, a small town in Belgium. It carried 1,631 men, women and children and was the 20th convoy to leave the infamous Kazerne Dossin assembly camp for Auschwitz-Birkenau. Up to that point, of the 18,000 people who had already made the journey only a handful had escaped.