In 1943 a train was stopped by resisters as it travelled from Flanders to Auschwitz. Althea Williams tells the story of a survivor.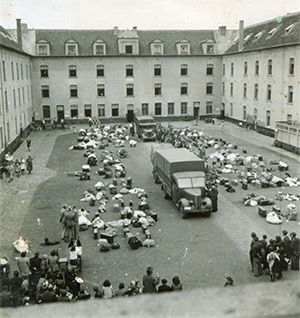 Kazerne Dossin, a former infantry barracks, during its use as a detention centre in 1942.
On the night of April 19th, 1943 a train pulled out of Mechelen, a small town in Belgium. It carried 1,631 men, women and children and was the 20th convoy to leave the infamous Kazerne Dossin assembly camp for Auschwitz-Birkenau. Up to that point, of the 18,000 people who had already made the journey only a handful had escaped.
This time three young men, Youra Livschitz, Robert Maistriau and Jean Frankelmon, students at the Université Libre de Bruxelles, lay in wait for the train. Ten miles down the line, they flagged down the convoy using a lamp covered with red silk to resemble a warning light. Armed with just two pairs of pliers and a single pistol, they cut through the barbed wire that secured the heavy bolts on the outside of each cattle car.  Two hundred and thirty-seven Jewish deportees took their chance, pushing themselves through tiny windows, or wrenching the doors aside, falling or leaping into the dark. The Germans fired upon the fleeing shadows and at the easier targets of those who waited for their loved ones to follow.