Plant dispersal: Atlantic crossings
Patricia Cleveland-Peck looks at the long history of plant dispersal between the New World and the Old.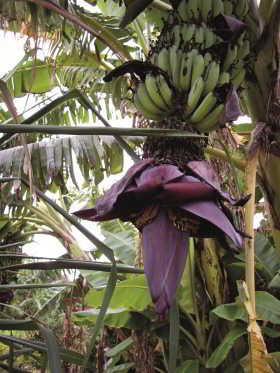 This year the August Old Spanish Days and Fiesta held annually in Santa Barbara, California will also include celebration of the 225th anniversary of the Old Mission Santa Barbara. This is one of the chain of 21 missions established by the Spanish which stretch up the coast of Alta California. As with all the missions founded by the Spanish in this and other parts of 'New Spain', the aim was to secure their hold on the territory and to convert the indigenous people to Catholicism.
Today Old Mission S.B. is the site of a unique horticultural creation, a living museum known as La Huerta Historic Gardens. This orchard-garden, a 'repository for the vanishing plants of California's mission period 1769-1834', was established in 2003 by Professor Jerry Sortomme and contains heritage plants and seeds collected from all over the mission area which have been planted by Sortomme and his team of dedicated volunteers. As well as plants imported by the Spanish, the huerta, which is in fact on the site of an old Indian pueblo, also contains a collection of plants grown and used by the local indigenous people, the Chumash. 'Tasting tours' and other multi-sensory activities are staged for visitors and schoolchildren to bring alive the history of the period.
Throughout history plants have spread from country to country bringing with them different cultural, medical and gastronomic benefits. The traffic between Europe and the New World is particularly interesting. The Spanish came prepared, intending to maintain accustomed eating habits. As early as Columbus' second voyage to Hispaniola in 1493 seeds and cuttings of 20 plant varieties including barley, wheat, leeks, beet, onion, radish, cucumber, broad beans, citrus fruits, olives, melon, parsley and vine cuttings were brought over on the 17 ships, together with tethered horses, longhorn cattle and crates of chickens. Although not all the European plants thrived in the muggy Caribbean climate, many were to fare better in other colonised zones of the New World.
Columbus also brought with him some cuttings of sugar cane (he had married the daughter of a sugar cane planter from Madeira), which were planted in Santo Domingo. By 1517 crates of Hispaniola sugar were being delivered back to the King of Spain. Cortés, the conqueror of Mexico, also became an influential sugar producer and these plantations had an enormous impact on the economy of the New World, to say nothing of introducing African slavery. As a further illustration of the way plants make their way around the world, sugar cane had in fact been introduced into Spain by the Moors in the tenth century.
Among the food plants which Columbus considered interesting enough to bring back to Europe were hot cayenne chilli peppers (initiating a culinary revolution from Europe to Asia) and maize. He also included some cacao plants and pods – although the potential of these was not realised until Cortés re-introduced them in 1528. Not only did chocolate, especially when flavoured with imported vanilla, go on to become the most fashionable drink throughout Europe, but it laid the foundations for a branch of the confectionery industry which is still lucrative today.
Columbus had brought one friar with him on his second voyage but it was not until Phillip III designated New Mexico a royal colony in 1609 that the establishment of missions became a priority, a task entrusted to the Franciscans. To encourage the indigenous peoples to abandon their lands and enter the missions it was important to create viable self-sustaining units as quickly as possible. Each mission had extensive kitchen gardens, orchards and vineyards (wine being essential for celebrating mass), modelled on those of a Castilian monastery. Among other plants brought over was the 'Listan Prieto' grape, grown for 1,000 years on the Spanish Mediterranean foothills. This became known as the 'Mission' grape, from which, in California, another multi-billion dollar industry eventually evolved.
Native medicinal plants also came to be valued and several handbooks were written on this subject. Food crops which met with approval, such as tomatoes, white potatoes, sweet potatoes, peanuts and more varieties of chilli, made their way back to Europe, while throughout the New World Mediterranean plants were spread not only by friars visiting each other's missions but also by native peoples who had come to enjoy them. In this way some plants have been preserved: the Mission olive, Olea europaea 'Mission', for example, is now extinct in Spain but survives in the Americas.
The Californian missions, including Old Mission Santa Barbara, were created immediately prior to the Mexican government's disbanding of them in 1833 and taking control of their vast landholdings. With their adobe architecture, old churches, bell towers and lovely gardens they have been preserved and are much-loved tourist attractions. In many cases they still function as religious centres.
Many of the earlier missions, which extended from Mexico, through Arizona, Texas and Baja California, have fallen into disrepair. From their sites however, it has been possible to recover seeds and vestiges of plant material which, thanks to La Huerta Historic Gardens, can now provide visitors including schoolchildren, not only a glimpse but in many cases a taste of history in the form of such antique fruits and vegetables as Peruvian popcorn and passion fruit.