Maiden Flight of the 'Spruce Goose'
Ian Fitzgerald describes the maiden flight of the 'Spruce Goose', the largest seaplane ever built, on November 2nd, 1947.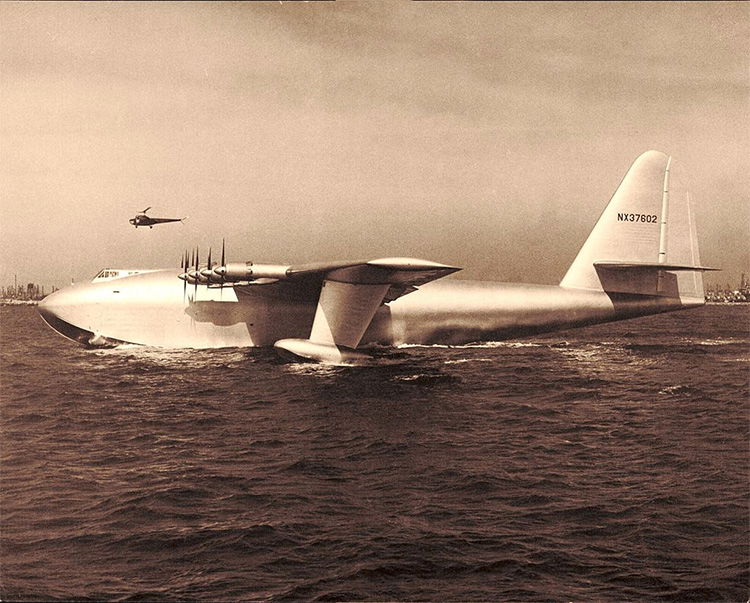 'The rich', so the saying goes, 'are not like us'. If this is true of anyone it is true of Howard Hughes, billionaire businessman and one of the twentieth century's most elusive personalities. But picking through Hughes' tangled love life, his films, fantastic wealth, and his descent into madness one abiding passion emerges. Not Katherine Hepburn, Ginger Rogers or any of the other women Hughes was involved with: flying was Hughes' love, reaching its apotheoses on this day fifty years ago with the maiden - and only - flight of the 'Spruce Goose', the largest sea plane ever built.
The flight was a success both personally for Hughes and in the spin-offs it prodded for America's aeronautic industry, pushing it towards the jet age in an era when planes were getting bigger and flights ever longer. It is perhaps ironic, then, that this particular flight lasted less than a minute, reaching the not-so-dizzy height of around seventy feet, and that the plane never flew again - being too large and cumbersome for regular flight.
More than anything else, Howard Hughes loved to fly. Indeed, in 1932, just as he had established himself as one of Hollywood's youngest moguls, through films such as Hells Angels (1930) and Scarface (1932), he was found to be working, incognito, as a $250-a-month airline pilot for American Airlines.
Throughout the 1930s Hughes broke almost every air-speed world record and, having done this, set about developing new types of aircraft. A by-product of this trail blazing was a number of major air crashes resulting in at least seven major head injuries that induced in Hughes an increasing reliance on drugs and painkillers - a chemical intake that progressively eroded Hughes' always fragile psyche.
In this perspective the flight of the 'Spruce Goose' takes on a new significance. Many were convinced the plane would not even get off the water. It was of a size never before seen, with no fewer than eight engines and a 100 metre wingspan.
But the 'Spruce Goose' did fly - just - and the implications of its flight were far reaching. Once the plane was safely landed engineers, scientists, military officials and air industry executives all flocked to examine it to see what lessons they could learn.
Its vast size was something that particularly intrigued the major airlines. The design information they gleaned from the plane's construction greatly helped in the manufacture of new kinds of aircraft, leading, eventually, to the Jumbo Jets of today. Similarly, the plane's technology was of especial interest to the military. In fact, from this date onwards Hughes would began to withdraw from public life and concentrate more on air defence technology, which made the US Air Force one of his major clients. This diversification of Hughes Industries, which had started out as the manufacturer of oil-drilling bits, directly grew out of the work that went into the 'Spruce Goose'.
By the early 1950s as the Cold War got under way, Hughes was working closely with the US Air Force and the Department of Defense in developing aircraft weapons technology. Aware of Hughes' erratic behaviour, his governmental business partners watched him closely. An FBI report of 1953 shows just how far Hughes' mental state had declined in six short years, describing him as 'a paranoid, vengeful, and emotionally disturbed man, whose mind has deteriorated to the point that he is capable of both suicide and murder'.
Hughes' love of flying had ultimately led him into a world of high (and low) politics and state security that fuelled his megalomania and growing sense of paranoia, perhaps hastening his end. By his death in 1976 Hughes' life had encompassed both the glamour and the tragedy of the 'American Dream', and, in fact, had done much to invent it.