That Magnificent Man in his Flying Machine
Richard Stoneman investigates the strange but widely held belief in the Middle Ages, that Alexander the Great had conquered more than the land, taking to the air and travelled to the ocean depths.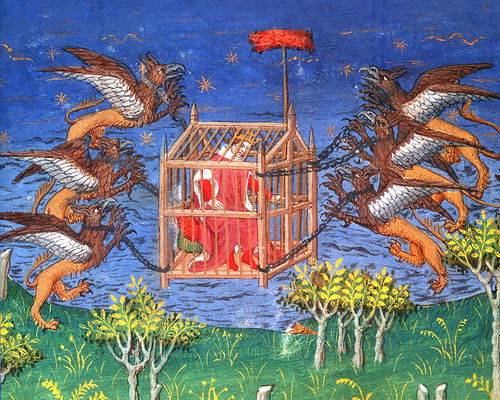 Alexander the Great is one of the most famous names of antiquity. In just twelve years he created by conquest the largest empire the world had yet seen, stretching from Macedon in the west to the River Indus in the east, and to Egypt and Babylon in the south. But his conquest is not only spatial but temporal, since he conquered the imaginations of the peoples of this entire region for centuries to come. His story was rewritten countless times in all the languages of medieval Europe and of the Islamic east. He appears in the Koran and in the illustrated history bibles of medieval Germany and Holland. He is a hero of Persian epic and the Latin account of his adventures was translated into every language of medieval Europe, sometimes several times. What gave him such a hold on the medieval imagination?