Lafayette: Hero of Two Worlds
Both Lafayette's career and the legend bound up with it have had important effects on either side of the Atlantic Ocean.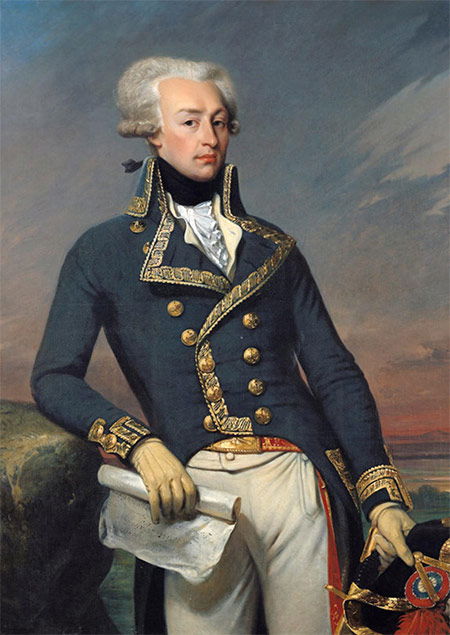 Gilbert du Motier Marquis de Lafayette
In 1957 both France and the United States celebrated the bicentenary of the birth of Lafayette, "soldat de deux patries," and symbol of their enduring friendship. Paris held a Lafayette Week, in which participated the mayors of all American cities named after him. An exhibition in the Hotel de Rohan of six hundred documents relating to his life and times was opened in July by President Coty himself.
In April a ball was held at the Waldorf-Astoria in New York, celebrating the 183rd anniversary of the marriage of Mile. Marie Adrienne Frampoise de Noailles to Marquis Marie Joseph Paul Yves Roch Gilbert du Motier La Fayette, to which Paris sent the actual wedding dress worn by the Marquise and two wedding carriages of the period; the theme was "Salute to Liberty and Lafayette"; leading Paris fashion houses donated gifts for the guests, packaged in blue, white and red, and Mrs. Dwight D. Eisenhower and the Duchess of Windsor headed the New York organizing committee.