The Execution of Louis XVI and the End of the French Monarchy
William Doyle discusses traditional and revisionist interpretations of the downfall of the Kings of France, arguing that notions of a 'desacralised monarchy' are inadequate to explain what happened.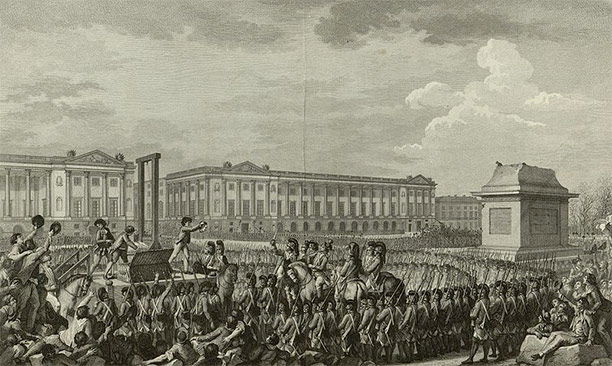 The morning of January 21st 1793 was raw and foggy in Paris. Although there was no traffic on the streets, it took a solitary coach one and a half hours to trundle the two miles from the medieval keep of the Temple, in the working east end of the city, to the newest and largest of its squares, in the spacious west end, beyond the Tuileries gardens. In the centre of the square stood a huge empty pedestal, which until the previous August had supported a proud equestrian statue of Louis XV. The square had been named after him. But on August 11th 1792 this statue had been torn down, and in the weeks that followed a systematic attempt had been made to destroy every visible or legible reminder of kings. This was the aftermath of the Revolution of August 10th, the Republican Revolution, in which Louis XV's grandson, and the throne he occupied, had been overthrown. It was that grandson who rode in the slow-moving carriage on that bleak morning five months later, murmuring prayers. Louis XVI, condemned after a trial before the elected representatives of the French Nation, was going to his execution. A guillotine now stood next to the vandalised pedestal in what was now called the Place de la Revolution. It was here, watched by 20,000 of his former subjects, that Louis XVI met his end.